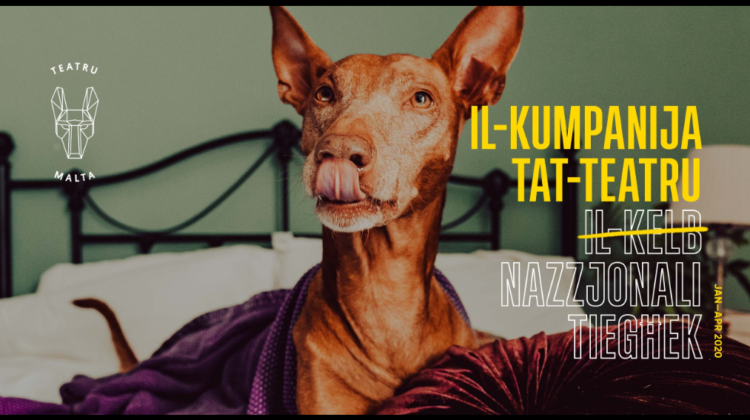 Teatru Malta 2020 proposes some exciting ideas. Will expectations be met?
The Teatru Malta 2020 programme, launched Friday at Spazju Kreattiv, quotes a 75% audience attendance that, if accurate, points towards Malta's national theatre company making considerable inroads into one of its main objectives: taking theatre to bigger audiences.
I do feel that the biggest challenge faced by Teatru Malta 2020 is not that of putting up theatre productions that boast a standard of excellence. Excellent theatre is a benchmark that, locally, has been achieved both by TM and other companies.


The biggest challenge lies in getting those bums on seats. Obviously, not the familiar bums that are ubiquitous at every production, but the new ones that may not necessarily view theatre as a valid entertainment option, and who may need some persuading.
As with all projects, there have been both hits and misses. But, the roadmap seems to be firmly in the ascendant. The last quarter of 2019, in particular, saw some great things that captured the imagination of an audience that isn't necessarily part of the usual theatre-going demographic.
The second half of 2019 saw projects like Min Hi?, a production that was preceded by a series of street performances as part of a social experiment that lived up to the ethos that a national theatre must be willing to take risks. We all know how that one went, but the end result of the entire controversy was a packed house for a production that typically would not have attracted the masses, thanks to its experimental nature.
But I was also happy to see that the company did not succumb to the temptation to make it all about controversy. Other notable productions included Larinġa Mekkanika for ŻiguŻajg Children's Festival, and Sette, a dance/choreography/visual extravaganza that to all intents and purposes should have been boring AF.
I mean, who wants another rendition of the historical events of Sette Giugno? No-one, that's who. Somehow, however, this production ended up blowing the minds of anyone who watched it and was also sold out.


Enter the Teatru Malta 2020 January to April programme, which was launched by re-appointed artistic director Sean Buhagiar. It stars Lorenzo the Pharaoh Hound on its cover, so we're already on to a good start I thought.
But we all know that adorable doggos don't necessarily make for a great theatre season, no matter how inherent their 'Malteseness' and how conveniently aligned to the company logo. So, on to the actual programme anon.
We have four main offerings to look forward to for Teatru Malta 2020 in the first quarter of the year. The good news is that, once again the company is making an effort to move away from purely traditional theatre by giving a twist on some of the productions.
It is very heartening to see that the tradition of exploring new venues is being adhered to. Last season's Min Hi? brought street theatre and the retro and historic Rialto in Bormla back on the cards, while the panto offering took place at Teatru Metanoia, in Luqa.
This season we have an original production in Maltese, L-Interrogazzjoni ta' Alfred Buttigieg, taking place at "a private residence" in Għargħur. That alone is enough to get me intrigued. The potential pitfalls of taking this steps are many, and I am curious to see how Teatru Malta will deal with the logistical aspects.
The production is directed by Lee-N Abela, the one-woman powerhouse who gave us a tour-de-force performance in Min Hi?, so it all sounds very promising. To this, add the fact that the script is written by Alfred Buttigieg, one of Malta's most controversial figures in terms of dramaturgy.
Some of you may remember his collection of poems, Dik il-Qtajra (That Droplet), written from the perspective of an unborn baby and considered obscene enough to ban.
An evaluation that left Malta's self-styled censors with egg on their face after, years later, the collection was hailed as a seminal piece of work.
Incidentally, his son Gabriel Buttigieg has followed in these footsteps, pushing boundaries in a different sphere, that of visual art. His works are known for their dark sexuality, an element which is present in a different way in the senior Buttigieg's past writings.
L-Interrogazzjoni ta' Alfred Buttigieg is described as a criminal thriller revolving around a couple, played by actors Clare Agius and Angele Galea. The blurb promises a storyline that challenges our gender expectations, and an 'intelligent erotic thriller'. Given the names behind the production, expectations run high, and I look forward to see whether the team will deliver.
L-Interrogazzjoni ta' Alfred Buttigieg takes place between February 7 and 16, and tickets will be available as of January 13 from here.
However, before that, Teatru Malta 2020 kicks off with Xeni, a somewhat more 'academic' approach that give us a sneak peak into the world of theatre production, what goes on behind the scenes, set design and all those things that – when done well – an audience will take for granted and not think twice about.
Xeni is described as a retrospective project curated by Romualdo Moretti, the man responsible for building some of the most memorable sets for local productions. The project is being held in collaboration with Spazju Kreattiv and promises an understanding of the back stage world by giving us a glimpse of the inner workings of a decade of scenography.
Participating artists are Joe Galea, Pierre Portelli, Romualdo Moretti, Claudio Apap, Matthew Pandolfino, Austin Camilleri, Ino Bonello, Ray Farrugia, Joseph Cauchi, Andrew Borg Wirth, Adrian Mamo, Carmelo Bezzina.
There will also be series of workshops taking place, which may provide good insight for those interested in a career backstage, as well as a Taħdita Teatru session open to the public. The exhibition runs between January 10 and February 23 at Spazju Kreattiv, and workshop details and ticket information is available here.
Trikki Trakki, the festival created by young people for young people and adults, returns for its third edition, this time taking us to Blue Box in Msida between March 7 and 8.
The festival is notable for giving young theatre practitioners and actors the opportunity to work with established names by producing a number of shows. The festival artistic director is Antonella Axisa. Axisa's track record both as an actor in adult theatre productions and as a theatre educator is impeccable, so I do look forward to seeing what she will bring to the table this year.
The first quarter comes to a conclusion for Teatru Malta 2020 with an original theatre production that promises a different experience to the usual is A Stroke of Bad Luck, being held at the MADC Clubrooms between April 17 and 26. The script is based on a real life experience of how a couple's life is turned upside down when the man suffers a stroke. The couple in question is made up of Nanette Brimmer (who co-writed the script) and Colin Willis, both known names on the local theatre front, so the production holds a lot of promise, especially if the storyline is as honest and intimate as the blurb on the programme promises.
The production is being held in collaboration with MADC.
The verdict for Teatru Malta 2020 kick-off? I am intrigued. Watch this space to see if expectations are met.
Want to know more about what's happening on the Maltese theatre front? Check out this post about the state-of-play of theatre in Malta, this post about theatre and education, and this production that showed us all that we should never underestimate an audience.