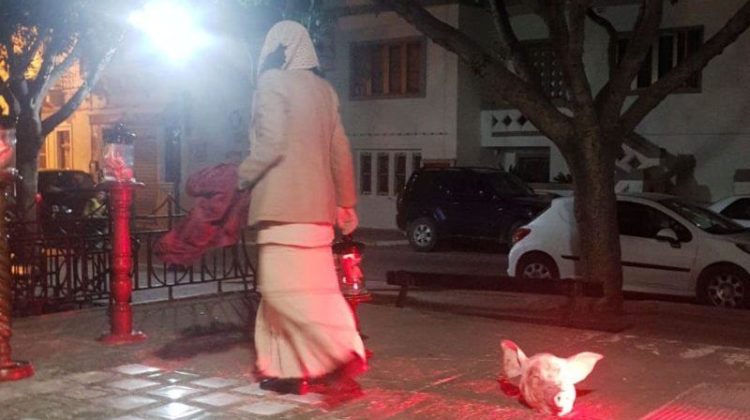 Remember that creepy woman bashing dolls in Zebbug?
Well, here's the real story…

Public reaction to a series of appearances by a masked woman in Żebbuġ and other villages was rather… disturbing. After I uploaded a video on this website's Facebook account, the comments and messages flew in and some were even scarier than the masked woman.
Which, let's face it, she wasn't really? I mean, she was creepy in a good way. The lighting set-up and the high production value of the whole thing gave it away that this just HAD to be some sort of street theatre.
But what I got was messages of SATANISTI, EVIL, NO TO ABORTION and other mind-boggling knee-jerk reactions.
I myself wasn't sure who was responsible, but COME ON…the entire thing had 'great theatre' written all over it.
Today, following much phone calls on my part, official confirmation has landed in my inbox.
These street theatre performances, which have so far occurred in Żebbuġ, Marsaxlokk, Sliema and during the Gudja village feast, were part of a project called Min Hi?, being led by local artist Ruben Zahra, and inspired by a short story written by his father, house-hold name Trevor Zahra.
And the reasons for maintaining silence were artistic, and not publicity related, Teatru Malta – the company behind the production – said.
The short story, titled Gerita, is one of a collection from Zahra's award winning publication Penumbra which describes the story of an unknown witch who travels from village to village.
In the story, ''Gerita appeared for the very first time on the eve of the village feast; chopping up dolls with a nougat knife as she covered them in tomato ketchup.''

''When Ruben and I were planning Min Hi?, the script and the show were created simultaneously, making sure one bounced off and complemented the other seamlessly. We hope that this will be a unique poetic experience of stylised macabre theatre, for everyone to enjoy,' says the writer.

In fact, the street installations were designed with all audiences in mind, despite popular assumption. These pop-up shows, although related, are in no way tied to the 12+ age recommendation of the final four performances, which are happening at the Rialto.
Where can you next catch Gerita?
The street installations will continue to run until October 12 with a final two set to take place on tomorrow (Tuesday 8) in Valletta, in front of Pjazza Teatru Rjal, and in Vittoriosa on Saturday 12 during the highly anticipated Birgu by Candlelight event.
These final two street installations were always intended to be the only two announced performances of the lot – hence the continued silence from Teatru Malta.
Director and composer of the show, Ruben Zahra said that: "Different demographics are bound to react differently and while some will find it challenging, others will just as well find it appalling and perhaps controversial even'' – ''this is the sort of conversation that theatre is meant to spark – give people a subject and they'll project their own fears and agendas onto it, it's very interesting to see. The street performances would have lost all scope if they were announced''.

'It was interesting to see how street theatre became the subject of fake news on social media'
Teatru Malta's artistic director Sean Buhagiar states that: "It was very interesting to see how street theatre became the subject of fake news on social media. History of theatre has shown that street theatre can be very effective in instigating human conversation, it is produced regularly by theatre companies all over the world''.
''It is also very present in our traditions, however it is was treated differently because of the common fear of the unknown. It's our responsibility as the National Theatre company to take risks, and we strive to programme work which breaks new ground. "
Buhagiar added that, however, all "all official authorisation, permits and risk assessments were in place before each street performance".

The Min Hi? project will reach its height during a haunting one-woman theatre production on October 31. The hour-long theatre production will be staged at the spell-binding Rialto in Vittoriosa.
This will be the first time in several years that the art-deco cinema on the Cospicua sea-front, will be re-opening its doors to the public for a professional theatre show. Maltese actress Lee-N Abela, the woman behind the now notorious mask, will take the floor and perform a series of obscure narratives in Maltese based on a variety of popular female characters throughout history. Soprano Nadia Vella will also be singing live throughout the performance.

Audiences can expect to see a number of beguiling scenes unfold before their very eyes, featuring music boxes, puppets, chandeliers, snails, dolls and other curiosities. Seating is limited and the production will premiere on Halloween night and runs between October 31 and November 3 for four chilling nights only.
To book your tickets for Min Hi? visit kultura.mt or visit teatrumalta.org.mt for more information.
For more theatre related posts read here.