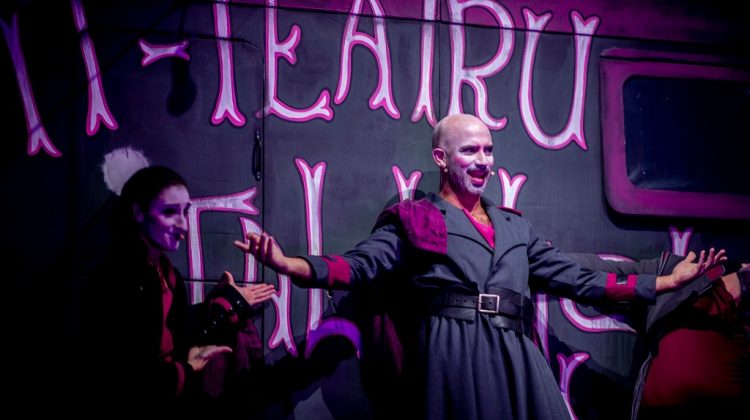 It-Teatru tal-Miskin turns out to be quite the difficult production to review. Don't be too generous, artists tell me when reading my reviews. We like critique, nothing is perfect. Tell us what we can improve.
Truth is, It-Teatru tal-Miskin gets pretty damn close to perfection. It's easy to understand how, in under three months, it's already on its third (or is it fourth?) sold out run. I attend on the Thursday opening night at Blue Box, when typically it's very difficult to shift tickets, but there is nary an empty seat to be seen.
But I'll start from the very beginning. It-Teatru Tal-Miskin is a Saydon Studio production which was originally put up as part of the Spazju Kreattiv 22/23 programming. Put simply, it is a musical that follows the (mis)adventures of three clowns that find themselves in a small village called Hal Fern. But the troupe is very different to what the residents of this closed off village (literally, as no-one can leave and the buses never stop there) are used to.
They talk differently, they move differently, they speak differently. And the mayor is not pleased with this development that threatens to rob him of the control he has so far enjoyed over the villagers' lives.
Slowly, the clowns start interacting with the villagers, giving them a glimpse into a different lifestyle, into gender diversity, into the joy that a pair of pink heels can bring to a 'sinjorina'. Things come to a head, and tragedy strikes, leaving us with a bittersweet ending that may find the clowns unsuccessful in their attempt to bring change to Hal Fern, but still defiant, dancing and singing.
That, in a nutshell is the narrative. I won't include more spoilers, because while the current run is sold out, I wouldn't be surprised to learn that there will be other performances added. Actually, I bloody well hope so because one viewing of this layered production is certainly not enough.
Let's start with the music, which includes elements of cabaret, vaudeville, traditional ballads, orchestral drama and more. Luke Saydon does an inspired job with the score, which had us tapping our feet and moving in parts, while provoking all the feels in others. Director Denise Mulholland's decision to include live musicians on stage, directed by Saydon, was definitely the right one. They do an excellent job, and the production wouldn't have had the same impact with a pre-recorded score. Also, when is the album coming out? I want to listen to this, again and again.
The writing is tight – poignant, with just the right touch of comedic breaks. I need to mention Clare Azzopardi as dramaturgist here, as I particularly appreciated the colloquial turns of phrase that elevate It-Teatru tal-Miskin from an ordinary script to something special that touches the audience.
The three clowns, played by Thomas Camilleri, Chiara Hyzler and Sean Borg, more than do justice to the material, giving viewers a 360-degree performance that includes dance, mime, singing and everything in between. Some musical productions in Malta suffer because it can be difficult to find performers that excel across the various art forms. This certainly isn't the case for It-Teatru tal-Miskin, which easily confirms that these three artists have all that it takes and then some more.
Costume and character changes throughout the show – of which there were many – were brilliant. Hyzler effortlessly slides into the persona of an old woman, Medusa, simply by placing a customised veil on her head. Borg's portrayal of the mayor is hilarious and creepy in equal parts, and he achieves this without even needing a full costume change. The addition of two simple props are enough to make us believe in the mayor. Camilleri gives a spectacular performance as the most poignant 'buffu' of them all, engaging with the audience and making us believe that we are the trapped villagers of Hal Fern.
Staging is innovative and daring. Throughout the performance we're shown black and white footage showing the daily life of particular characters in Hal Fern. In one case, the footage is shown on a huge wedding veil worn by Hyzler, and the impact is tremendous. It can't have been easy to ensure the mechanics of all this runs smoothly, but run smoothly and with a flourish it did, so hats off to Mulholland for stellar direction.
Although you will only see three actors on stage, the offstage actors are just as integral to the success of this production, creating a 'flashback' effect that gives the narrative even more layers.
The themes that are tackled in It-Teatru tal-Miskin are not easy ones to digest, but they will feel familiar to many. Although the main plotline revolves around the painful realities that a young queer person faces in the closed community of Hal Fern, you don't need to be part of the LGBTQ+ community to find all this relatable. The cabin fever of living on a small island with a conservative mentality has touched any one of us who dreamed of a life that's different.
If you manage to score tickets to this one, don't let it slip away. I'm already hunting for another viewing, and I believe it's justified to place It-Teatru tal-Miskin among those productions that are game-changers for the local landscape.
It-Teatru tal-Miskin runs at Blue Box Theatre until Sunday 20th November. For other arts and lifestyle pieces, check out this review of Spring Awakening, La Cage aux Folles or Ta' Fuqha Senduqha.