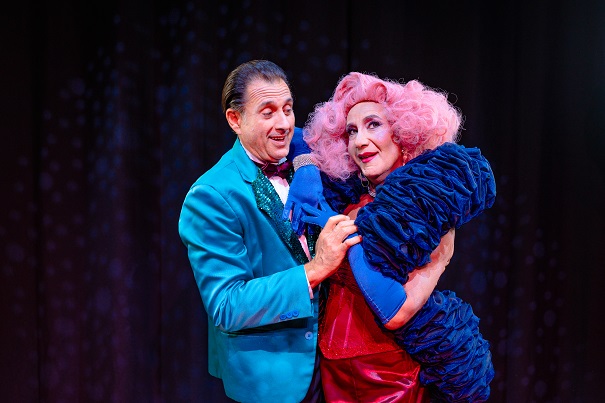 La Cage Aux Folles won six Tony Awards when it was originally produced in 1983, so you don't really need me to push the point home. But in case you do, the FM Theatre production is looking set to sparkle, shine and bring the house down at our national theatre.
I might biased, as I've been following the rehearsal process at Theatre Next Door for the past few weeks and enjoying the ample talent that populates the show. But the production looks set to be every bit the extravaganza – with emphasis on 'extra' – as befits this iconic show.
Not sure why you should bag those tickets now? Here's why.
1. There will be singing, dancing, and possibly a conga.
La Cage Aux Folles is best known for the gorgeous music, with hits like We Are What We Are, Song on the Sand and La Cage Aux Folles becoming instant classics when they first debuted on the Broadway stage. All these numbers will be brought to life under the musical direction of Kris Spiteri, with choreography by Francesco Nicodeme and vocal coaching by Tina Frendo. If rehearsals are anything to go by, the cast is going to smash it. And yes, you are expected to get up, dance and join the conga.
2. It's the perfect excuse to dress up
Get your glad rags – and drag rags – ready, because dressing up is encouraged. My suggestion of gold hot pants was met with a 'how tame' by director Chris Gatt, so get ready to bring out the Rupaul in you. Glitter, beards, tulle, boas, ball gowns, hot pants… nothing's off limits. The first night look set to be especially wild, so it's just the thing to get the fam together and dazzle the punters.
3. It's a great night out
Get the gang together, because this is the perfect group activity. La Cage Aux Folles is quite the departure from typical theatre experiences. Think of it more as a massive musical outing, where singing, loud laughter and dancing is encouraged and the vibe is more akin to that of a party. If you team it up with post-theatre drinks in the city, you won't be lacking in conversational topics that's for sure.
4. It's not just a gay thing
Ultimately, La Cage Aux Folles is all about love. It's not about being gay, straight, trans or whatever, but about the simple fact that love conquers all. If you've ever been in love, you'll find Georges' and Alban's story super relatable. As director Chris Gatt put it, love is for everyone – so get your partner, your teens, your friends and get ready to cheer this wonderful couple.
5. The conversation about gender diversity needs to continue
While we've done great strides in terms of inclusivity, the LGBTQI+ community still faces discrimination and other issues. The conversation needs to continue, and what better way than through musical theatre? Productions like La Cage Aux Folles help give a voice to the community, put the conversation in the public sphere and – why not? – spreads joy while at it.
La Cage Aux Folles is produced by Teatru Manoel and FM Productions and runs at Teatru Manoel between October 21 and October 30. For tickets click here.
For other Malta theatre and lifestyle pieces, check out this review of Ta' Fuqha Senduqha, or Teatru Malta's Ma Kuraġġ u Wliedha or FM Theatre's Ross and Rachel.