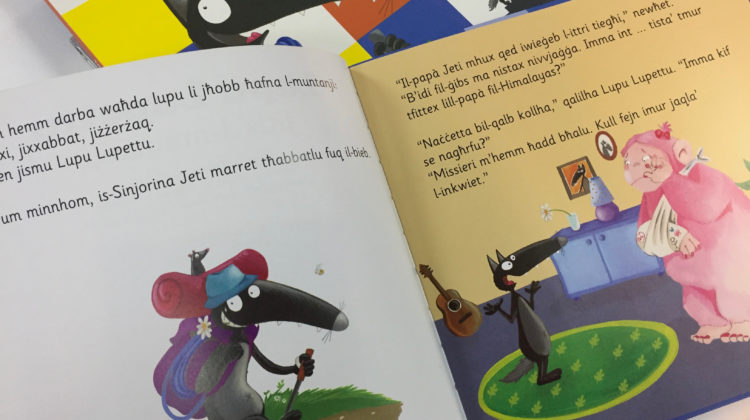 Lupu Lupettu's eagerly-awaited comeback
There's a reason why the Lupu Lupettu series is one of the most popular with children in Malta. It's colourful, it's fun, and it really puts paid to any ideas that reading may somehow be considered a 'chore'.
And now we have two new publications for parents desperate to get their kids' noses into a good book. Lupu Lupettu Jitla' l-Muntanji and Lupu Lupettu Joħlom bl-Oċean. Books by Orianne Lallemand, illustrated by Eléonore Thuillier and translated to Maltese by the award-winning Clare Azzopardi.
Do you want your children to grow up loving the great outdoors but are still too young to appreciate David Attenborough? Search no more, Lupu Lupettu has gone nature-adventuring.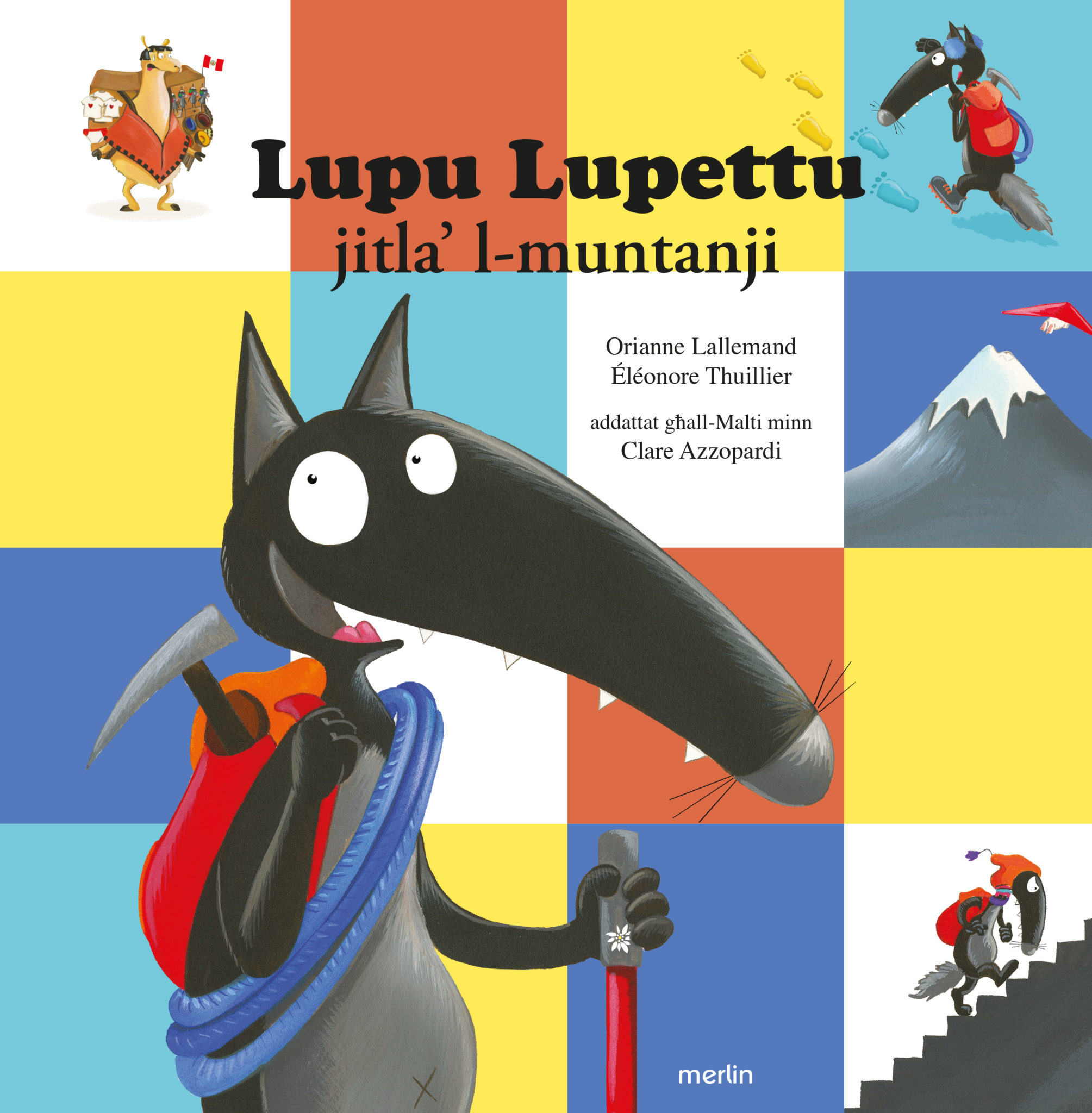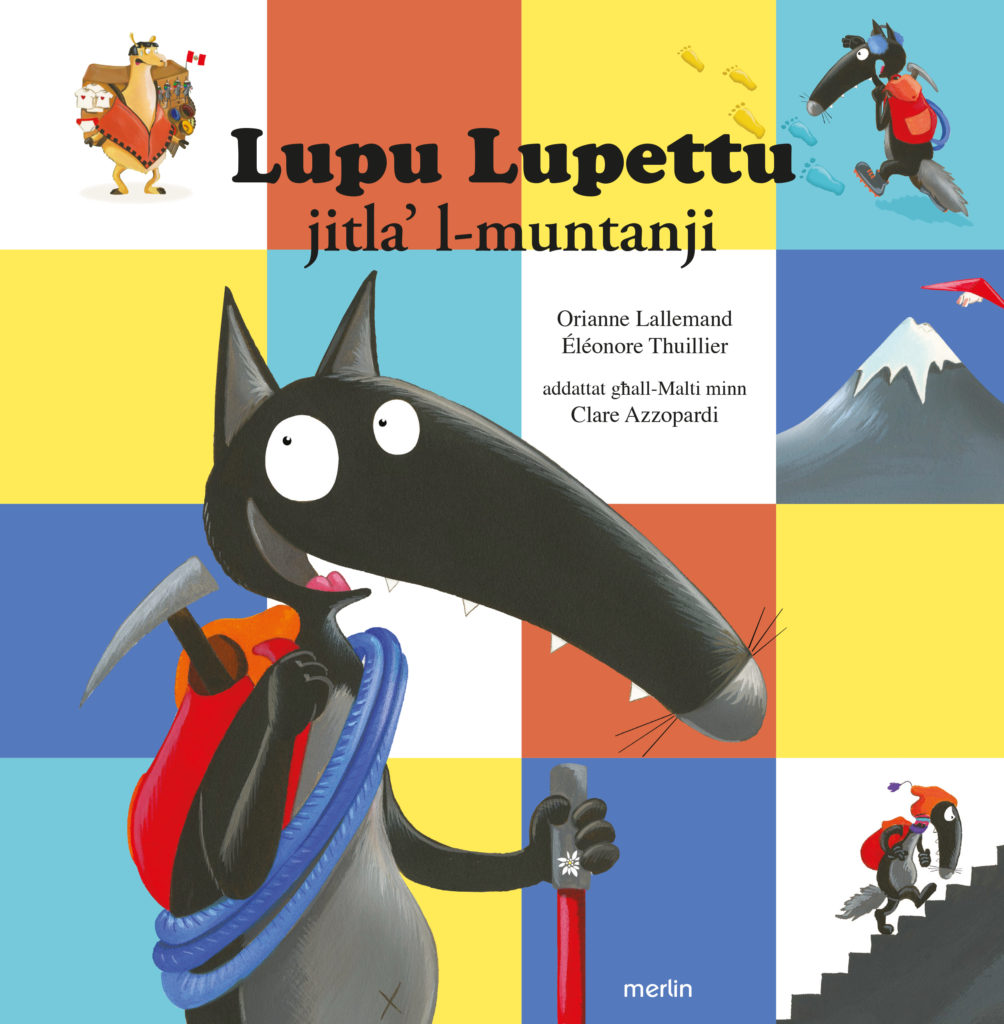 Lupu Lupettu Jitla' L-Muntanji
In Lupu Lupettu Jitla' l-Muntanji, the impish wolf sets off on a mission to find the mountain Yeti who's gone awol and, who happens to be the father of his best friend who's upset at the radio silence from her father.
Lupu's search takes him to Mount Fuji in Japan, Uluru in Australia, Kilimanjaro in Tanzania, Machu Picchu in Peru, Denali in Alaska and Mont Blanc in France and on the way he meets bears, llamas, kangaroos, baboons and what not. The rascal Yeti is elusive but Lupu Lupettu is not one to give up. Will he manage to find him?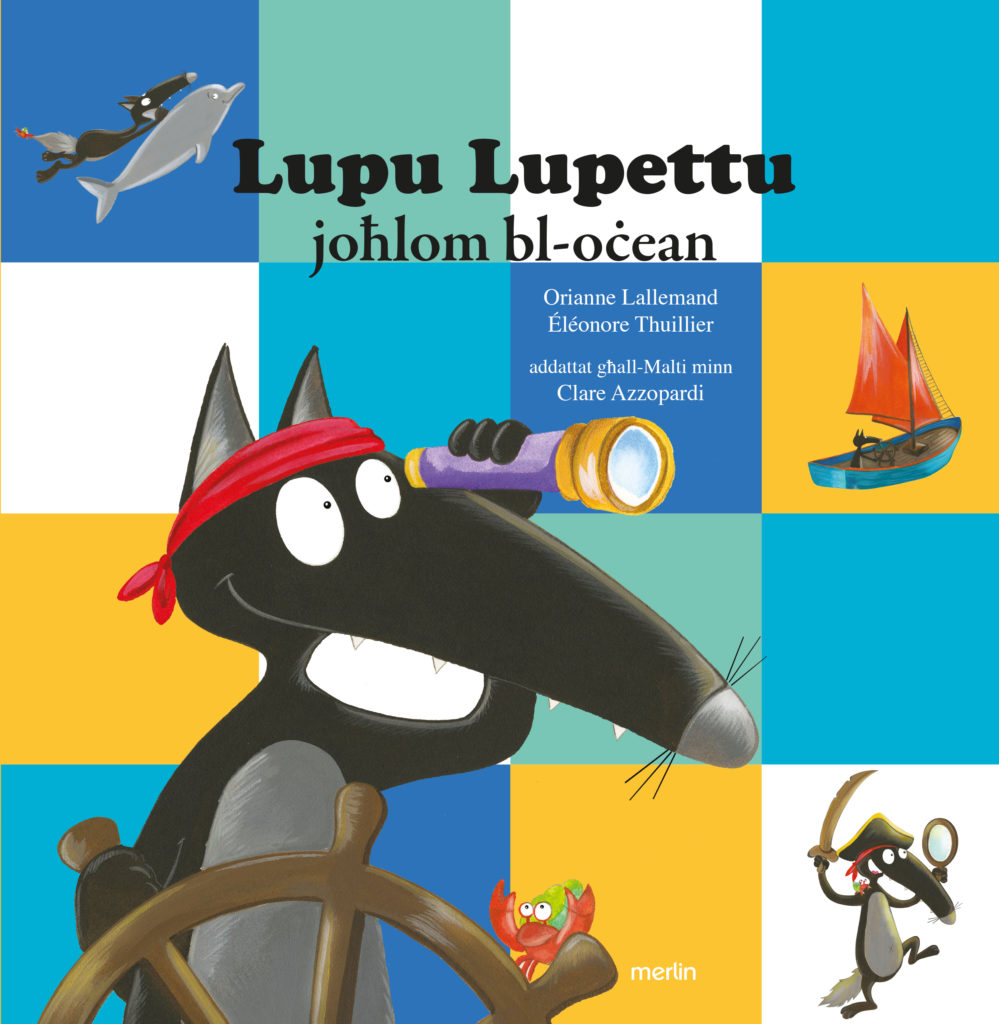 Lupu Lupettu Joħlom bl-Oċean
In Lupu Lupettu Joħlom bl-Oċean, Lupu sets off chasing pirates on his wee little boat, until, oh no, he is swallowed under by a gigantic wave. The cheeky wolf ends up at the bottom of the ocean, but fear not, because Poseidon the sea god, gives him gills and so he can happily breathe his way around. Down there Lupu discovers all the treasures of nature under the sea – and at the same time he realises how maritime pollution is endangering our seascape.
Lupu, the creation of young French author Orianne Lallemand, is a publishing phenomenon around the world because children easily identify with the lovable character.
Like them he hates walking, he only loves to eat pasta, he thinks museums are boring and he wants to win all the time. Parents equally love him for the side-splitting wit of the plots and the gentle moral nudge at the end.
The series has no fixed age: children from six years up will be able to read the book by themselves and parents can read it to younger children.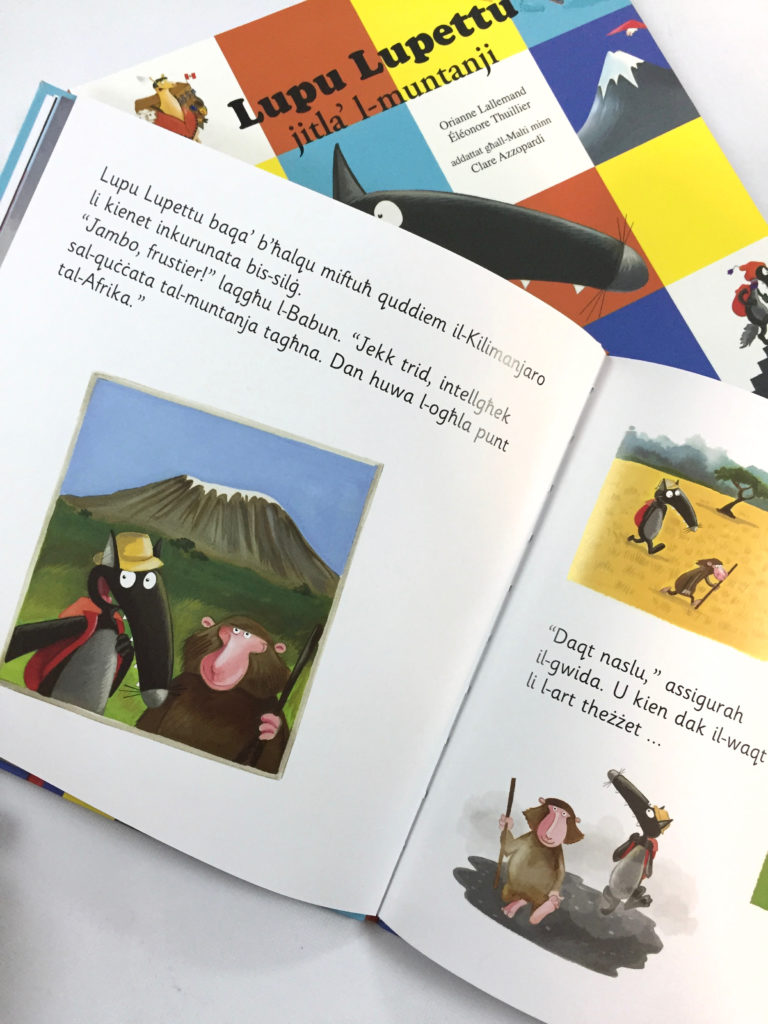 These books are the perfect platform to introduce children to general knowledge without it making it feel academic. Lupu Lupettu Jitla' l-Muntanji is a fun story about real geography whereas Lupu Lupettu Joħlom bl-Oċean is the perfect introduction to sensitive environment issues.
Almost always there is an element of art hidden in the books, which the sharp-eyed grown-up will surely notice. For example, the ginormous wave which takes Lupu Lupettu under the sea in Lupu Lupettu joħlom bl-oċean, is inspired by the world-renowned famous woodblock print The Great Wave off Kanagawa (1829) by the Japanese artist Hokusai.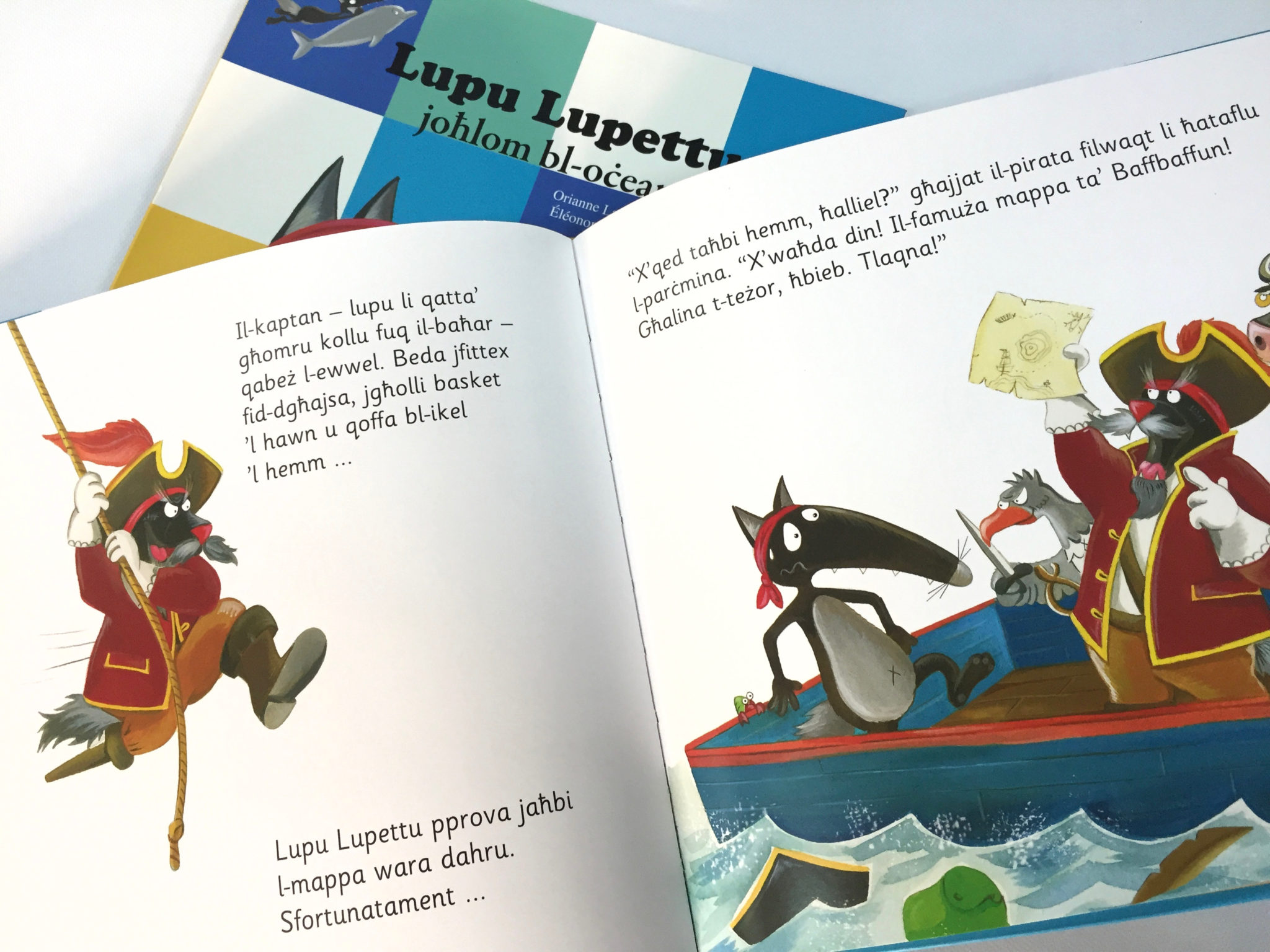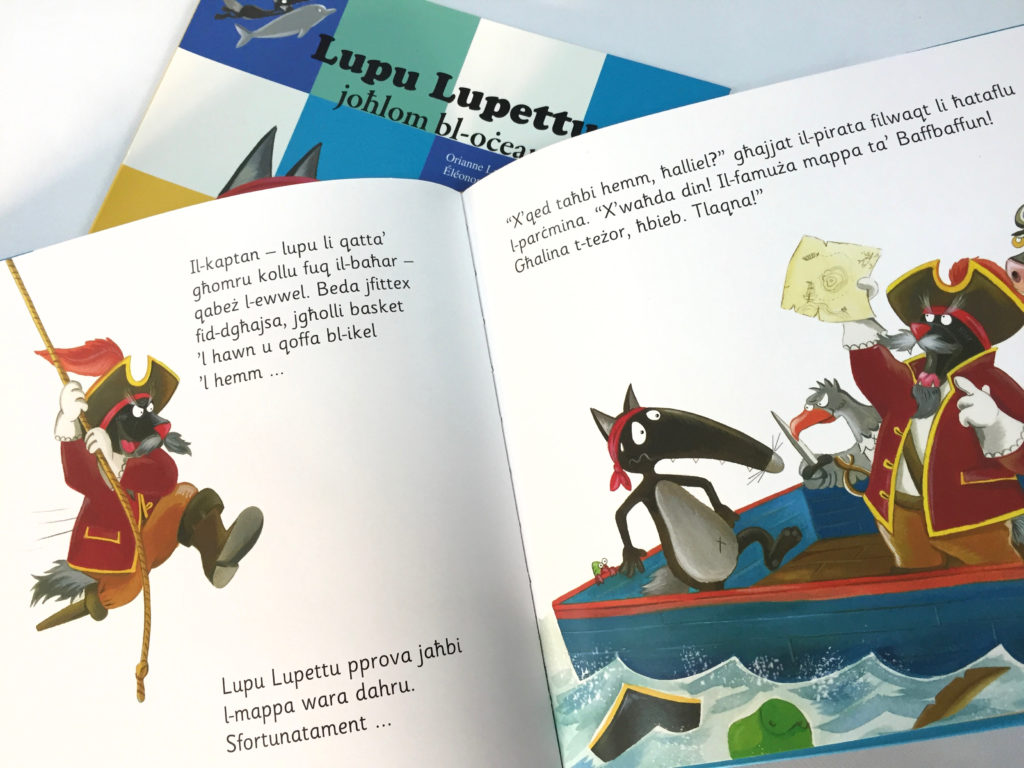 Illustrator Eléonore Thuillier does more than bring to life the wolf with his trademark amusing eyes and bushy tail – she cleverly weaves hidden gems of art to allow the possibilty of opening up creative discussions.
Both books are available from all leading bookshops or directly from merlinpublishers.com
Interested in knowing more about local literature for young adults and kids? Check out this book about Malta's amazing women or this one, that features a spelling bee competition. Also, you might want to know that Alex Vella Gera's Sriep is now being turned into a movie.
Or hey, why not check out a book written by yours truly about growing up in Valletta, Beltin: Stejjer Minn Nies Minsija. You will also find more write-ups featuring books in the books category here.
If it's food, theatre, music or fashion you're after, check out my homepage here.