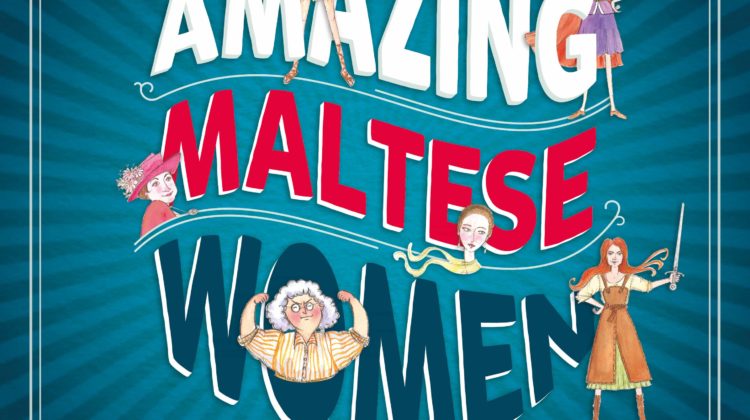 Amazing Maltese Women, written by Kristina Chetcuti and published by Merlin Publishers
Amazing Maltese women – what comes to mind with the phrase? Well, not much. I mean, look at Malta's written history, and the narratives that keep on being pushed and you'll see a glaring omission.
It would appear that only men have had any role in shaping the story of our country. And that women were happy taking a back seat while the menfolk took care of the important stuff.
Which is total bull, of course.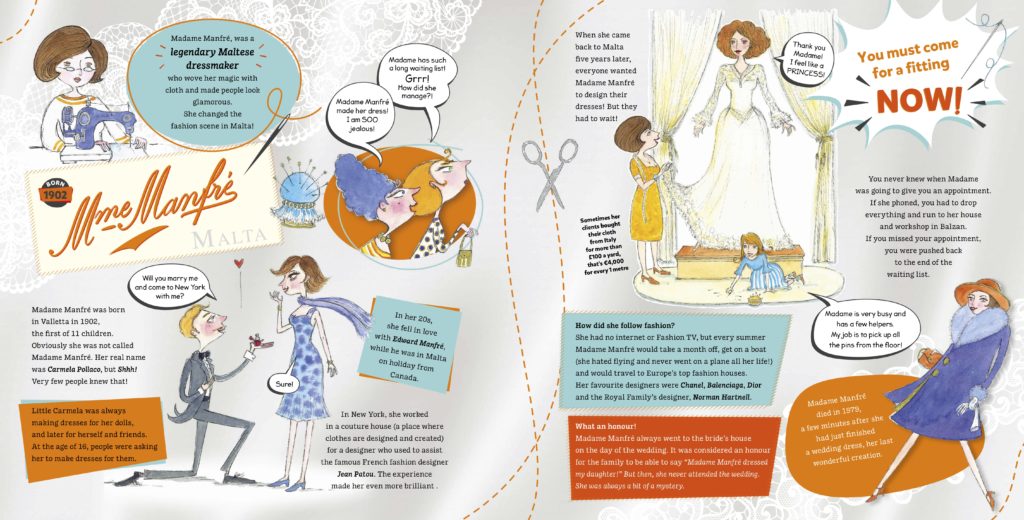 The good news? Amazing Maltese Women, a book to put this misconception right, has finally been written by Kristina Chetcuti. And, accompanied by some super illustrations by Marisa Attard, it will certainly provide a more just (and intriguing) viewpoint of Malta's history.
Amazing Maltese Women is a colourful celebration of Maltese women who followed their heart and let no one dampen their determination. Their stories are narrated in comic-style with beautiful ink and watercolour illustrations.
' I wanted to write women back into our history '
Amazing Maltese Women documents the life of the incredibly courageous, resilient women who lived their life with a mission. Some of the names of the women in the book may be familiar, but most are unsung. Such as Clara La Spatara, a much sought-after blacksmith at the time of the knights, or Mary Ellul who had superhero strength and saved people in World War II, or Maria de Dominici one of the first-ever recorded female artists in the world.
The book cuts across the ages: from Tina the prehistoric Maltese woman who lived in a very equal and fair society in Ġgantija, Gozo to Malta's first woman cabinet minister Agatha Barbara; from Madame Manfre, Malta's very own Coco Chanel, to journalist Daphne Caruana Galizia, who was killed because of her brave writing.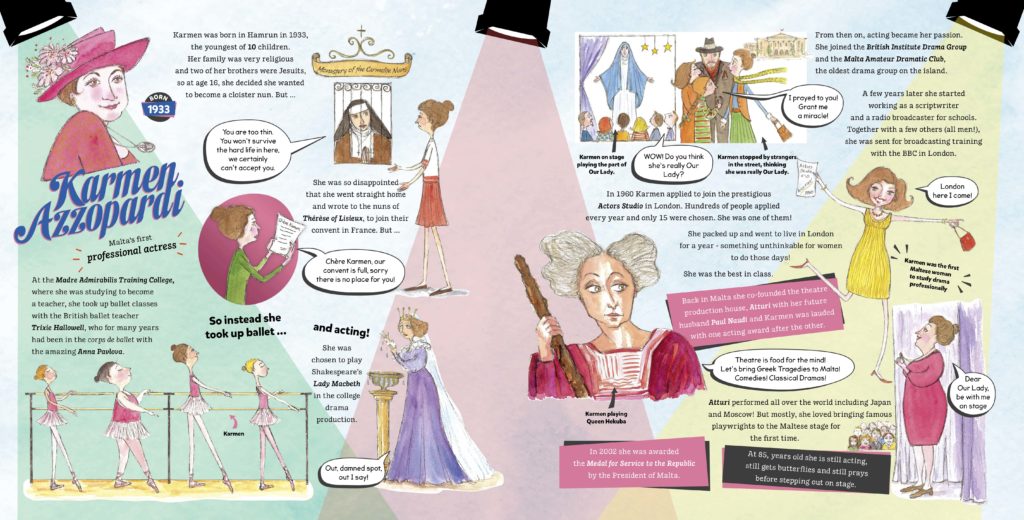 The book was written and researched by Sunday Times columnist, Kristina Chetcuti, and was brought to life by the vivid ink and watercolours of acclaimed illustrator Marisa Attard.
"I wanted to write women back into our history. And I wanted children to get to know these gutsy women, women with the courage to stand up, to go against the current, to challenge the system and to get the job done," says Chetcuti.
She only had a few names jotted down when she startedwriting Amazing Maltese Women. "But the more I researched the more I kept coming across women from all eras, and all walks of life, who resonated with me. Their story made me think: would I have been as determined if I were in their shoes?" she said.
She hopes that children can draw strength from these real-life stories. "Maltese children – be it boys or girls – need women role models," she said, insisting that this is not just a book for girls.
"We have a very vivid image of male power. That power structure needs to change – because we are a society equally made up of men and women and we can only do that through education and Marisa's brilliant illustrations make it real fun," she said.
Marisa was in fact immediately attracted to the concept of the book. "I was given free rein to bring Kristina's stories to life. It was an interesting process researching the periods, getting to know the different women in the book, their stories and why they were so special," Marisa said.
She enjoyed seeing Amazing Maltese Women come to life gradually as they worked with designer Faye Paris, whose layout brought the book together. "We enjoyed working with Merlin Publishers – they're a great team and, as publishers, they give you the space to be creative," Faye said.
This is yet another ground-breaking picture book by Merlin Publishers and yet another first for Maltese children's books. Merlin Publishers Director Chris Gruppetta believes that education starts with discussion.
"We seek to create conversation with our books – this is what makes society healthy. Not only will this book inspire all of us but I am sure that it will encourage people to come forward and talk about other forgotten women heroes who left a mark in different fields," he says.
Amazing Maltese Women has no fixed target age. It is ideal both for reading to children when these are still very young, and eventually for reading by children themselves when they are eight years or older.
Amazing Maltese Women is available for sale from all leading bookshops or directly online from merlinpublishers.com
If you want to discover more locally-published books, check out this book that takes a nostalgic look at Valletta's community in the 1980s and 90s, or Magna Mater, a dystopian take on Malta, or this spelling-bee story about a young student.
Interested in knowing more about local literature for young adults and kids? Check out these two books that will definitely get the kiddos reading or this one, that features a spelling bee competition.
Or hey, why not check out a book written by yours truly about growing up in Valletta, Beltin: Stejjer Minn Nies Minsija. You will also find more write-ups featuring books in the books category here.
If it's food, theatre, music or fashion you're after, check out my homepage here.