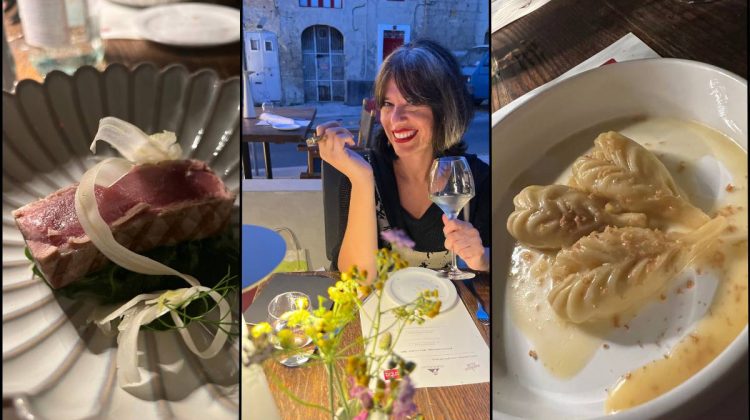 Have you ever had a dessert made of Vanilla & Mascarpone Risotto, Peaches, Caramelized Almond Tuile and Aged Balsamico, thought that you'd give it a go but maybe it's not really your thing as desserts go, and then thought you'd found heaven with the first bite?
I have. This goes right up there in my favourite Maltese restaurants moments, and it all went down at the Antonino Caravaglio wines event that took place at The Harbour Club last week. In fact, one aspect that certainly contributed to the perfection of the moment of said dessert was a glass – well, two, who am I kidding – of Malvasia delle Lipari from the Caravaglio collection. But more about that later.
Let's start with the basics. The Harbour Club is a favourite, but I admit that this was my first encounter with the Antonino Caravaglio wines. The fact that the founder himself, Antonino Caravaglio was present for the event, together with Enba Wine's Brian Mifsud (whom I thank for bringing these wines to Malta) made the event a touch more special.
Sgr Caravaglio treated diners to a history and anecdotes about each vintage that was brought out, and hearing the passion in his voice as he spoke about his winery was heart-warming. Caravaglio Wines hail from the island of Salina, north of Sicily, an island mostly known for its wine and capers. I honestly felt privileged to be getting all the information first-hand, and the gentleman's sense of humour and charm matched the good vibes that the wine was giving off.
The evening consisted of five courses prepared by The Harbour Club's talented David Buttigieg, each complemented by a specific Antonino Caravaglio vintage. Things kicked off with the dangerously refreshing and deceptively 'light' Infatata – Malvasia – Salina IGP – 2022. Why dangerously, you ask? Good question, that none of us who somehow found ourselves accepting refill after refill will answer.
This gorgeous summer wine was accompanied by various amuse bouches and a Seasonal Fish Tartare for starters. I swear I could taste the Mediterranean in dish and wine, and this seasonal, localised approach continued flawlessly throughout the entire menu.
We greeted the sunset with an Occhio di Terra Malvasia – Malvasia di Lipari – Salina IGP – 2022, a more intense white than the Infatata that really enhanced the flavours of the Culurgiones With Bottarga it accompanied. The hints of mint, pecorino and preserved lemon added tangy accents that mellowed out most pleasingly when washed down with the Occhio di Terra Malvasia.
Antonino Caravaglio wines' rosso non rosso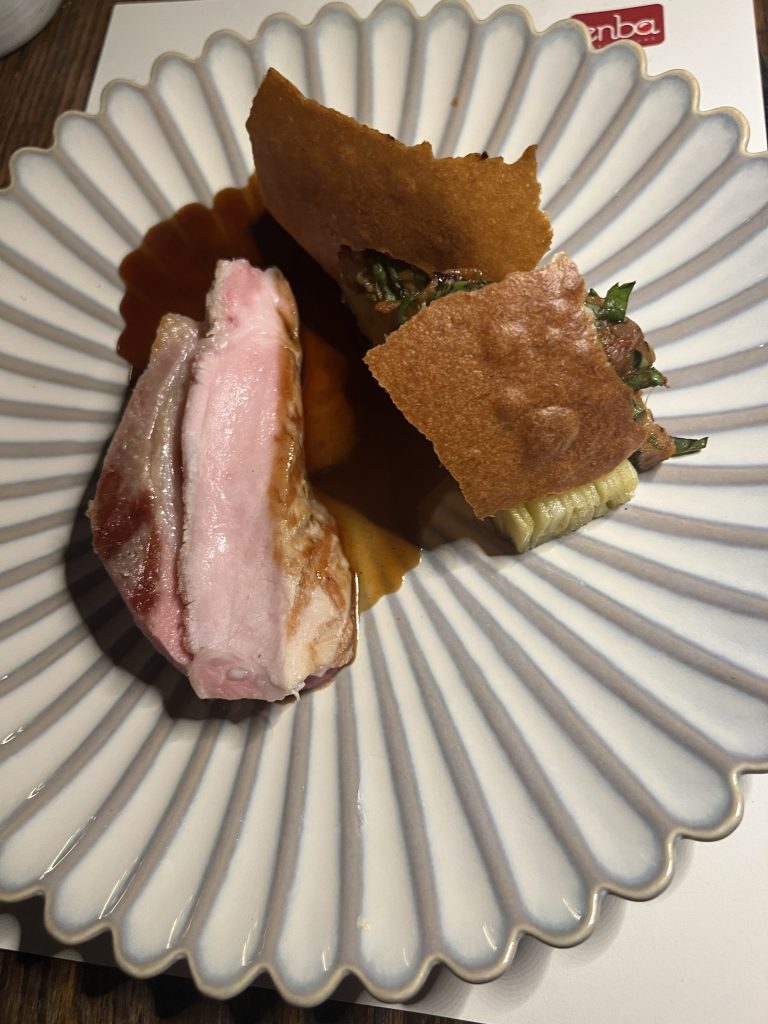 A short break, and we were ready for what Sgr Caravaglio playfully called a "rosso non rosso'" (red, but not quite red): The Palmento di Salina – 60% Corinto Nero and some other varieties (nerello, calabrese, perricone) – Salina IGP – 2022 is a very intriguing wine. A light red that can actually be chilled, is light and fruity on the palate, but leaves a marked aftertaste that has you reaching for another sip.
For this wine, Chef David created a memorable 14 Day Aged Tuna On The Bone with Lacto Fermented Fennel, Caravaglio Capers and Salsa Verde. The tuna was nothing short of magnificent, and the capers every bit as distinctive as promised.
There was more – the main events, a Pork Entrecote served with Spiced Caponata, EVOO Confit Potato,
Roasted Onion Demi Glace and a full-bodied Nero Du Munti – Corinto Nero – Salina IGP – 2022 that none of us will forget in a hurry. This bold wine is the opposite of the Infatata, made to sip slowly, swirl around in your mouth and savour.
And so we arrive to what, from a culinary perspective, was the surprise of the evening for me. The Risotto dessert, so wonderfully creamy, the flavours light but with a lingering umami. Forget my scepticism when I read the description. This dessert made me happy, as did the Malvasia delle Lipari – 95% Malvasia & 5% Corinto Nero – Passito DOC – 2021 that was served with it.
It's very rare that a dinner is so perfect that everyone just keeps stretching it out, chatting, accepting Passito refills and not wanting to make a move. I can only say that the marriage between Caravaglio Wines, The Harbour Club and Enba Wine is a tough one to beat, aided also by restaurant manager Stefan Agius, who ensured the dinner flowed like a choreography.
One of the loveliest culinary events I've had the fortune to be invited to, and I do hope that the Caravaglio wines will become stronger in Malta. I myself headed straight to the Enba website the following day to deplete their stores of Infatata, so – hello summer. Joking apart, I can't wait to serve this wine while hosting. Now if only I could just convince Chef David to also do the honours!
If you'd like to read more Maltese cultural news, check out the Palazzo Parisio new menu or the launch of ION Harbour by Simon Rogan.