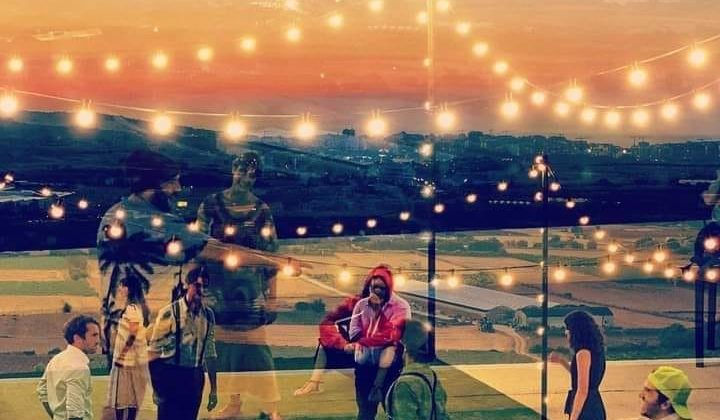 Photo: Whats Their Names Theatre
There is a point, in Whats Their Names Theatre's A Midsummer Night's Dream, when – towards the end of the play – Hermia (Tina Rizzo) discovers that Lysander (Gianni Selvaggi) has transferred his affections to Helena (Sandie von Brockdorff) and she loses it, resulting in the infamous scuffle between the two female protagonists.
Things heat up and a series of hilarious insults are exchanged. It is here that Joe Azzopardi's Puck slinks in unobtrusively from the sidelines, quietly retrieves some popcorn from under the stage and makes himself comfortable, clearly enjoying the havoc he has created.
A very small touch, and throughout it all Azzopardi does nothing except sit quietly and munch away. Yet, this scene within a scene is comedic gold.
It is these small 'extras' that make Whats Their Names Theatre Shakespeare productions so eagerly anticipated by the theatre crowd.
This year, the play appeared to be somewhat ill-fated, as a series of ever-changing COVID-19 regulations lead to the troupe having to change both dates and venue. Moving from the Garden of Rest in Valletta to the amphitheatre in Mosta at the eleventh hour made me wonder whether they would manage to deliver to their usual quirky standards.
From my point of view, three elements usually make Whats Their Names Theatre Shakespeare productions stand out – the intimacy of the venue, the audience interaction and the 'extras' such as live music, localised gags and improvised lines.
The first two having been forced out due to COVID-19, this year everything was going to have to rest on the extras, and I admit I was sceptical as to whether they would manage the magic.
I am so happy to confirm that this year's What' Their Names Theatre Shakespeare is as hilarious and as captivating as usual. Before I proceed, a quick disclaimer – most of you are aware of my personal connection to the production team, so technically this is not to be considered as a neutral review.
But the benefit of owning my own site is that I can write about whatever I wish, so I shall do exactly that. /disclaimer
A Fierce Staging
So, on to the staging – a minimal set, as we have come to expect from WhatsTheirNames, with the venue itself doing all the heavy lifting. And what a venue, as theatre-goers get to enjoy a glorious sunset, with the sea shimmering in the distance.
The Mosta amphitheatre reportedly carries additional security costs when compared to other venues, and this is one of the reasons it is not often used for theatre productions.
A major pity, and one that the powers that be can should resolve, as it will open up a very valid alternative theatre space.
Costumes for this production have been kept equally simple, with small props like hats marking changes in character (in typical Whats Their Names Theatre fashion, the entire cast has multiple roles).
A word about the elaborate head-dresses donned by the Fairies – created by Nicole Cuschieri, they are simply gorgeous and truly add to the production.
The entire cast was in fine fettle, starting with a very dark – but no less seductive – Joe Azzopardi as Puck. A lot rests on this character, and Azzopardi certainly brings it, his movements beautifully choreographed and alternating between playful, mysterious, impish to downright threatening.
The relationship between Puck and Oberon (Nathan Brimmer) is given a sexual edge that adds an extra dimension to the relationship between the two, and that director Philip Leone-Ganado brings out beautifully, never once going over-the-top just for the sake of it, as is so often the danger with such modifications.
Brimmer is also hilarious as the ill-fated Bottom – his duet with Becky Camilleri's Tatiana is a killer and had everyone shrieking. The chemistry between these two worked fantastically, both as Oberon & Tatiana and as Bottom and Mistress Quince.
Camilleri's Mistress Quince brings more comedy gold, while the four lovers – Tina Rizzo's Hermia, Sandie von Brockdorrf's Helena, Joseph Zammit's Demetrius and Gianni Selvaggi's Lysander – are perfectly matched. They really come into their own in my afore-mentioned 'scuffle' scene.
And what a brilliantly executed scuffle it is too, choreographed to get all the laughs, with Rizzo more than living up to the "though she be but little, she is fierce" line.
The play ends its run today – it is doubtful whether there are any tickets left, but if there are snap them up from Whats Their Names Theatre's Facebook page.
For more theatre reviews, check out Il-Pozittivi theatre review, the Rubberbodies' Kaxxa Infernali: Explosions, recently staged at Spazju Kreattiv; or Herman Grech's They Blew Her Up.