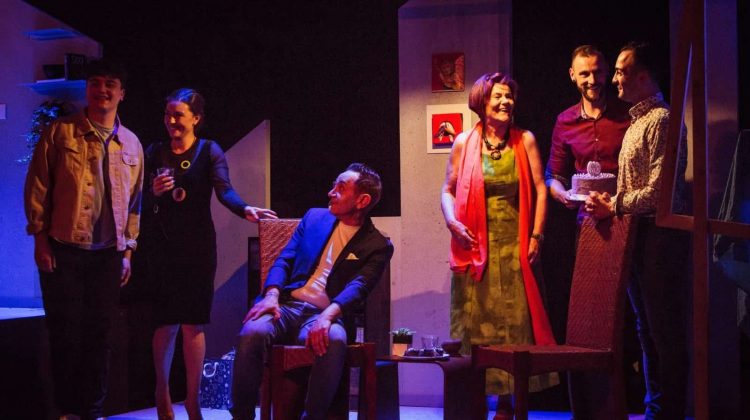 Il-Pożittivi is one of those prized theatre productions that will not simply stimulate a good discussion after viewing, but will also genuinely make you think about the way you approach people who are HIV positive. And, more importantly, reassess yourself.
No mean feat for a theatre production, but let's start from the very beginning. Produced by Culture Venture, written by Simon Bartolo, and directed by Toni Attard, Il-Pozittivi claims to be a comedy-drama. It is all that, and more.
The production was filmed for online theatre from its inception, and Romualdo Moretti's set, together with Chris Gatt's lighting design, was conceived with this in mind. The concept is reminiscent of the style that the NTL has made so famous.
It is very clear upon watching Il-Pożittivi that a considerable budget was devoted towards ensuring superb production values, and hats off to Culture Venture for pulling this off.
The play starts by introducing us to the different characters via separate vignettes. Without the clever interplay between stage and lighting design, the introduction would have had considerably less impact.
I do not want to give away too much of the plot itself. Suffice it to say that Il-Pożittivi revolves around a cast of six characters whose lives unexpectedly come together with sometimes poignant, and sometimes hilarious, results. The one thing that ties them together in some form or fashion is HIV.
Axel (or Alex) and David, played by Stephen Mintoff and Benjamin Abela respectively, are my favourite characters. Here, Bartolo has created two beautifully real personalities, the two gay BFFs always ready with the banter between them.
Attard's direction is brilliant, and listening to these two feels a bit as though you're eavesdropping on a conversation between your teenage brother and his friend. The dialogue is totally on point, with all the 'oħts' and the 'bitch pleases' thrown in there without sounding contrived.
Through Axel and David we get a glimpse of various issues that a teenager who is gay is likely to face, from chemsex parties to Grindr.
Il-Pożittivi: funny, insightful, informative
The comic relief stops it short of becoming too overtly educational. But the informative aspect – Bartolo worked with professionals to ensure medical accuracy – is undoubtedly present, and I know that many viewers will be surprised to learn that, for example, if the virus is undetectable it cant be transmitted.
Other notable characters include that played by Chris Vincent, who in real life is a known activist and president of the NGO Checkpoint Malta, which works precisely to break the stigma associated to HIV. The scene where he is breaking the news that he is HIV positive to his new boyfriend is immensely touching, and rams home the point of Il-Pożittivi.
Clare Agius does a great job as the vaguely annoying mother who fumbles along, trying to fight her instinctive prejudices to embrace her son's homosexuality.
Ray Calleja, as the older gay 'love' interest, is caustic, witty and poignant in turn, while Maltese theatre darling Josette Ciappara fulfils her role as the boisterous Susan to perfection, over-compensating for the bad hand she has been dealt with continuous flippant comments.
Her inclusion in Il-Pożittivi also highlights that HIV is not only the disease of gay men, as many still erroneously believe. Straight women are equally susceptible, as is everyone else who has unprotected sex or shares a needle.
The play is peppered with hilarious moments – at one point even Terry ta' Bormla gets a mention. I was not hundred per cent sold on the ending, and felt it diluted the issue somewhat. But I will let you decide for yourselves. Do let me know what you all think, I am curious to see who agrees and who doesn't.
However, whether you agree with the chosen ending or not removes nothing from the play's effectiveness in putting HIV stigma under an unforgiven spotlight – or, indeed from its value as a production.
Il-Pożittivi is a highly-entertaining production that manages what is almost impossible, combining excellent story-telling with a factual approach to an oft-neglected social reality.
Cast and crew certainly do justice to the script, so kudos to Bartolo, Attard and to Culture Venture. We look forward to more such collaborations. Il-Pożittivi is exclusively available on demand until June 30.
For more theatre reviews check out the Kaxxa Infernali – Explosions review, They Blew Her Up, or Agnes of God.