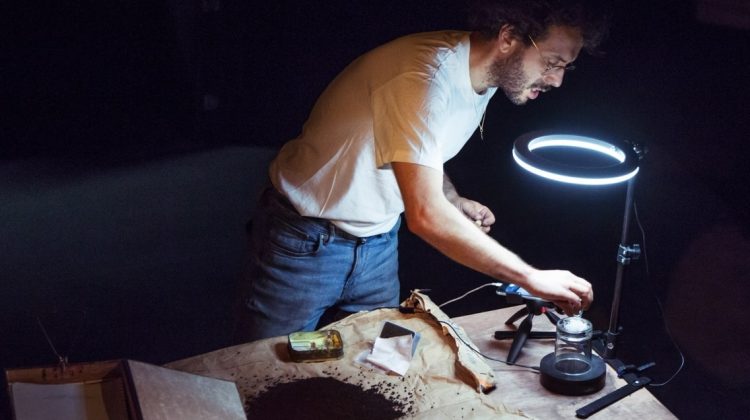 My first time at the theatre post COVID-19 was to watch Jimmy Grima's latest project, Kaxxa Infernali: Explosions. and I was practically jumping in my seat with excitement.
As usual, Spazju Kreattiv have their Covid safety game right on point, with the appropriate social distancing measures and sanitiser made available everywhere you look. Masks on, and I felt totally safe.
I always enjoy Grima's productions because they tend to tackle familiar concepts in a refreshingly simple manner that somehow still stimulates the mind and, by extension, discussion.
Kaxxa Infernali: Explosions is no different. A solo show, it takes place in a mostly darkens St James theatre, where you are immersed in the soundscape even before the show actually starts.
And when it does, it is one hour of totally immersive story-telling, with Grima carrying off the entire production on his own, with it the aid of the captivating sound design by Mario Sammut, which helps punctuate Grima's skills as raconteur, together with some minimal AV props.
And a truly nostalgic immersion it is. Grima's clever juxtaposition of the themes of innocence and nostalgia – the imagery of a young boy getting ready for the village feast, punctuated by a discordant 'iżżanżan' is notable – against the darker elements of misogyny and machoism is ruthlessly effective.
One minute I'm letting the soundscapes and Grima's evocative voice carry me along a sweet journey and the next I'm reminded that there are always more sinister aspects to our heritage, no matter how strong the pull of nostalgia.
The performance continues to lull and surprise in quick succession until it reaches its shocking conclusion, rendered all the more effective for being so understated (apart from the interesting choice of music).
Dramaturg Maria Rößler and the writers, Grima and Joachim Robbrecht do an excellent job of elevating this piece from a straightforward story-telling exercise into a multi-sensorial experience. Kaxxa Infernali: Explosions is a brutal reminder of all those things that we love about our Maltese heritage, as well as those we hate.
And, dare I say it, it achieves this in a most entertaining fashion that offers ample fodder for post-theatre discussion. It runs at Spazju Kreattiv until Sunday 13 – don't miss it.
For more theatre-related reviews, check out They Blew Her Up, Agnes of God or Fab Fantasy Fables.