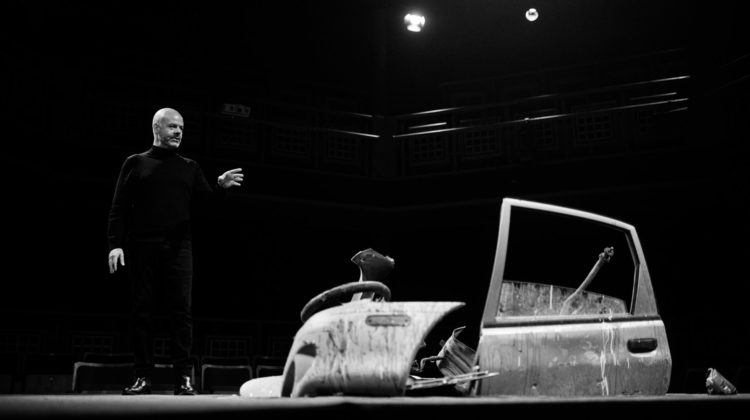 Photo: Daryl Cauchi
They Blew Her Up is Herman Grech's fictionalised account of Daphne Caruana Galizia's murder, a testament to just how effective the combination of theatre and journalism can be.
Writing and directing a play about the biggest news story to hit Malta in probably forever is not exactly the simplest of tasks. But Herman Grech – writer and director of They Blew Her Up, a fictionalised account of the Daphne Caruana Galizia murder that is currently running at St James Cavalier – has never been one to shy away from difficult tasks.
Grech's past scripts are testament to this. Indeed, his theatrical work has often used journalism as a springboard, to considerable success. His staging of Anders Lustgarten's Lampedusa in 2016 was sensitive and nuanced, while aiming a couple of good, locally-aimed zingers. Then, in 2018 he wrote and directed De-Terminated: The Abortion Diaries, a production that placed Maltese women's real-life stories under the spotlight and contributed in no small way to starting a discussion about what remains very much a taboo topic in Malta.
They Blew Her Up – packs a solid punch
It was to be expected that Grech's second script would also take a leaf from the thorniest of current events, a murder that almost brought an entire country to a standstill and that, to date, remains shrouded in controversy and uncertainty. The script is described as a fictionalised account, but I was sure that Grech's role as editor-in-chief at The Times of Malta would serve him well in terms of identifying source material that packs a punch.
And so it did. The audience is greeted by a minimalist, yet effective set – the burnt carcass of a car in the centre, and four huge screens strategically placed on each side of the quadrant, screening real footage from the site of the explosion and various news reports and broadcasts related to the murder. These screens are used to good advantage throughout the 1 hour and 20 minute long play, with snippets breaking up each scene very effectively.
The play opens with a monologue by Joe Azzopardi, whose role can be surmised to be that of Matthew Caruana Galizia, who was the first one on the scene of the explosion. It is worth noting that the script follows the style of 'verbatim theatre', which means the actors are replicating actual words spoken by people during an interview.
They Blew Her Up – Humanising Daphne
They Blew Her Up takes the form of various segments, most of which are monologues, and which represent the main protagonists who are involved in the murder – Daphne's son (Azzopardi), The Source (Charlotte Grech), The Journalist (Kim Dalli), The Criminal Element (Alan Paris) and The Police Investigator (Jes Camilleri).
The format is clever, as it keeps the audience on their toes, constantly switching mood and tone and avoiding the trap that verbatim theatre can sometimes suffer from – becoming a mere recital of facts.
Grech's treatment of the story is a powerful reckoning, as he skillfully directs the cast of five through what must have been an intense and gruelling experience. Starting with Azzopardi's role, a role that manages that to humanize Daphne in a way that all the news reports in the world didn't. Azzopardi's account of the years and days leading up to the murder are emotionally-charged and portray the woman who created such divisive feelings in Malta in all her humanity as mother, journalist, wife and confidante. This is a role that certainly required the actor to dig deep into some very dark places, and kudos to Azzopardi for never failing to keep the audience invested.
But Grech's script for They Blew Her Up doesn't limit itself to idealising Daphne and, instead, paints a picture of a real woman who had her foibles. Always the factual journalist, Grech tackles head on those aspects of Daphne's work that attracted so much criticism from many quarters, effectively reminding us that this is a multi-dimensional, real person we are discussing, and somehow making her even more relatable in the process, her murder even more shocking and poignant.
Dalli's role as the journalist highlights the hypocrisy of many household names who abruptly switched from vilifying the journalist during her life to venerating her as a martyr after her death. Paris's Criminal Element elicits all the contempt and repulsion that is to be expected from the audience; Charlotte Grech's source is appropriately calculating and cynical; while Camilleri's Police Investigator gives new meaning to the phrase 'between a rock and a hard place'. The interplay between them instils a sense of appreciation as to how far-reaching the web of criminality reaches, chillingly so.
To conclude, They Blew Her Up is a brilliant example of the good things that can happen when theatre meets journalism, and how the arts as a social statement are a very real thing.
They Blew Her Up runs at Spazju Kreattiv every Friday, Saturday and Sunday until March 16, and on Thursday March 4. Tickets are sold out, but the play is also being live-streamed – more information here.
For more Malta theatre and lifestyle pieces, check out From Rona With Love, Agnes of God and Comedy Knights House Party.