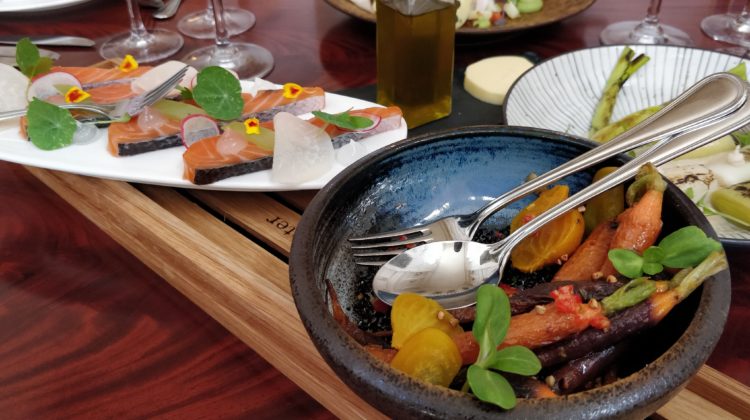 Where the classic favourites flirt with some wow flavours.
A hearty Sunday lunch at a good Maltese restaurant is one of the best things about the winter season, and screw the post-Christmas diet is what I say. Especially when it is a Corinthia Palace lunch.
Now, those of you who follow this website know that I have a very special relationship with Corinthia Palace. Lovely place, lovely service, lovely chef and lovely people. Which is why I never miss their events and I often write about it.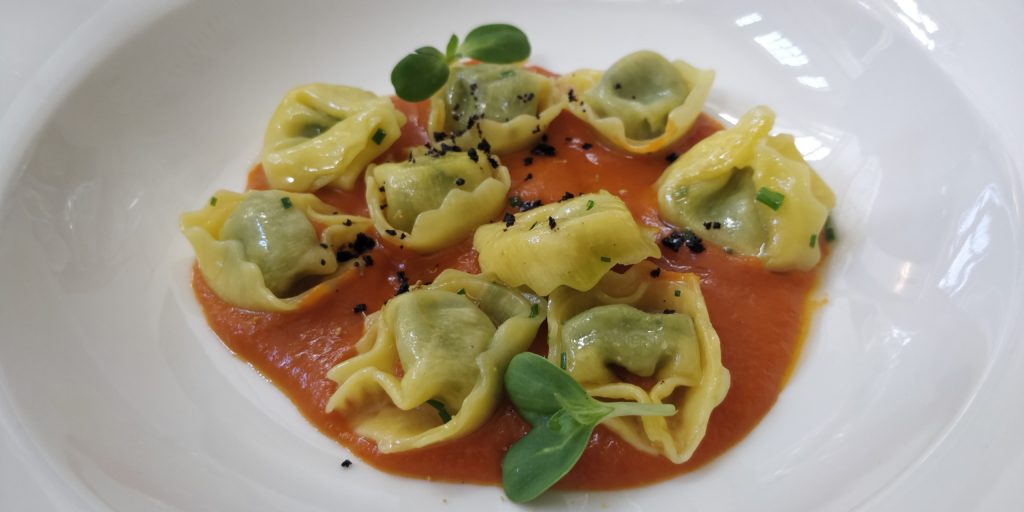 It's been a particularly great 2019 for the hotel, what with the unforgettable Quattro Mani dinner between Stefan Hogan and Italian chef Pino Cuttaia, and the introduction of a rather fabulous Afternoon Tea with all the accoutrements.
Now, this Corinthia Palace lunch, another feather in the very personable caps of Chef Hogan and General Manager Adrian Attard. The first special thing about a Corinthia Palace Sunday lunch is its location – The Villa.
If there is one thing that risks putting me off hotel lunches, no matter how luxurious and yummy, it's the way they are set up. Typically, five-star hotels will host their lunches and dinners in a huge, open plan kind of space that is as impersonal as it is grand. There are exceptions, of course.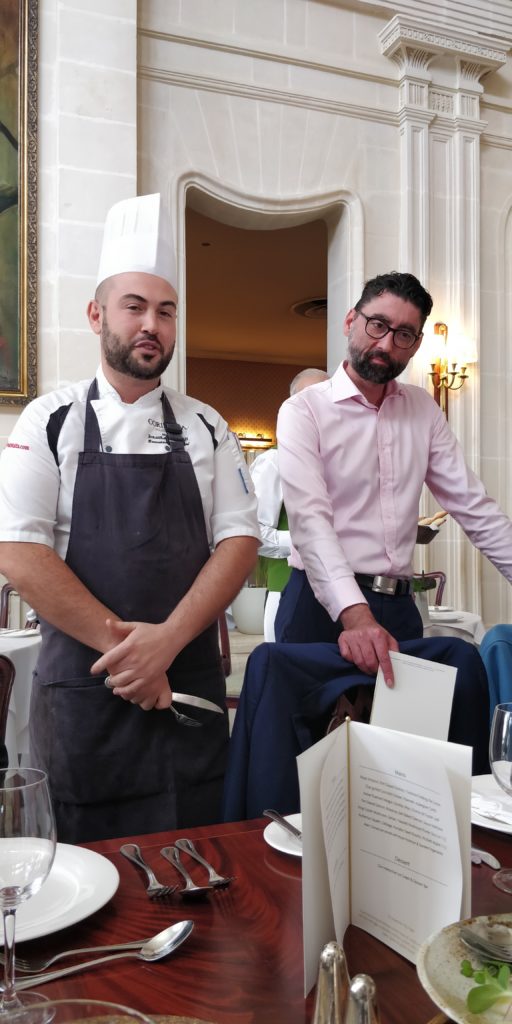 You're kind of swallowed into general hotel life, as it were, with the lunch being less of a dining experience and more of a functional activity.
I like my food experiences to be a touch more personal than that. Enter the Corinthia Palace lunch, which takes place at The Villa, with its opulent decor and discreet location just to the side of the main hotel building. The hustle and bustle of hotel life is left outside the doors.
A Corinthia Palace lunch means that I find no horde of tourists to interrupt the flow of conversation. No annoying, protruding pieces of luggage to come between me and my trip to the dessert live station.
A Corinthia Palace lunch means no harried staff juggling a million and one things. Instead, the vibe is laidback. I am made to feel that I can take all the time in the world.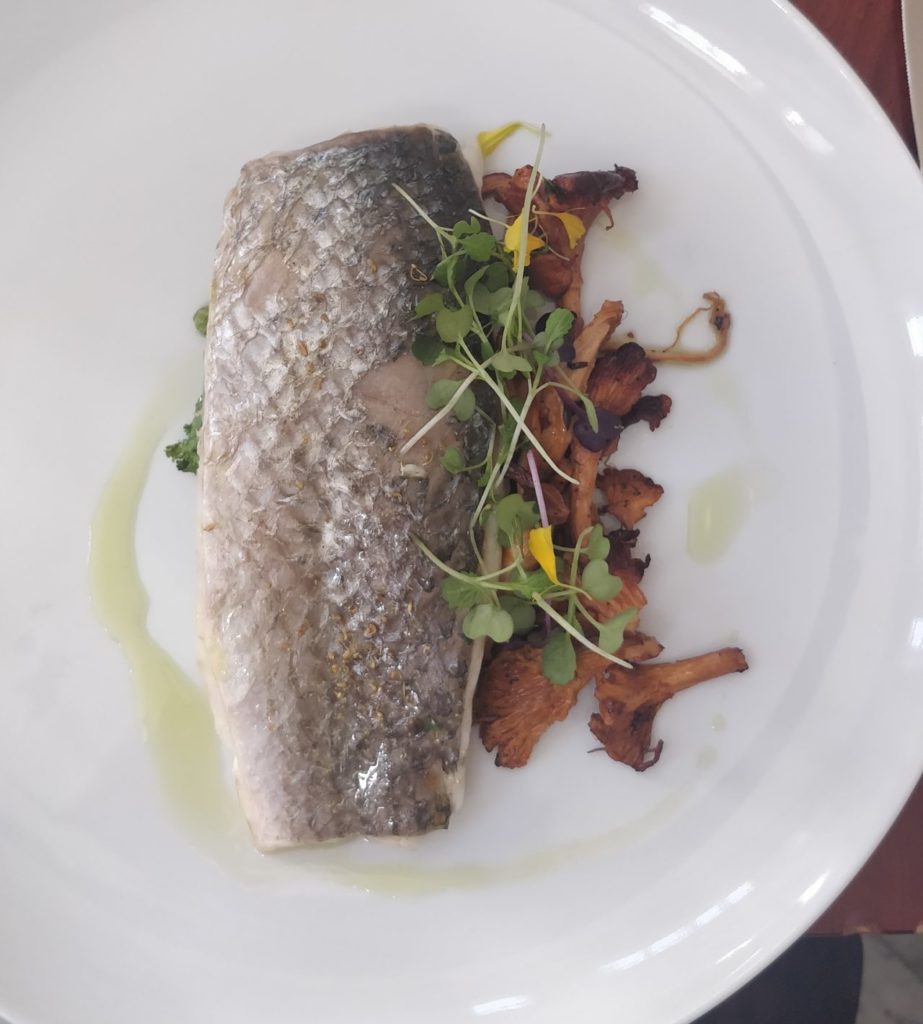 And that's exactly what I do, together with the other lucky souls who have also been invited to sample the Corinthia Palace lunch with me.
A word about the hors d'oeuvres. Typically, I'm not one to overdo it, because even with the best will in the world I won't manage to fit in all the courses plus dessert.
The Corinthia Palace lunch, however, makes it impossible to miss out. A shout out to the Salmon, cured in one of my favourite gin, the Hendricks. Before you ask, yes – it does make a huge difference on the palate.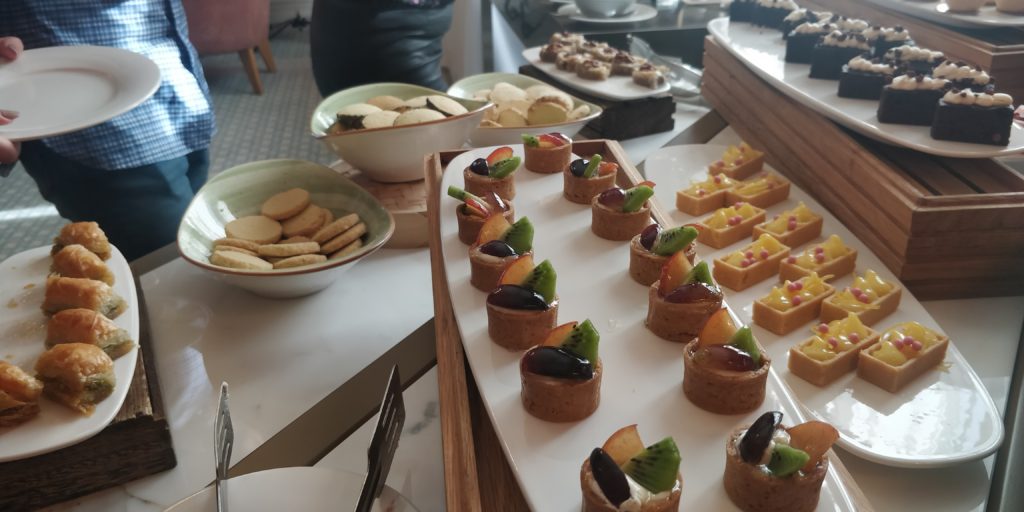 The selection includes a line-up of the usual delicious suspects delivered with a twist. Smoked burrata came with chive oil and egg yolk bottarga. The veal, leek and prune terrine is spiced with a fig chutney, which totally turned my idea of terrines on its head.
Fried calamari are served with macadamia aioli, while carrots are roasted in lemon. All extra touches that make the flavours pop and transform a potentially mundane dish into something truly special.
Corinthia Palace lunch 1 – Ram's willpower 0.
A bit of wine here, a bit of chit-chat there and we are all SO ready for what's next: a choice between Lobster Bisque, Tortelloni or Poached Leeks. Common sense dictated I opt for the 'lighter' bisque, but I also happen to know that the Hogan brigade excels at pasta dishes.
Especially with the simpler sauces like this one – smoked tomato fondue and olive crumbs. From experience, I know that the fewer the ingredients, the stronger the magic. I was not disappointed: these tortelloni are definitely one of the stars of a Corinthia Palace lunch.
A short break and I decide to join a couple of the other diners on The Villa patio, outside, to enjoy the winter sun (and some wine). It genuinely feels like we have all the time in the world, which makes a lovely change from the usual pace of life we're used to.
The Corinthia Palace lunch comes with a choice of mains that, again, flirts with tradition before sending it packing with a flurry of exciting flavours. There's Roast Striploin, Grilled Chicken, Poached Meagre, Pan-Seared Salmon, and a King Oyster Mushroom dish.
At first glance, nothing too exciting. But the extras, and the quality of the ingredients, put paid to this thought. My choice, the striploin, comes with port-glazed shallots and Yorkshire pudding and I'm totally kicking myself for going to town on the tortellini. The whole thing melts in my mouth in a glorious fusion of deliciousness.
So far, so awesome. The live dessert station, however, is where things reach a different ballpark. It's no secret that I have a sweet tooth the size of Jupiter.
Having the chef prepare fresh pancakes as I point triumphantly to ALL the fillings and toppings is my idea of heaven. Actually, I lie. I opt for a good, old-fashioned Crepe Suzette, mostly because I also want to taste the (freshly-filled) profiteroles, various cakes and ice-creams.
Somebody drag me out of here. Please?
Conclusion? This is officially on my list of Top 3 favourite lunch/brunch places in Malta. It is priced at E35 per person, which I think is extremely good value for money, and the menu changes seasonally – certainly a better alternative than making my own lunch.
To book a table call on 2144 0301.
Want to read more about Malta's foodie scene? Check out which local restaurants recently received the vaunted Michelin star. You can also read about a blind-folding dining experience at Bahia or learn more about AKI, the hippest Asian eaterie in Valletta.
For this review, I was hosted by Corinthia Palace. To see the reviews policy click here.