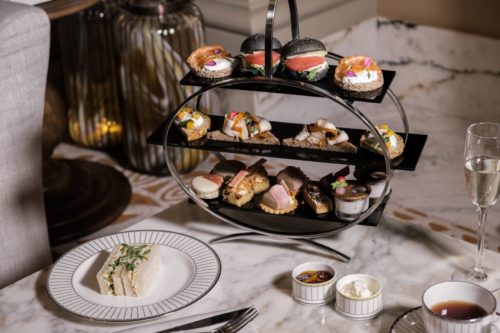 Tea fit for a Queen
I love a good high tea, as we used to call them in the 1980s – even more than a good brunch. And the Corinthia Palace Afternoon Tea certainly fit the bill.
Don't get me wrong, I appreciate a – Mimosa and Eggs Benedict with salmon as much as the next basic white girl, and there are plenty of Maltese restaurants providing this. But brunch at any of the decent places nowadays means encountering a sizeable  chunk of the island's population. And, invariably, their wailing kids.
Got nothing against the kiddos, in fact I love nothing better than a good play session, provided they eventually scuttle back to their parents.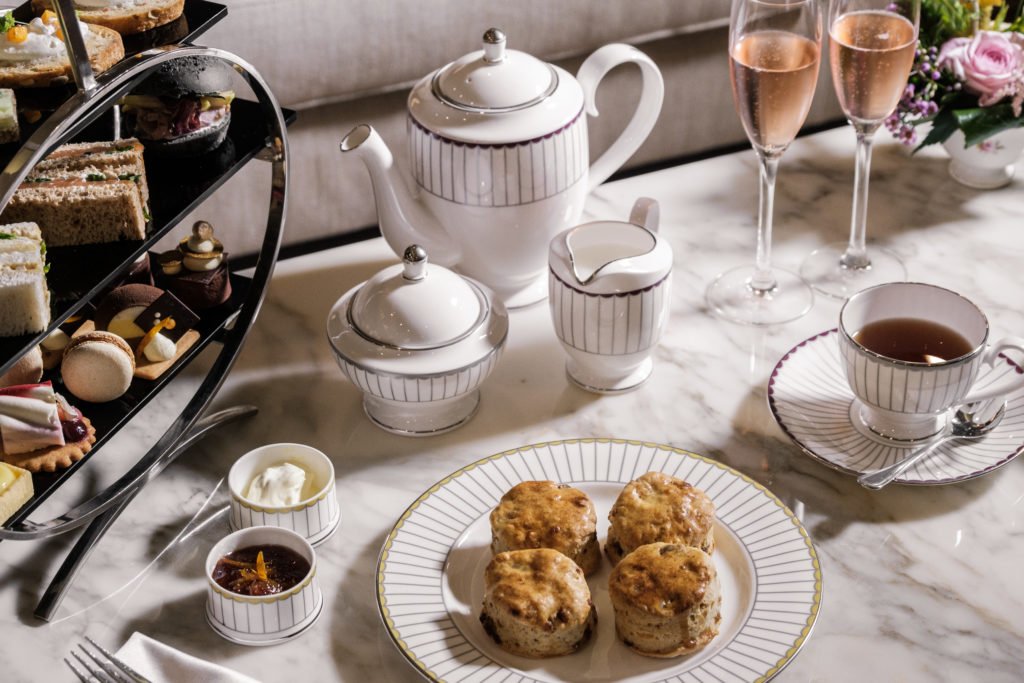 But still, sometimes quieter events than brunch are warranted. Such as a yummy afternoon tea. Still not sure why it is thus, but afternoon tea tends to be a more peaceful affair than brunch.
Maybe it is because the kiddos' energy levels take a dip, so it is easier to convince them to be the little angels we know they can be. Or maybe it's just that noisier families prefer brunch, who knows.
Corinthia Palace Afternoon Tea Menu
Whatever the reason, the Corinthia Palace Afternoon Tea is a soothing affair. Our party shows up on a Saturday afternoon. It's bustling in the best way possible. The kids on the next table are munching on scones, mesmerized by some toy one of them is manoeuvring. I smile in their general direction. They smile back and get back to their toy.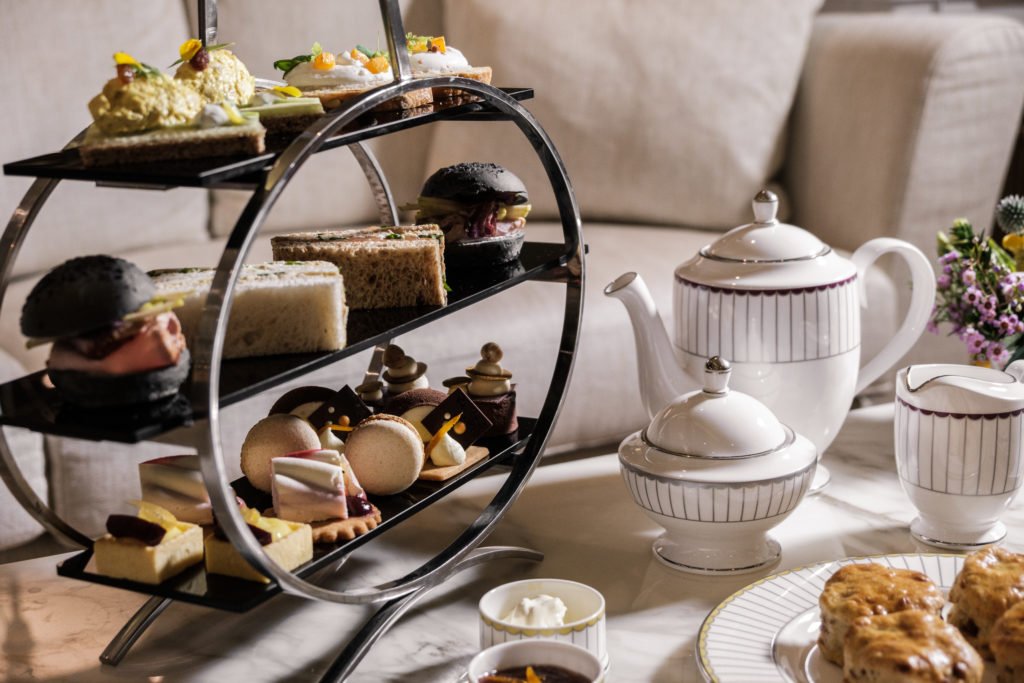 I can tell there is some great parenting going on there, so I smile at the parents too. They also smile back, albeit with some confusion.
I turn back to the matter at hand. We have been invited to sample the new afternoon tea menu and, judging by what I see on the other tables, it is quite the spread.
A charming waiter shows up with the tea menu, explains it in brief, and then tells us to 'rock 'n roll'. I like him already, so I rock 'n roll through the selection of Camellia Loose Leaf Tea.
A few minutes of pow-wow and our choices are made. I am opting for the Corinthia Afternoon Tea Robust, which is described as a strong blend of Earl Grey, Oolong and Assam, because I think I like a good kick to my tea. The others opt for Dragonwell Green, an even stronger kick of Chinese Green Tea. The teas show up in five minutes, with honest-to-goodness sugar cubes. Including a brown option. Bless.
Charming Waiter returns to ask whether we would like to be served our fresh scones after we finish our sandwiches, or at the very end. We decide to keep the scones for the grand finale. He nods in approval. "Let's party, then."
And a tiered cake and sandwich holder appears, as if by magic, on our table. Did I mention how much I like this waiter?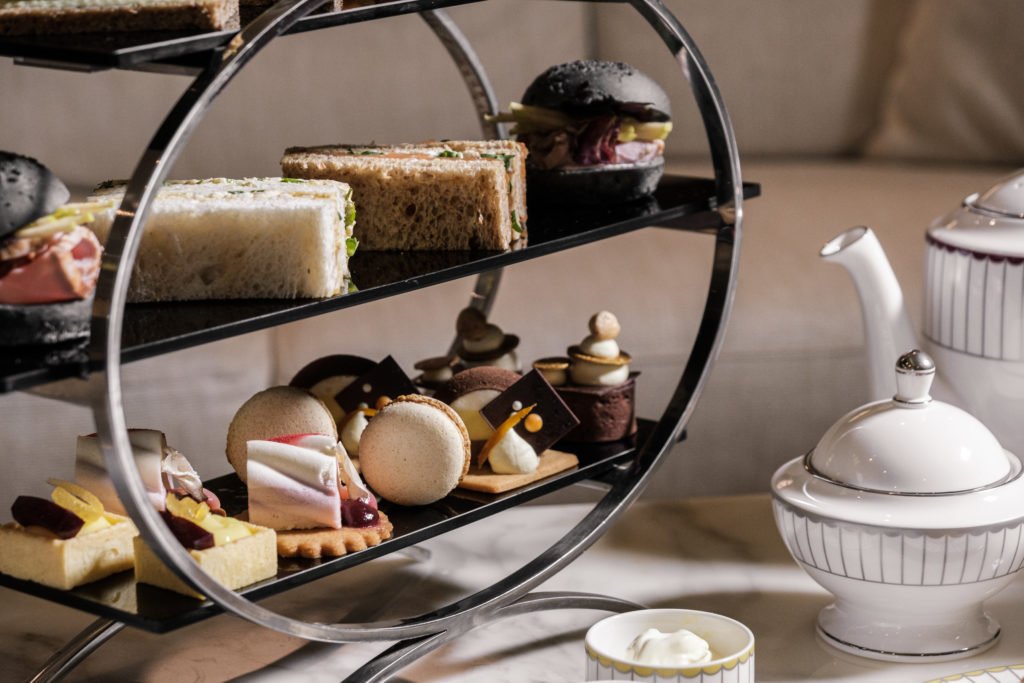 What followed was leisurely conversation punctuated by yummy lusciousness. The sandwich tier included all the usual British favourites: egg mayo (my favourite!), Coronation, Salmon & Cream.
Some time later we notice that there is just one Coronation and an Egg Mayo left standing. I am not fond of the curry element in Coronation – such a British thing to do, slap curry on a chicken sandwich and dedicate it to the Queen!
One of my guests abhors eggs, more fool her. We sign a treaty, shake hands and swap.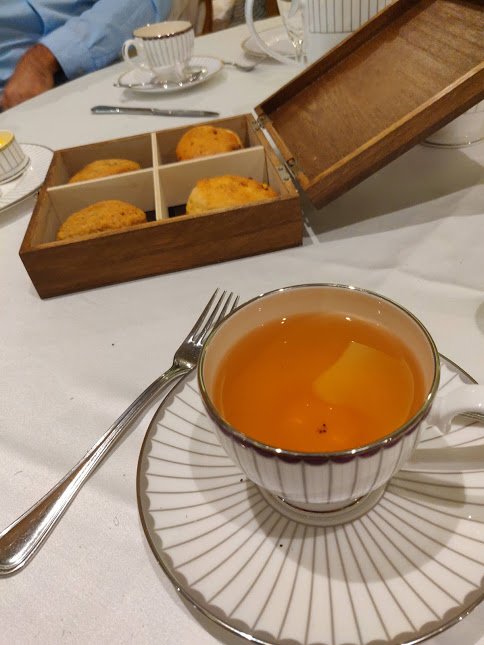 Speaking of Queens, the Queen of the savouries was undoubtedly a thin sourdough crostata that came with labneh, roasted pumpkin and pomegranate on top. Happiness all around.
At this point, the Prosecco glasses make an appearance. Oh, hello. Sip, sip, sip and we dive into the cake offerings. Every mouthful is sinfully decadent.
There is a raspberry cheesecake that I would have fought my own mother for (a fight I would have probably lost, because the Madre is no fool).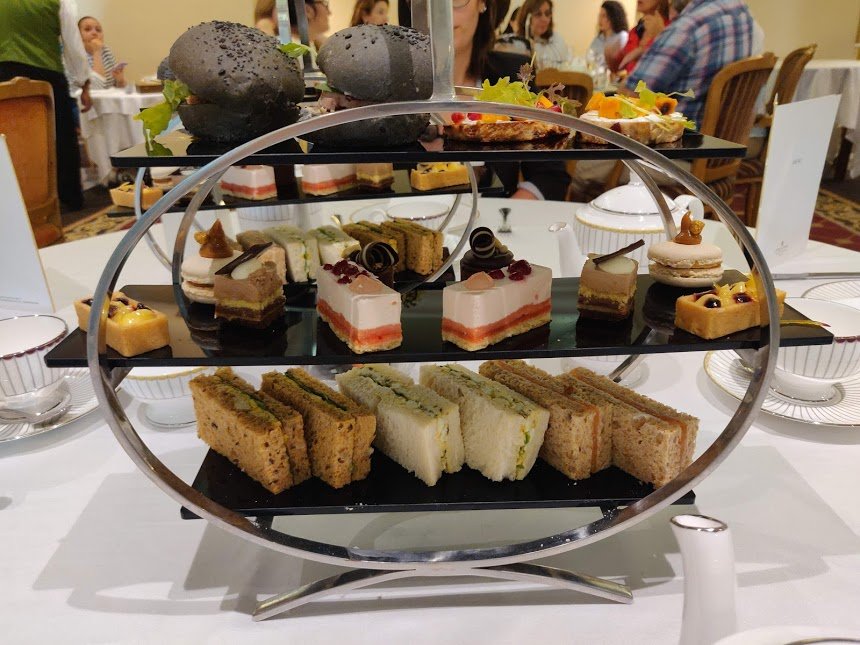 The chocolate cups are luscious one-biters that we all savour in silence. Another concoction comes with a hint of peanut butter that is just enough to make me close my eyes in happiness. I'm such a pig.
Chit chat chit and after a while we were ready for the piece de resistance. Scones. The holy Grail of afternoon tea. So many ways to mess them up – too hard, not warm, too crumbly, served with fresh cream… the lost of pitfalls is endless.
Chef Stefan Hogan's team fell for none of them and I didn't expect anything less. The scones themselves came in two varieties: classic white and a wholemeal version.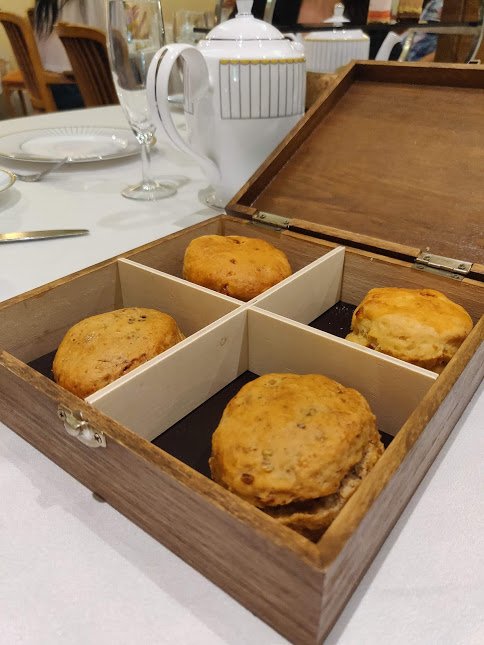 Never has wholemeal tasted so beautiful, with the consistency being delightfully springy and the texture as moist as one could hope. I never though I'd use the word moist in my writings, but in this case it is called for, so take your judgement elsewhere.
On to the condiments – a beautiful, homemade strawberry jam that had just the right amount if sweetness. Clotted cream, as it should be. And wonderful lemon curd, a rarity here.
My favourite combo was clotted cream and lemon curd and I lathered it on grandly.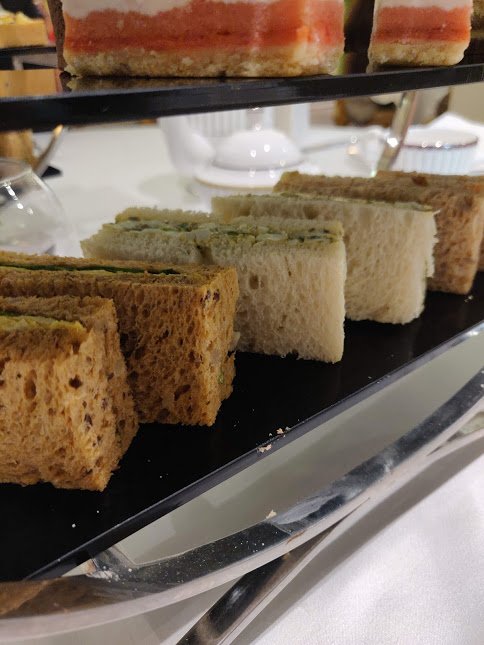 One of the biggest attractions of afternoon tea is the leisurely aspect.
The Corinthia Palace Afternoon Tea is in session at the Orange Grove, right behind the foyer area. It is olde-worlde and lovely and very conducive to chatting.
We ended up leaving at about 8.
Quite a long tea, and an indication of how much we loved the ambience.
In the Queen's words, we are pleased. For reservations call on 2144 0301.

Read a review about a Michelin star dinner at Corinthia Palace here, check out AKI Restaurant in Valletta here and blind-tasting at Bahia here.