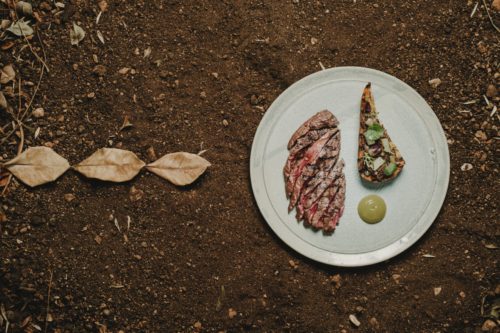 Or, how I scoffed an 8-course meal without even looking
Blindfold dining Bahia experience was a concept I'd been wanting to try for a while. I have heard of the concept of blindfolded/dark dining, of course, being carried out abroad. But, as far as I am aware, only Bahia has done that on the Maltese restaurants scene. Do feel free to correct me. And I myself had never experienced it, even abroad.
Blindfold Dining Bahia – a gimmick?
I will put my cards on the table: when I heard it was being done in Malta, I was extremely sceptical and I viewed it as a superficial gimmick. For me, a big part of the enjoyment of a dinner out involves using all my senses, including vision.
I like to see the plating, the colours, the proportions… I consider it part of the experience.
Also part of the experience is good conversation with my dining companion. After all, how am I going to justify the ingestion of all those calories if not with the excuse of good conversation. And I usually like to be able to see the other person while enjoying said conversation.
So, I was a bit of a sceptic, at best. But, when I received an invitation to attend one of these Blindfold dining Bahia evenings, I accepted immediately.

This was mostly on the strength of Bahia's sterling reputation.
The place can do no wrong – wonderful kitchen team and management, a super pretty location, impeccable service… The head chef, Tyrone Mizzi, is young, passionate, and clearly was born to make people happy with exquisite creations. He has gathered together a fitting team. I was not about to pass up an invitation, blindfolded or not.
This was also a celebration of the restaurant's third anniversary, and also an innovative way to introduce their new autumn menu, so I really didn't want to miss it.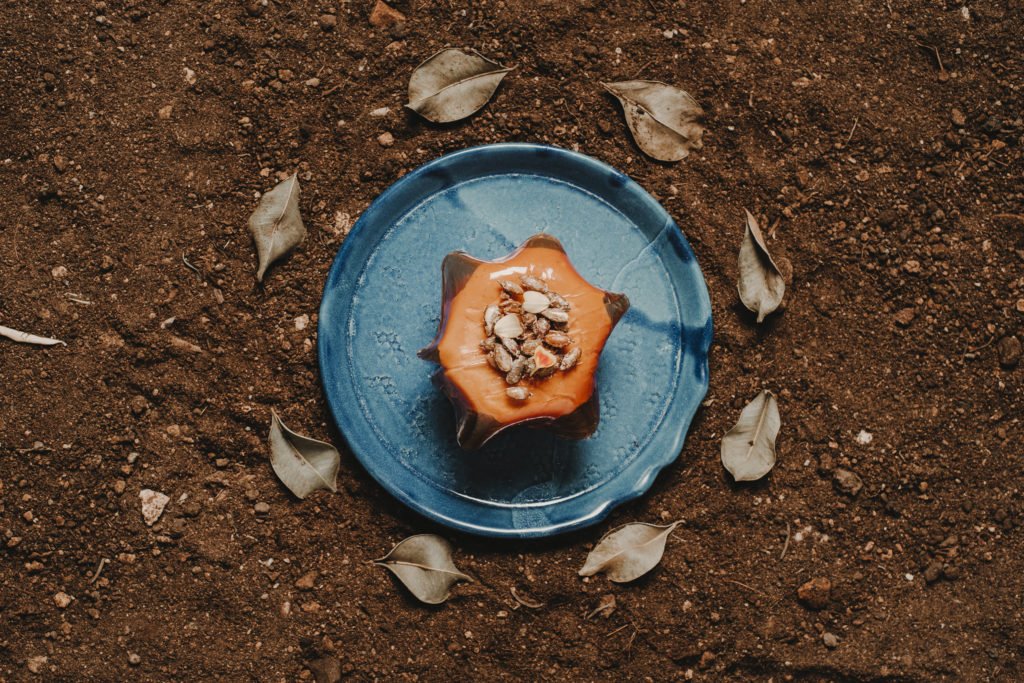 So we showed up, and were greeted by Ian Fenech, the restaurant manager, with a glass of Cassar de Malte, and we joined the other diners in a bit of pre-prandial chitchat. The vibe at these events is different than a usual dinner out and there is a sense of (respectful) camaraderie with other diners.

The way Blindfold Dining Bahia experience works is like this: dinner starts at 8pm, with all tables served together.  Every party has their own private table, but it is very much a shared experience and you do get to enjoy the occasional banter between like-minded people.  It is obligation-free, casual socialising at its best, which is what a great evening is all about. Score 1 for Bahia.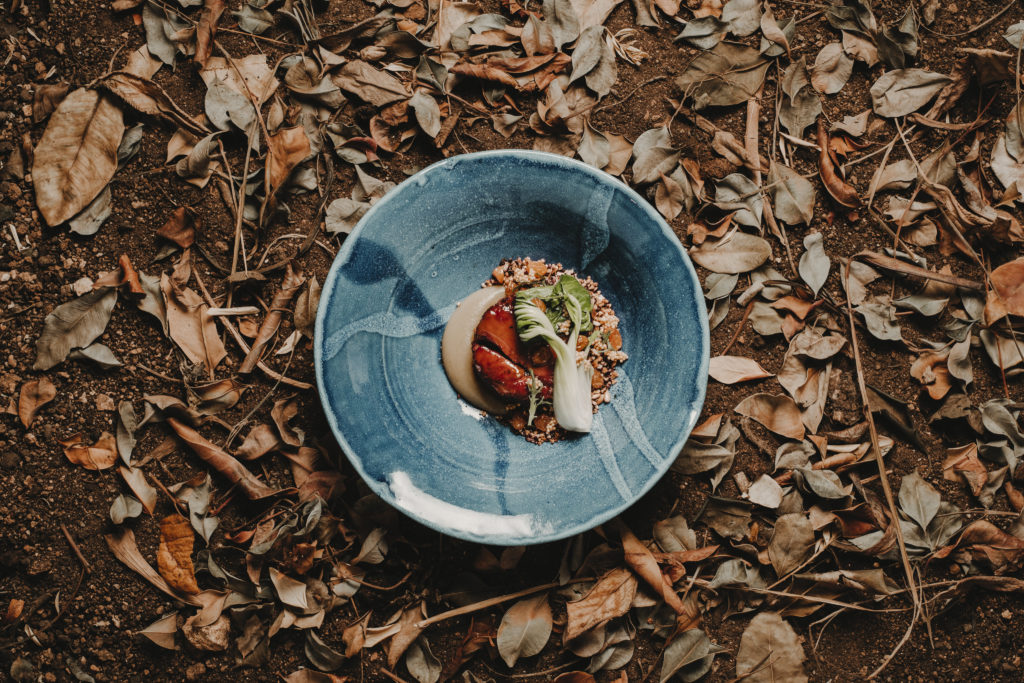 After a bit of chit-chat, Ian invited everyone to their table. The table is set up in the usual manner, with the addition of a blindfold. I confess to a small shiver of excitement and nervousness.
I am not known for my co-ordination skills. How was this Blindfold Dining Bahia experience going to work? I didn't particularly relish the thought of spilling wine or food everywhere. Or of stabbing the table (or my cheek) with a fork. Yup. Nerves were real.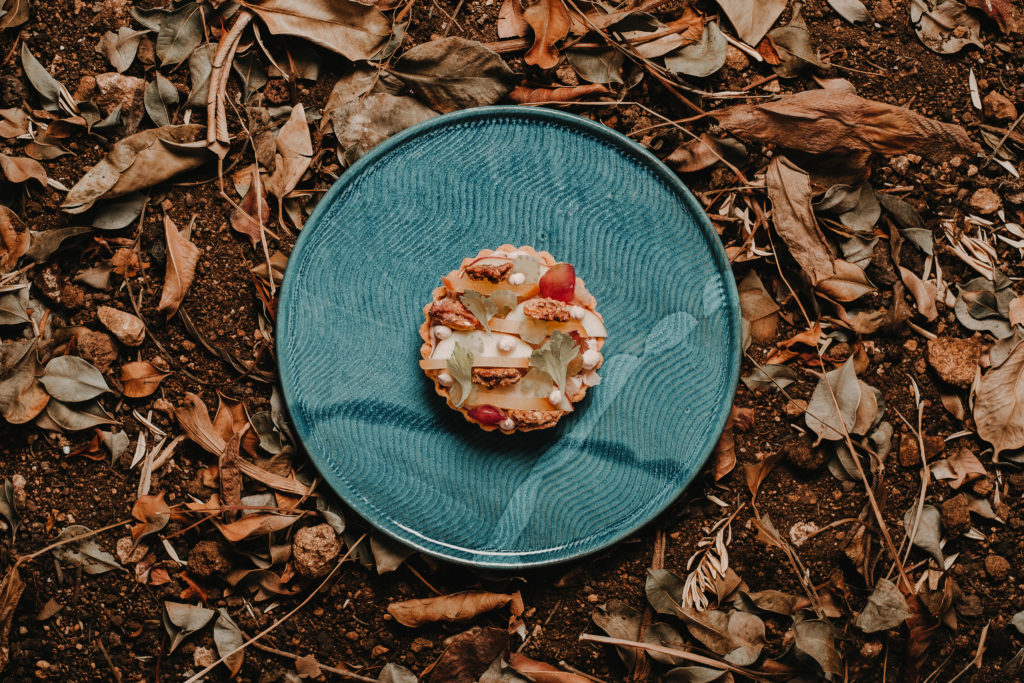 Soon, Ian reached our table to address these nerves, as he explained what would happen. In short:
🍾 Put on blindfold
🍾 Wine glass would always be placed to our left, at the edge of the dining mat so that we could locate it easily
🍾 Same for the glass of water, but to our right
🍾 No utensils were required, all food would be bite-sized
🍾 We would get a detailed description of what was in our plate, without actually being told what it was
🍾 In between each course, the big reveal would be made and we could have our fun discussing how right or wrong we had been
This little intro removed all the nerves and left me with only the pleasant sense of excitement. I was no longer worried about the whole utensils thing, and I also knew that my wine would be within very easy reach.
And anyone who knows me knows that, for me, this too is an essential part of a successful dining experience.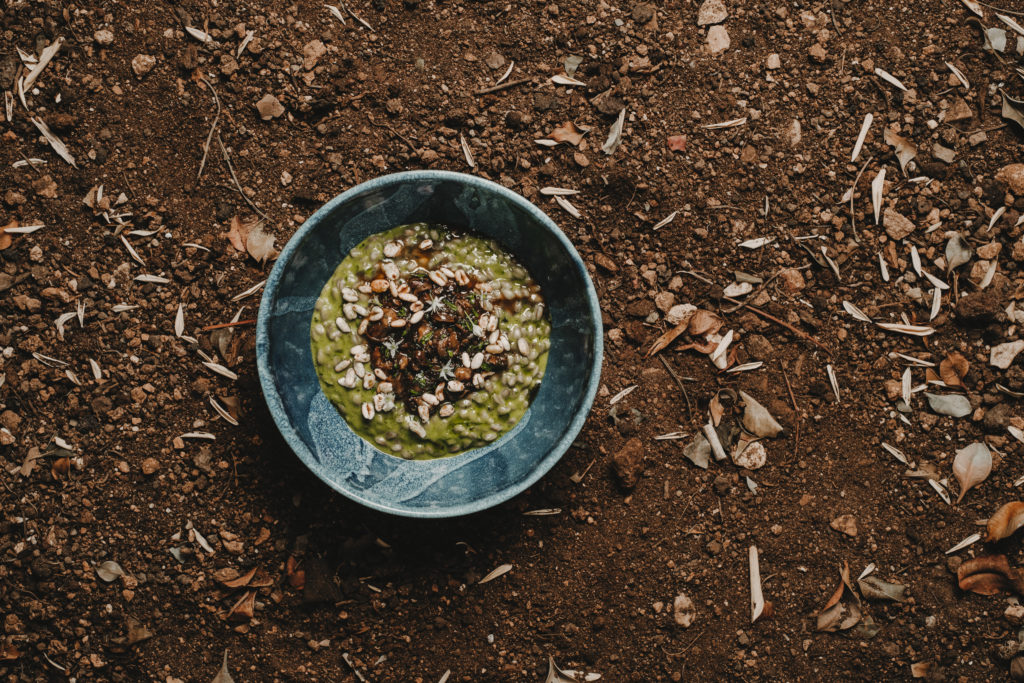 About the wines: this was also an occasion to celebrate Marsovin's centenary. Marsovin do Malta well-proud when it comes to our wine heritage.
It is no secret that I am a big fan of their wines – I count the Grand Maitre as one of my top reds. The Cassar de Malte holds its own with any high-end French champagne. And the Antonin has perfected many a summer eve for me. So I was rubbing my hands in glee at the idea of sampling a different Marsovin vintage with each course.
Suddenly, my guest and I couldn't wait to kick off the entire experience. We put on our blindfolds as we saw one of the servers approach our table, we heard the tinkle of wine, reached out, swirled, sniffed, and started chattering.
Five minutes later, my guest goes: I have a suspicion we are the only ones with  the blindfold on. I sneaked a peek and… turns out she was right. We had been too busy chatting and missed the part where we were told we'd be informed when to put them on. Oops.
Judging by the benignly amused glances we received from other diners, we must have made quite the amusing sight chatting away animatedly, blindfolds well secured.

A few minutes later we were told that it was time for the real fun to start and that we could put on our blindfolds (aha), so we did.
Our wine glasses were refilled, and I gingerly attempted to follow instructions. Everything was exactly where Ian had promised it would be and I forgot any nervousness as soon as the first bite reached my taste buds.

In true Blindfold Dining Bahia reputation, this was a purely sensual explosion of flavours. Some complementing each other, others making for a surprisingly pleasurable contrast.
When you have no idea what you are eating, you somehow appreciate each nuance of flavour, every bit of texture, more than usual. As long as the food is well-prepared, of course – and this was the ultimate marriage of top ingredients and exquisite composition with just the right amount of creative imagination.
Blindfold Dining Bahia menu
Everything we tasted that evening was surprising just to the right degree – nothing was run-of-the-mill, and it was easy to see that Chef had fun creating unusual concoctions to delight us.
Yet, nothing was too-off the-wall and the Blindfold Dining Bahia approach is to use creativity in order to exalt flavours, as opposed to going for strange combinations just for the sake of it. Full marks to Chef for achieving the perfect balance between surprise and palate.

But I know you all want to know what these mysterious dishes were, so here you go. In total, we tasted 18 creations and 9 wines.
Oyster Tempura, Dashi Gel, Nori Powder, Black Peppercorn Biscuit
Cured Fish Cheeks, Waldorf Salad Tart
Braised Local Snails, Zucchini & Spinach Puree
Verdict: The revelation of this course had to be the braised snail. I loved it, and instantly pronounced it my favourite from that dish – before Ian actually told us what it is. For the record, I hate snail. Clearly, not the Bahia one though. The Waldorf Salad Tart pastry deserves a whole post of its own, while the Oyster Tempura is my new favourite thing.
Wine: The dry, very aromatic, 1919. Super smooth, an excellent start.
Wild Mushroom Consomme
Fermented King Oyster Mushroom
Swede & Turmeric Rosti, Lime & Coriander Mayo
Verdict: I am a committed mushroom fan. No prizes guessing I could have eaten an entire field of this and come back for more.
Wine: The delicately fruity Blanc de Cheval, a lovely companion to the earthiness of the mushrooms
New Potato Vichyssoise with creamed Leeks, pulled Fish meat and Avruga Caviar
Fried Squid, Sweet & Sour, Soft Herbs
Verdict: OMG this potato 'cake' was everything that is comforting and good, with a bit of a kick provided by the fish and caviar. Fried squid with sweet & sour was surprisingly luscious, possibly because the sweet & sour is really done well and was not overpowering at all.
Wine: Rich and oaky, the Antonin Blanc did full honours to this impeccable dish.
Traditional Ħobża biż-Żejt with homemade Kunserva & Ġardiniera, Basic, Extra Virgin Olive Oil
Verdict: This was probably the most difficult one to navigate blindfolded, although we were given ample warning that it necessitated about 2 bites (4 in my case) and that it was about to be gently placed in our hands. The mess that I (and no-one else) made was totally worth it. Sorrynotsorry.
Wine: Ah, the intensely sensual Cheval Franc. Unbeatable.
Double Agnolotti filled with Smoked Burrata & Spring Onion, Argentinian Beef Fillet Tartare
Venison, Rabbit, Foie Gras & Braised Cabbage Terrine, Blackberry Ketchup
Crispy Hen Egg, Broccoli Puree, Grated Bottarga
Verdict: I will never look at Agnolotti the same way again, not after this one makes it into my hall of fame. Perfect, handmade pasta and an oh-so-delicate tartare interjected by the creaminess of the burrata – and somehow, still not too heavy on the system. Now that's magic, right there.
Wine: Remember when I said the Cheval Franc is unbeatable? I was wrong. Marsovin's 100 Centenary wine is something to behold, a luscious medley of Cabernet Sauvignon, Merlot, Cabernet Franc, Syrah and Ġellewża Mqadded. Basically the best of Marsovin, in one chalice. I almost felt guilty drinking this, as though I should be preserving it for posterity. But, no.
Braised Beef Cheeks, Sourdough Crostina Pickled Cucumbers
Pork Belly, Gruyere Welsh Rarebit
Breaded Veal Sweet Bread, XO reduction
Verdict: The Beef Cheeks were pretty amazing but the Rarebit gets my vote. I rarely see it done in Malta, and certainly never so beautifully.
Wine: The Primus – an intense, ruby taste that lingers with a certain sweetness – was a very happy match.
Avocado, Almond & Pineapple Ice-Cream Sandwich
Tonka Bean Crumpet, Caramelised White Chocolate & Butternut Squash Cheesecake
Muscovado Doughnut, Chocolate & Hazelnut Praline
Verdict: Allow me to start by saying that any other doughnuts that don't conform to this new Bahia standard should be stripped of the name. I am addicted to this new (to me) delight. This is not to take anything away from the ice-cream sandwich – avocado, huh? Who'd have thought it has such worthy, non-hipster uses?
Wine: It had to be Ġuże Moscato (Late Harvest), of course. Sweet, sweet Ġuże, which turns the Zibibbo grape into something spectacular.
Dried Fruit Cake, Brie de Meux Espuma
Verdict: There had to be a cheese course, of course. But what a surprising and delightful idea, to present it as a sweet & savoury cake.
Wine: The Ġuże again, this time the Shiraz Passito, a very strong conclusion to a very strong evening, that I hope to be able to repeat soon.
Blindfold Dining Bahia – THE WHOLE VERDICT
I can honestly say that I enjoyed every single moment and morsel, including those that – had I known what I was eating – I probably would have refused.

The biggest shock of the Blindfold Dining Bahia event, from a personal point of view, was marking the snail from the first course as one of my favourite dishes. I have long insisted that I dislike snail flavour and texture. Clearly, I just hadn't yet tried the Bahia version. Kudos to Chef for pulling that one off.
With a blindfold experience that is done well, you do allow yourself to be more adventurous than usual. This was one of my favourite parts of the evening, the discovery of new flavours.
Another bonus is that the level of conversation actually improves. There are no phones and food Instas to distract. No other people except you and your dining partner. We focused on food, wine and conversation, which actually flowed easier thanks to the blindfolds.
I'm still not sure why this is the case, maybe it has something to do with shedding of inhibitions together with sight, so it becomes easier to have an honest conversation.

Also – and I can't stress how amazing this was – I didn't think of my phone once (well, after the initial obligatory pic, anyway). Douze points just for that.
The verdict? The Blindfold Dining Bahia sessions are far from being just a gimmick. The evening was perfection from start to finish and I am grateful to have had the opportunity to experience such a rare and immersive dining experience where the ambience was as delectable as the food.
I'm a believer and I will certainly be looking forward to their next, innovative idea.
The blindfolded dinner was a representation of Bahia's new Autumn menu, which can now also be enjoyed in the traditional manner. For reservations please call +356 99991270 or click here.
Want to read more about Malta's foodie scene? Check out which local restaurants recently received the vaunted Michelin star. You can also read about al fresco dining at the Broadside Terrace or learn more about AKI, the hippest Asian eaterie in Valletta.