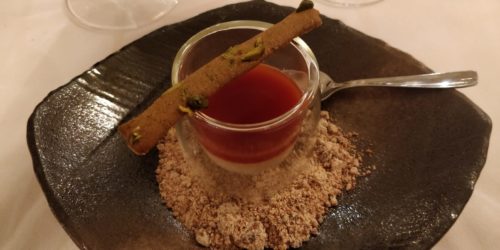 A Sicilian and a Maltese walked into a kitchen…
A Corinthia Palace Pino Cuttaia experience? Yes please. The Corinthia Palace's indefatigable Chef Stefan Hogan recently invited Sicilian Chef Pino Cuttaia to deliver a unique, Quattro Mani dining experience at The Villa, one of my favourite Maltese restaurant locations.
I received my invitation with no small degree of excitement. Not because of those prized stars, but more because I was familiar with the style of both Chefs and I knew this Corinthia Palace Pino Cuttaia collaboration could only spell Amazing Things.
So amazing, as to make me break the cardinal writing rule of no redundant capital letters.
Perhaps weirdly, I am not one to seek the Michelin stars when dining out abroad. I usually delve into the history of a chef, the preferred style and ingredients.
It's not that I do not value the meaning of those stars, sure I do. But I make my judgements based not on a formula or label, but on what real people on the street say.
They tend to be more reliable.
Having said that, I confess to having an unshakeable fondness for genuine Sicilian cuisine. There is something honest about the ingredients, the flavours, even the whole dining ritual itself. And this is what made the promised Corinthia Palace Pino Cuttaia experience so seductive.
Pino Cuttaia is one of those chefs I follow, sadly from a distance. His restaurant in Licata is called La Madia – in Agrigento, one of my favourite Sicilian regions. It brings together the most gorgeous Sicilian flavours with the loves he discovered in Piemonte, Italy.
There is a lot to be said for using simple ingredients that exalt a dish, and Cuttaia is a master at the art. You will not find any subterfuge here, any long lists of unnecessary ingredients to make what you are eating appear more important or complex than what it should be.
On the contrary, with Cuttaia, you know exactly what you are eating. Delightfully, throughout dinner I could identify every single ingredient that landed on my taste buds.
Without wanting to get too poetic about it, every element dances its own solo dance around the palate, before joining the others to dissolve in one exquisite medley. Ok that's poetic enough, but you will have to forgive me. Cuttaia really delivered for me. And anyway, we are talking Sicilian and Maltese passions here, so a bit of poetry is needed.
Because this was also a very Maltese experience too, let's not forget. My admiration for Chef Stefan Hogan's equally honest approach to cooking, and the respect with which he treats his ingredients before turning them into something wonderful is equally unshakeable. I have never been disappointed at his table.
In short, this Corinthia Palace Pino Cuttaia collab promised to deliver a dream.
What can I say, promises were indeed kept. The evening kicked off with an explanation by the two chefs, how they went about choosing the best that land and sea in Sicily and Malta have to offer.
Each course was accompanied by a carefully selected wine from the luscious Frescobaldi range, thanks to WORLD of WINES by Charles Grech. Incidentally, if you're under the impression you're not fond of rosé, try the Alie Rosé and you'll have another thought coming.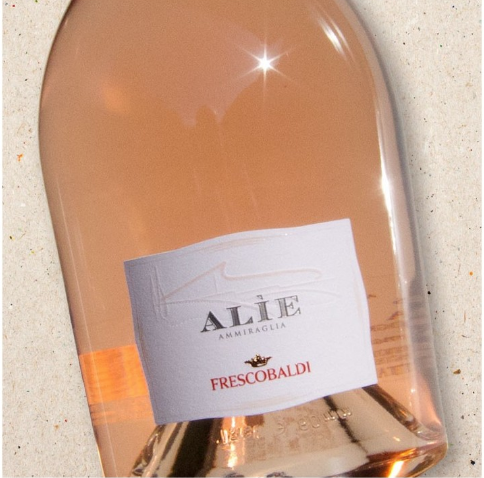 Happily, I wasn't driving. So I enjoyed them ALL. And never mind that swirling and spitting rubbish (well I swirled a bit, but that's as far as it went).

Corinthia Palace Pino Cuttaia Menu
Each dish offered that one single ingredient that cleverly made its provenance obvious, so that we could easily figure out which of the Chefs was behind it.

One of my favourites from the night was the Risotto Al Pomodoro with Ġbejniet. At its essence, it sounds like a very basic recipe prepared using minimal ingredients. Ah, but the juice of the prettily-placed cherry tomatoes infused every mouthful. And the ġbejniet were used judiciously, adding an underlying edge without being overbearing. Quite a feat of balance, given our local cheeselets' notoriously powerful taste.

I use this dish as my favourite example of using high-quality ingredients and kitchen prowess to elevate what would, in other hands, be a basic dish.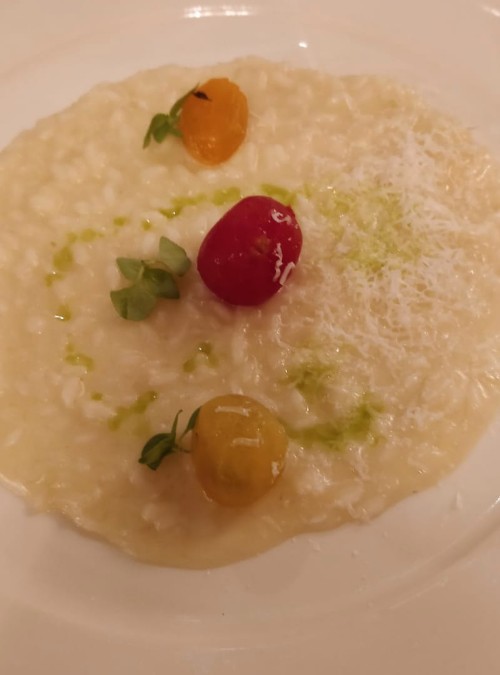 I'm always so disappointed when people insist on overly fussy dishes. A sophisticated palate does not require the true essence of a dish to be hidden behind a gazillion extras, as though its essence is not good enough.
In this risotto, the true essence certainly shone through, so thank you for that Chef Hogan.
Quite the star attraction was Chef Cuttaia's signature dish, the Quadro di Alici. And it is easy to see why. It is not called a 'quadro', a painting, for nothing. The presentation is impeccable – it shows up at the table on a delicate paper base, and the collective reaction was pretty much akin to when we are looking at a museum piece.
Phones were duly whipped out, and a lot of oohing and aahing ensued. The ingredients in this one sadly included one item that I actually dislike – the alici – anchovies. So I have to rely on the rest of my dining companions for an objective verdict. And, what they were saying was that this was one of the most amazing things they had ever tasted.
So much so that I had to try it too. Again, the concept of simplicity shines through. It will never be one of my favourites, but for someone who doesn't eat anchovies I did appreciate the way the delicate flavour of the carpaccio was punctuated by the occasional sharpness of the anchovies. Hats off to Chef Cuttaia for pulling off a miracle with this one.
Another miracle was the Merluzzo all'affumicatura di pigna, condimento alla pizzaiola. Basically our beloved merluzz, cooked pizzaiola style. So totally unexpected, with the crispiness of the pastry playing with the juicy pizzaiola sauce and the tender merluzz exquisitely. More magic.
Another favourite from the night turned out to be the Brassiche, Vongole, Cannolicchi, Bigilla, and I'm not even a fan of bigilla (bean spread). All hail Chef Hogan, my tastebuds pronounce you a hero.
And on to the next dish, the Trasparenza di Tenerumi di Cucuzza, with salsa di acciughe e bottarga. This, too, is a signature Sicilian dish. And this, too, made me wary because… acciughe, again, dammit.
But first things first – I confess I had no idea what Tenerumi di Cucuzza is. I ate this dish on trust. And it was amply rewarded because…cucazzo che cucuzza!! (sorry about that, Italian language speakers will probably get it).
Luckily for me it is very easy to trust chefs like Cuttaia and Hogan. In this case, the anchovies and bottarga were not sharp at all. Not sure how Cuttaia pulled this off. The Trasparenza referred to the incredibly light pasta that wrapped itself around the cucuzze. And my god, is the result amazing.
Anyway, if – like me – you're fascinated by this whole Tenerumi di Cucuzza thing, this blog post gives a lovely, anecdotal explanation.

Dishes there were plenty, but the above were my absolute show-stoppers. With the addition of the gorgeously peppery Bidni Olive Oil. The Mediterranean Culinary Academy is doing some very great things for Maltese produce, and this olive oil is one of them.
It is beautiful when you dunk a chunk of bread in it – and when you marry it with chocolate, like these guys have done in an inspired stroke of genius. I salute you, Chocolate District.

Dinner came to an end with desserts, using these two Sicilian and Maltese staples: bajtar tax-xewk (prickly pears) and ġulepp (syrup from the carob tree). The latter, in particular, was so, so, moreish.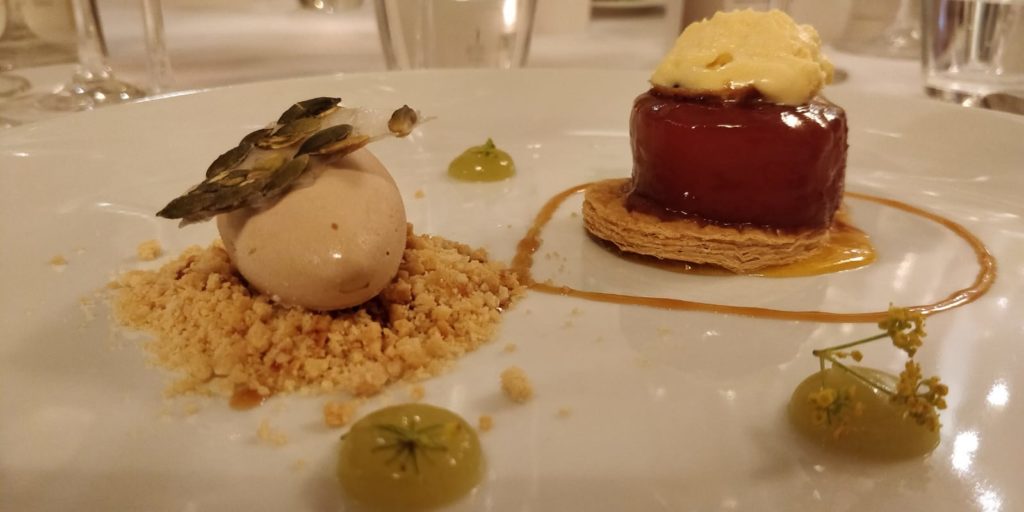 Throughout the evening we were served Aqua Panna and San Pellegrino, and some of the most beautiful wines. A shout-out to Charles Grech & Company and the seductively syrupy Pomino di Vin Santo by Frescobaldi. Oh my.

The verdict: This was a real delight, and I am very grateful to have been invited to be part of it. I am not going to wax lyrical about the 2 Michelin stars sported (deservedly, clearly) by Chef Cuttaia. The proof of the pudding is in the eating, not the stars.

And in my view, these two Chefs definitely deserve ALL the stars. I can see why they are so well-loved by real people, in their respective homes.
Hats off, now back to the kitchen please!
Want to read more about Malta's foodie scene? Check out which local restaurants recently received the vaunted Michelin star. You can also read about a blind-folding dining experience at Bahia or learn more about AKI, the hippest Asian eaterie in Valletta.
And you can read more about my policy regarding restaurant reviews here.