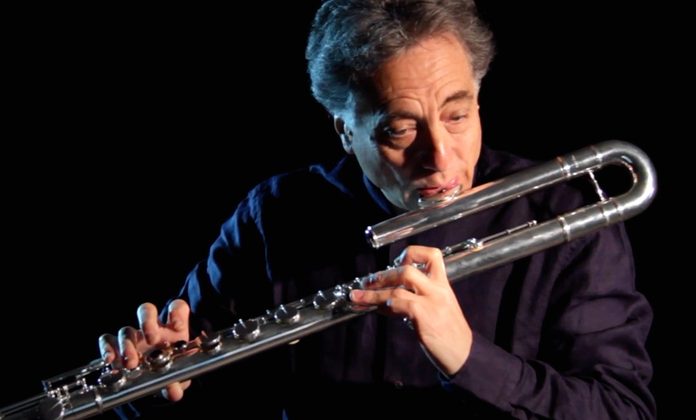 Flute virtuouso Giovanni Trovalusci
If you have ever visited the gorgeously evocative Valletta Underground site, you will immediately understand me when I say that the space conveys a spiritual aura, naturally lending itself to music and contemplation. Now, thanks to Valletta Underground in Concert, a site-specific music event being organised by Modern Music Days, the experience is being made even more immersive with a set of contemporary compositions that will be performed on-site by flute virtuoso Giovanni Trovalusci.
The programme will include works by Claude Debussy, Giorgio Nottoli, Walter Prati and Malta's own producer and contemporary composer Ruben Zahra. I reached out to Zahra to find out more about what's planned for Valletta Underground Concert.
This is the first time that such an event is being held at Underground Valletta. What made you pick this location?
I am always on the lookout for innovative and site-specific concert venues. I have organised concerts inside catacombs, underground crypts, temples and other heritage sites. Two years ago I booked a Heritage Malta tour of Underground Valletta and I was immediately intrigued by the cisterns as a potential performance space.
How do you expect Valletta Undergound Concert to be different from a typical concert?
If the same programme is presented in a regular theatre it's a 'concert'. In this case the event becomes a unique 'experience'. The distinctive rock-cut architecture of the cistern compliments the music with its own historical narrative.
What can you tell us about the acoustics at the site? Will these be a help, or a hindrance?
The cistern is very reverberant and you can hear water dripping and echoing within the structure. It's a site-specific performance, and therefore you have to embrace these characteristics as part of the experience. For Valletta Undergound Concert, together with flutist Gianni Trovalusci, we selected music that is appropriate for a reverberant space. The acoustics actually enhance the music because it adds a lush reverb to the
flute.
What kind of physical challenges, if any, is the site expected to create? And how will you be dealing with these?
With this kind of venue there were a few logistic challenges that we had to consider. For health and safety reasons, only 20 people are allowed in the space. So we have a schedule of six concerts. The duration of the concert is 30 minutes. There are no seats, of course, so we are laying down cushions on the floor for the audience to sit comfortably and enjoy the concert.
For this concert, you opted to combine the flute with electronic music. What led to this choice?
Due to the restrictions imposed by the venue, I wanted to feature a solo instrument. I wanted to include electronics because it creates a wonderful contrast to the heritage site and also because electronic music contributes a more versatile soundtrack to the concert. The four pieces selected for this programme present a music journey that starts with Syrinx for solo flute by Claude Debussy, which is actually the first piece ever composed for solo flute. Syrinx is followed by Trama Sospesa for flute and electronic music by Giorgio Nottoli. We then switch to the bass flute.
Takes place at the Valletta Underground (entrance opposite law courts) on April 1 and 2 at 7PM, 8PM and 9PM. Tickets are available here.
For other music-related features or updates about Malta's culture calendar, check out Wayne Camilleri's Only the Heart Can Tell, this feature about Electronic Music Malta, or Michael Azzopardi's Ritornell.