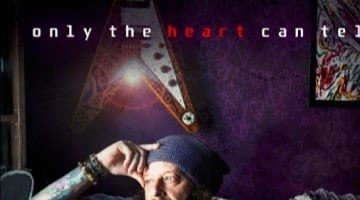 If there's one silver lining to COVID-19, it's that it has given time to many artists to press pause, take a couple of steps back from the exhausting round of performance, and focus on creating. Not that I am applauding the lack of Iive events, especially for Maltese musicians, dancers and actors, as these tend to be the main source of income in the creative spheres, but I suppose we must take our silver linings where we find them.
One musician who has certainly been on a creative spurt during 'lockdown' is Wayne Camilleri, who has just released a new record, Only the Heart CanTell, which was inspired by COVID-19. He explains how:
The record starts out in a pretty mellow fashion, with the atmospheric Only The Heart Can Tell (Part1), a medley of melodic riffs underlying the electronic timbre. But after this short and sweet intro we dive straight into something that's definitely more intense, the evocative Hope of Freedom, punctuated with increasingly stronger chords that kick in right after the intriguing spoken intro.
This is Camilleri's signature rock persona that we know and love, effortlessly mingling the political aspect with the music, which is incidentally an excellent showcase for the musician's guitar virtuoso ability, urgent arpeggios executed flawlessly and building into a pretty epic track that stops just short of the five-minute mark, closing off with the same distorted vocals from the intro.
The mood changes with the next track, Morning Dance, the staccato arrangement used to great effect, interjected with a more aggressive (and catchy!) bass for epic contrast and a superbly complex track. The contrasting layers, the weird effects, the urgency of the music and its unexpectedly melodic undertone combine to make this one of my favourite tracks on this record.
The rest of the album continues to build on these sounds, giving more than an occasional salute to the classic grassroots of rock and metal but going way beyond that, with weird, experimental arrangements that make this release really special.
The Cure is in my Head and Cloudy Night gives us time to breathe, the uplifting melody paving the way for a more introspective vibe before the album concludes with Only The Heart Can Tell (Part 2).
In short, Only the Heart Can Tell is an anthem worthy of all the angst and intense emotions that many of us have been through during these past 12 months, a record that will appeal both to rock traditionalists and to those who enjoy a bit of an edge with their riffs. I put some questions to Wayne to get some more perspective about the record.

You went through a personally tough time during COVID-19 – did this have any bearing on the record?
2021 seemed promising and I was working to release the record at some point before summer. Along with many others who lost their job security and found themselves with financial problems, I was actually looking forward to doing this within a specific timeframe. Obviously, life got harder as we went along yet I just immersed myself into completing this to the best of my abilities.
Sadly, my father was admitted to hospital in this timeframe, and that obviously took priority. But eventually, he succumbed to COVID-19 in a short span of time. The grieving process and acceptance of how things happened stayed with me, so finalising the whole project has been very tough. Yet in a way, trying to focus on it helped in functioning normally again.
You're known for your contribution to the rock scene in Malta, and in many ways, this album is a reflection of this. But the music is also experimental, with genre-defying arrangements. How do you describe these tracks from a musical perspective?
What I'm really happy about is that most of my influences are in the songs, without me even having to think about it. It just happened subconsciously I guess. Yes, I've been part of the rock scene for a long time, and honestly, I just enjoyed playing my guitar anywhere possible simply for the joy of doing it. I'm just glad and thankful I get to do that a lot. Slowly things are picking up but in a way normality, for us, is still very very distant.
Would you say they're a bit of a departure from tradition?
I always was into experimental stuff, sounds and heavy guitars. And it's a mixture of ideas I felt would be interesting. I have a lot of electronic influence. I just love and listen to good music, which rubbed off I guess. The challenge was for the whole album to keep the listener there..interested, especially since it lacks the human voice.
You also worked on a video and collaborated with different artists for the CD. Can you tell us more?
The whole album was documented and is available to watch online as Only The Heart Can Tell-Life in Lockdown. It's actually a visual documentary of the creation of the album from start to finish. I tried to capture the solitude of creating this record while locked indoors with just my guitars and my dogs, constantly seeing the news… hoping for some good news. It was a massive thing to oversee – Recording, building the tracks, musicians sending me tracks and video footage from their respective studios…paintings being created. Over 50 people were involved.
There is obviously sadness, because my experience was exactly that. But there are good moments too. I just wanted to tell my story through music. Artists then created their own vision and own perspective of each track. It was really interesting to see what they came up with. Amazing stuff. The actual art pieces are being displayed in an art gallery, and eventually, all profits go to charity. All in all the response has been phenomenal.
Follow Wayne Camilleri's music here.
For more related posts, check out this post about Michael Azzopardi's music or this Hearts Beating in Time single, this piece about Electronic Music Festival or a review of the Brodu album.