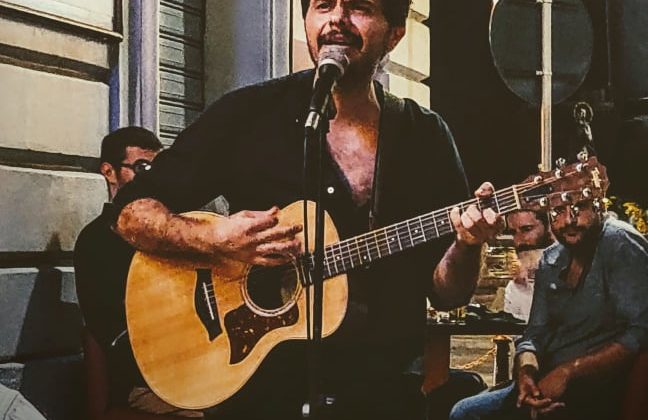 Photo: Adam Brimmer
Michael Azzopardi's is a name I discovered rather late in the day, when he did a gig at The Splendid, to coincide with a Te fit-Tazza launch if I remember correctly (I might be wrong in this).
I fell in love with his voice immediately, started following him on Spotify – the guy has an amazing playlist called Balzmu incidentally – and pretty much started keeping tabs on his music.
So when I found out that he is doing a series of small gigs at various każini, I was super happy. Well, for starters, I haven't been a gig in forever. Specifically, since February 2020, for obvious reasons.
Yes, I know that past months there have been gigs happening, after a fashion. But I still was not a 100% comfy with the whole going out thing, so I limited crowds to work-related events. But finally, it was time to rejoin the land of the living. musically speaking. And I couldn't think of a better way to do it than Michael Azzopardi's Ritornell.
For starters, the choice of venues. Sure, it's not the first time a local musician has opted for a każin – Stalko, Brodu & Djun in Żabbar, Plato's Dream Machine I think had done it too. But, as I said, it's been a while. And I do love the way such gigs give new life to small places that (undoubtedly) have faced a struggle these past months.
I caught the tail end of Michael Azzopardi's Ritornell series, at the Każin ta' Santa Maria in Mosta. Not a place I've ever actually patronised, so I was quite happy at the total change of scene. So I booked a day before – booking a table for a small gig has become a reality in these odd times. Well, unless you wish to be stuck listening to the gig from the sidelines, which some people did.
G&T at the ready, (oh yeah, that's another advantage to gigs at the local każin – drinks are ridiculously cheap) we sat down, had a good natter and waited for the guys to set up.
For this Ritornell series, Jimmy Bartolo has been a permanent feature, and watching Jimmy on the guitar again was definitely another bonus point. Every gig comes with a 'supporting' act, with past names including Joon, that I regretfully had to miss. Today, the featured artist was Princess Wonderful.
Right on the dot, the trio kicked off. Michael Azzopardi opted for the classic, stripped-down singer-songwriter format – two guitars and the occasional backing vocal by Princess Wonderful. The format worked a treat.
The repertoire for the evening was based on Michael Azzopardi's EP Pistola (available on Spotify) plus some other tracks. I know it's not the done thing to compare artists, but Michael's voice resonates in such a way that it reminds me another favourite of mine, The Magnetic Fields' Stephin Merritt.
Up till then, I had only heard Michael Azzopardi through Spotify (I had only watched the Splendid gig online). The live experience is entirely difficult, the nuances of his voice rendered more soulful. Azzopardi's songs are full of pathos, both from a lyrical and a vocal perspective. They speak to me, taking me back to a place of innocence that I didn't know I missed.
Somehow, the Mosta dome lit up right behind the trio make the gig even more oddly touching. Favourite tracks, I have a few. Fik Ħolqien, for the way it lulls me, but also for the various play on words in the lyrics (that Brodu also do impeccably, by the way). Tiblagħni l-Art is another, for the exquisite contrast between the richness of Azzopardi's voice and the almost flighty female vocals.
In short, Michael Azzopardi is yet another noteworthy addition to the Maltese music landscape. He plays again tomorrow (September 26), together with Bark Bark Disco, in Żebbuġ, with Ritornell coming to an end on September 29 at the Każin Mount Carmel in Gżira.
For more music reviews, check out Hearts Beating in Time's Death is Cancelled or Simone's.