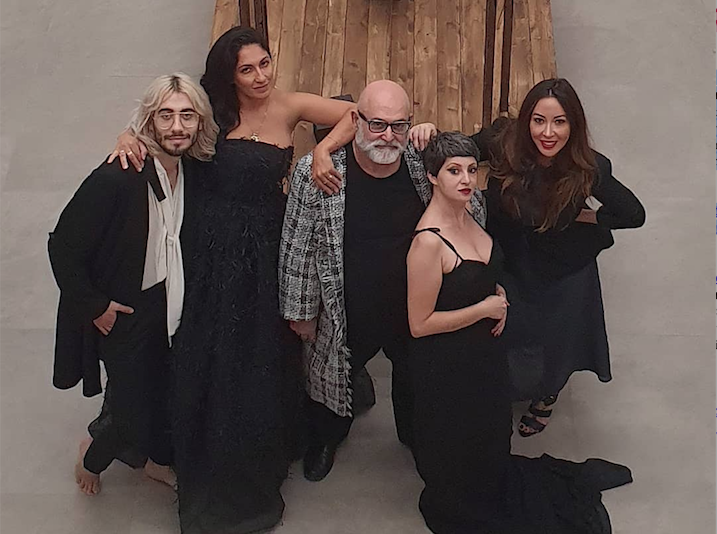 And we are so ready
Inspired by New York's world-famous MET Gala, (you know the one, the fashion-art event that's always drilling celebs doing paparazzi-worthy stuff) The MET[A] Gala is hosted by Valletta Contemporary, Valletta's iconic contemporary arts space.
Already being touted as the red carpet event of the year, this will be a one-night-only exclusive fundraising event.
In fact, the evening looks set to mark one of the largest fundraisers Malta has seen. Teaming up with artist Charlie Cauchi, Malta's culinary ambassador Marvin Gauci, and couture designer Luke Azzopardi, the event will transform Valletta Contemporary with live music, delicious food, custom cocktails, and an afterparty.
As a space run by the non-profit organisation the META Foundation, Valletta Contemporary is an independent exhibition space and art gallery through which both local and international contemporary artists and the public can express themselves and be inspired.
Since opening its doors in April 2018 within a 400-year-old former warehouse, Valletta Contemporary has already elevated the Maltese contemporary art scene with numerous gala events and exclusive exhibitions.
Dr Joanna Delia Chair Valletta Contemporary Advisory Board, gives us the super-exciting backstory on the eve of the event.
How did you create the concept for this Gala?
The needs of the Foundation were my inspiration. Running almost 1000 square meters of pure art, hosting exhibitions every 6-8 weeks as well as an incredible educational program as well as other trans cultural initiatives, and paying the salaries of the amazing team behind it all is very costly.
We want the foundation to be a sustainable, uncensored place where we don't only show art which is sellable, but also powerful installations which translate society into emotions which reach everyone who experiences them.
We want to be a platform for emerging Maltese artists to interpret their dreams. We therefore want to both inspire people to support all this while having the time of their lives, as well as reach out to people who always thought art was not for them. Hence the need for a night like this.
What should we expect on the night?
Charlie Cauchi's installation, based on her research on Maltese migrants in London and the many nightlife hotspots they ran in Soho was the perfect setting for the night.
Think burgundy velvet curtains and entire halls lined in red carpet with the walls dripping with suggestive phrases in neon and on light boxes. Guests will be welcomed by ushers in tops and tails on a plush red carpet on the parapet in East Street Valletta with a red-lit facade to the sounds of love funky jazz tunes on accompanied double bass by Bergur Fonsdal Petersen a hamming regular at Offbeat Jazz Bar.
A decadent signature cocktail offered by Red October and Bubbles sponsored by Vivian Corp. will he served. Later Mariscalda, the fab regular at Cafe Society will continue to entertain with fusion vintage disco while the team at corinthia caterers and a food show by the Malta Culinary Ambassador Chef Marvin Gauci will cater to the guests' taste buds. It will be like nothing anyone has ever seen.
What is the theme?
The couture prodigy which is Luke Azzopardi and in particular his latest collection which was presented at London fashion week a couple of months ago is providing the inspiration for the dress code.
Malta is desperate for an excuse for wearing ball gowns. Nocturnal Artefects, the actual name of the collection was a perfect match for Charlie's installation.
What can you tell us about the creative team behind the event?
Charlie Cauchi and Luke Azzopardi, mentioned above, are the artists dressing the night in glossed over decadence. Iggy Fenech was in charge of post- event media exposure which will make any one not present surely pre book tickets for the META Gala next year!
Co-chairs on the committee are Tugce and myself, the volunteers who initially came up with the idea of taking this fundraiser to levels Malta has never seen.
Norbert Francis Attard has built the entire Valletta Contemporary project on his own funds and hopes that his legacy lives on, while architect Konrad Buhagiar cannot help but support anything that promotes culture and art education.
Tamara Webb, Malta's sweetheart, is actually a history of art student. And she has helped spice up the event's promotion! And then there's the incredible Michelle Degiorgio who managed every functional aspect of organisation, as well as People&Skin for years and the amazing Julia Boikova, fashion designer and professional events planner behind some of Malta's biggest and flashiest events.
And there will also be music by DJ MarEscalda.
What makes this event different?
One word. Omg. As written above, we are truly striving to widen the visibility of contemporary art. The marriage of all the elements involved in this incredible night will surely surpass expectations. When all else fails, there is art. Till death do we art.
The MET[A] Gala takes place tomorrow, December 14 at the Valletta Contemporary, Valletta.
Ticket information is available here.