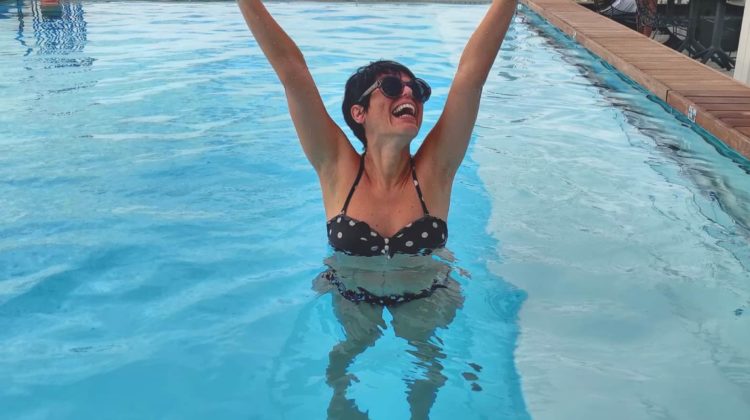 A stunning infinity pool, gorgeously curated interiors and an all-round luscious experience. Thumbs up to the Embassy Hotel
It's February and I'm enjoying a dip in the infinity pool, the views stretching across Valletta, Manoel Island and Sliema in the distance. The warm water embraces me like a hug. I'm on the fifth floor of the newly-opened Embassy Hotel, in Valletta, and any cares I had are slowly melting away, dissolved by the sheer beauty of an outdoor, winter swim with one of the most stunning views in the capital.
I'm here to enjoy the whole Embassy Hotel experience, and the luscious feels are real. From check-in to walking into my room on the fifth-floor, my mental gears imperceptibly switch into chill mode. It's genuinely impossible not to lose oneself into that magical holiday/pampering vibe, as I'm greeted by a decadent welcome tray of truffles that brighten up an already gorgeous room.
My first instinct is to explore, of course. The Embassy Hotel clearly has gone that extra mile in terms of attention to detail. The interior decor is contemporary, and arranged to stunning effect. Little touches like the extra reading light make all the difference, and the bathroom is the kind that will easily make me lose an extra half an hour getting ready, with walk-in shower and luxury L'Occitane products. Yummy.
But I didn't want to linger too much, when there was a lot more exploring to carry out. Before you can say 'how's the weather', I have my bikini on, topped with the super-soft Embassy Hotel bath-gown, and I'm off to discover the infinity pool on the top floor. It's February, the temperature outside is not exactly beach material but hey – the Embassy Hotel comes with that one enviable extra, a heated outdoor pool.
This kind of opportunity doesn't show up everyday, and I make the most of it. There's something incredibly comforting about floating around in a warm hug – I swear that's what it feels like – when the skies are spectacularly grey and the sunset is playing hide and seek among the clouds above the imposing cupola of the Carmelite church. As views go, this one is stunning, taking in a 180 degree view of the Valletta skyline.
I can drift like this forever, but the Embassy Hotel pool comes with that other valuable addition, a rooftop bar that lets you enjoy the views from indoors thanks to the glass facade. And so, coffee and nibbles it is, my muscles having completely lost that knotted 'working week' feeling thanks to my lovely warm dip, which means I could just lay back and take in the view with zero thoughts apart from happy ones.
But now the darkness was on its way, which meant a warm shower in my room followed by a drink on the terrace, listening to music on my headphones and watching the city skyline transform itself completely in the dark. The terraces are very cleverly planned to offer both privacy and space, so that if you're not up for a night on town, or maybe dinner at the gorgeous AKI restaurant right below, you can even opt for a totally relaxed evening on the terrace, enjoying a bird's eye view of street life.
The Embassy Hotel is officially rated as a four-star superior hotel, but I honestly rate amenities, facilities, service and ambience as a definite five-star. Rooms are seriously comfortable, with luxury finishing throughout. There is a truly charming indoor courtyard on the ground-floor where you can enjoy a pre-dinner cocktail and nibble, or just chill with a newspaper.
The Roofdeck Bar on the seventh-floor also serves a la carte lunch and breakfast with a view (pro tip: the pancakes are pretty unforgettable). And, if you're that way inclined, a fitness room is scheduled to open soon. Of course, being band in the centre of the city is a massive plus, as all restaurants, shows and sights are within walking distance.
Best of all, there's a special parking rate and complimentary shuttle service available from the MCP for those who wish. It doesn't get more convenient than this. COVID-19 regulations are all observed, and I look forward to a time when I can enjoy an Embassy Hotel staycation without such considerations.
Wish to know more about what's happening on the island? Check out what's up on the lifestyle front, read all about this new historical documentary, or check this post about a new micro-publishing house.
Thank you to the Embassy Hotel for hosting me.