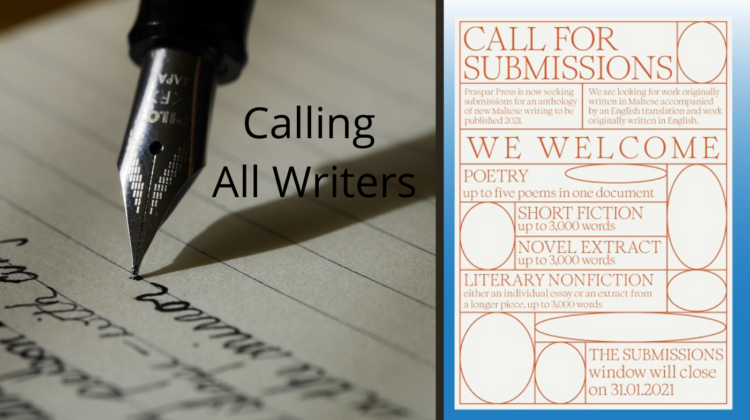 Calling all Maltese writers
Praspar Press, a non-profit micro-publisher that is the brainchild of Kat Storace and Jen Calleja, is now accepting submissions from Maltese writers.
Praspar Press was founded in 2020 in London with the aim of supporting contemporary Maltese literature being published in English and in English translation in the UK and internationally. The founders are currently short-listing both established and emerging writers. Their fundamental requirement? Writing that gets them "truly excited".
All chosen works will be published as part of an Anthology of Maltese Writing, in what will be the press's first project. The initiative was born out of Storace's and Calleja's appreciation of how, in recent years, small presses in the UK have been on the rise.
Such micro-publishers in fact offer a refreshing alternative to the the bigger, more established publishing houses that traditionally dominate the market. In a world where major publishers are creating a monopoly, with the risk of elbowing out smaller voices, this is certainly something to be celebrated.
It is mostly thanks to such smaller publishing houses that a proliferation of diverse and intersectional voices from all over the world, in English and in translation, succeeds in getting published.
It's also a fact that a large proportion of writers who publish their books with small presses start out by publishing their writing in literary journals and anthologies.
This anthology of Maltese writing will be a way for Praspar Press to scout for talent and to offer an international platform to new and emerging writers. The idea is to establish a mutual relationship between author and publisher, through which we both can develop and benefit together in the long term.
The anthology will be a beautiful printed edition featuring poetry, short fiction, novel extracts and literary non-fiction in English and in translation by Maltese writers. It will be sold and distributed online via the Praspar Press website.

The two creatives behind the project, which is supported by the National Book Council of Malta, are no new names on the local landscape. Storace is a London-based writer and editor. She has worked in magazine and literary
publishing in Malta and London and is currently creative strategist at graphic design studio Gunter Piekarski.
Calleja is author of I'm Afraid That's All We've Got Time For (Prototype), Goblins (Rough Trade Books) and Serious Justice (Test Centre). She is literary translator from German of Marion Poschmann, Wim Wenders, Kerstin Hensel, Michelle Steinbeck, Gregor Hens, and more, and was shortlisted for the Man Booker International Prize 2019.

Submissions are being accepted until January 31. For any enquiries about the Press or the Anthology send an e-mail on [email protected].
For more book related features, check out my Book Giveaway, worth over E100!, and this review of Karl Schembri's Il-Manifest tal-Killer and Lara Calleja's Kissirtu Kullimkien.