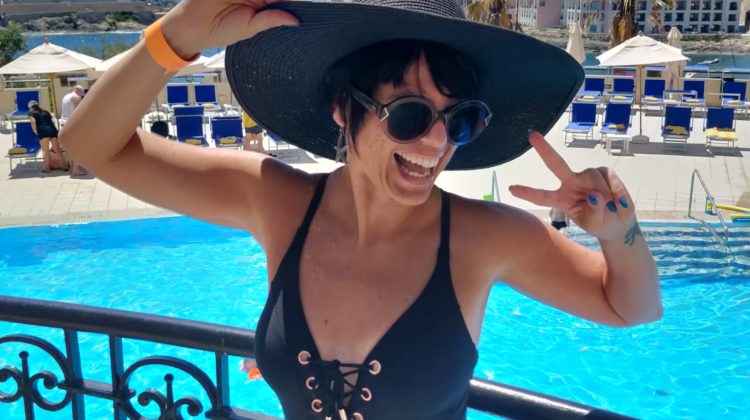 Tourquoise pools shimmering at you, waiter service by your sunbed, a world-class grill, top-notch hygiene and blessed, blessed quiet.
I'm a beach and food babe – in my imagination, at least. I'll explain why. I ADORE the whole lazy spending a day by the beach, reading, sipping wine and enjoying summer food, doing the occasional couple of laps to freshen up, and so forth… Theoretically, my perfect Sunday is spent catting on a deckchair, revisiting an old Agatha Christie (so, sue me), chasing away the heat with a cool dip every 45 minutes.
Enter harsh reality. The crowded beaches, the parking problems, the cigarette butts, the kids shouting in your ear, your beach neighbour dripping on you every time they walk by, the occasional piece of thrash brushing against you as you enjoy that supposedly refreshing dip. Gross.
Which is why I rarely actually do the whole beach thing, and when I do it tends to be very early at some beach that requires a half hour's hike to get to. Let's just say that crowds are not my idea of fun.
Enter the Corinthia St George's Bay Platinum Lido Membership. I know what you're thinking. We're surrounded by water, why would you want to go to a lido? For all the reasons above, plus I'm not ashamed to say that I enjoy treating myself to a bit of luxury, when I can. And the Corinthia St George's Bay Platinum Lido Membership is the ultimate beach babe luxury, which is why I accepted the invitation to enjoy a Sunday here with genuine enthusiasm.'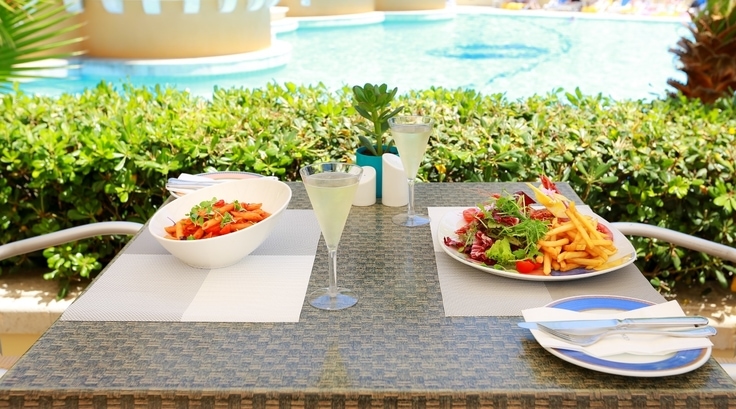 This hotel lido has always been hugely popular not only with tourists, but also with Maltese residents. But now they've gone a step further, offering a Corinthia St George's Bay Platinum Lido option that offers access to the topmost pool area, the one that is usually reserved purely for hotel residents.
Which means, of course, that it is even less crowded and also comes with two separate pool areas, one of which is reserved just for adults. In short, it's exactly what I look for. Total serenity, the only sound being the chirping of the birds. Parents needn't worry of course – the kiddos can enjoy splashing and giggling about in a super spacious pool too!
I found a shaded spot with the deckchair set up facing the gorgeous view of the Dragonara peninsula and the open sea in the distance, and settled down for a good read just as a waiter started doing the rounds with trays of fresh fruit – yep, it's included in the service!
Also included:
✅ Beach Towel
✅ Booking your sunbed by the pool or by the beach a day in advance
✅ Complimentary fresh fruit in the morning and afternoon
✅ Waiter service at your sunbed
✅ 15% discount on food from specified restaurants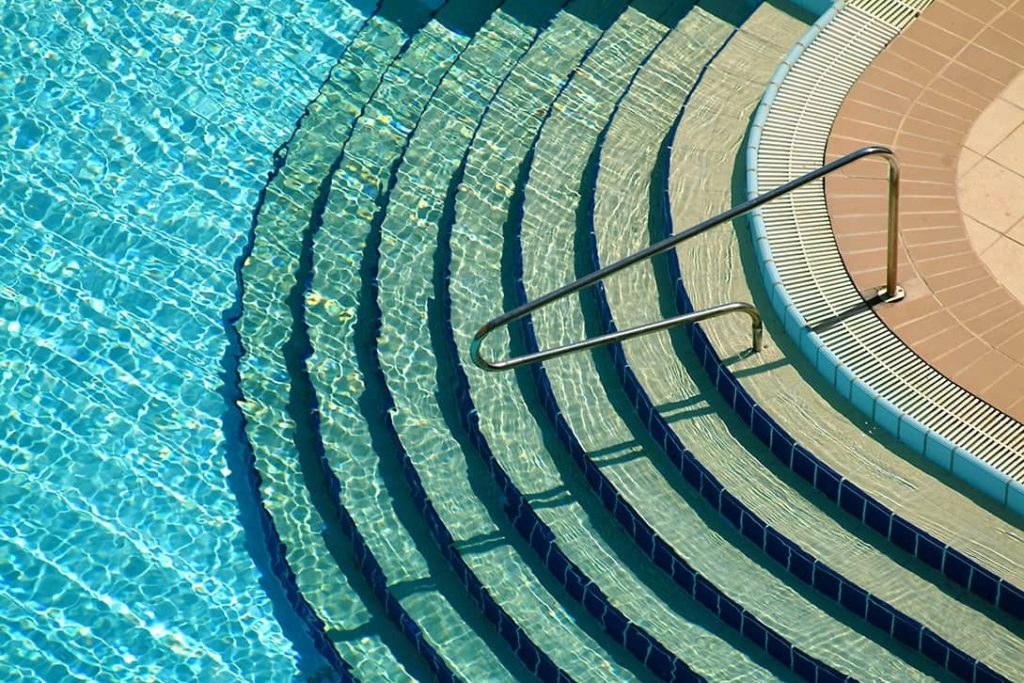 But before too long, I succumbed to the beckoning of the pool. And, I'm happy to report that this is a pool where you can have a real swim, with enough space and depth to accommodate a few energetic laps. Thumbs up!
But of course, it wasn't too long before the mermaid syndrome got me too, and I spent the next hour or so lounging in the shallow end, lapping up the sun while enjoying being submerged in the water anyway. Bliss!
The main thing about this lido is just how laidback it all is, away from the hustle and bustle of everything. When you're this chill, time seriously flies and – before I knew it – my tummy was rumbling and I was ready for a light al fresco lunch at the appropriately named Oasis poolside restaurant. The good news? Your Corinthia St George's Bay Platinum Lido membership comes with a 15% discount on food and drink.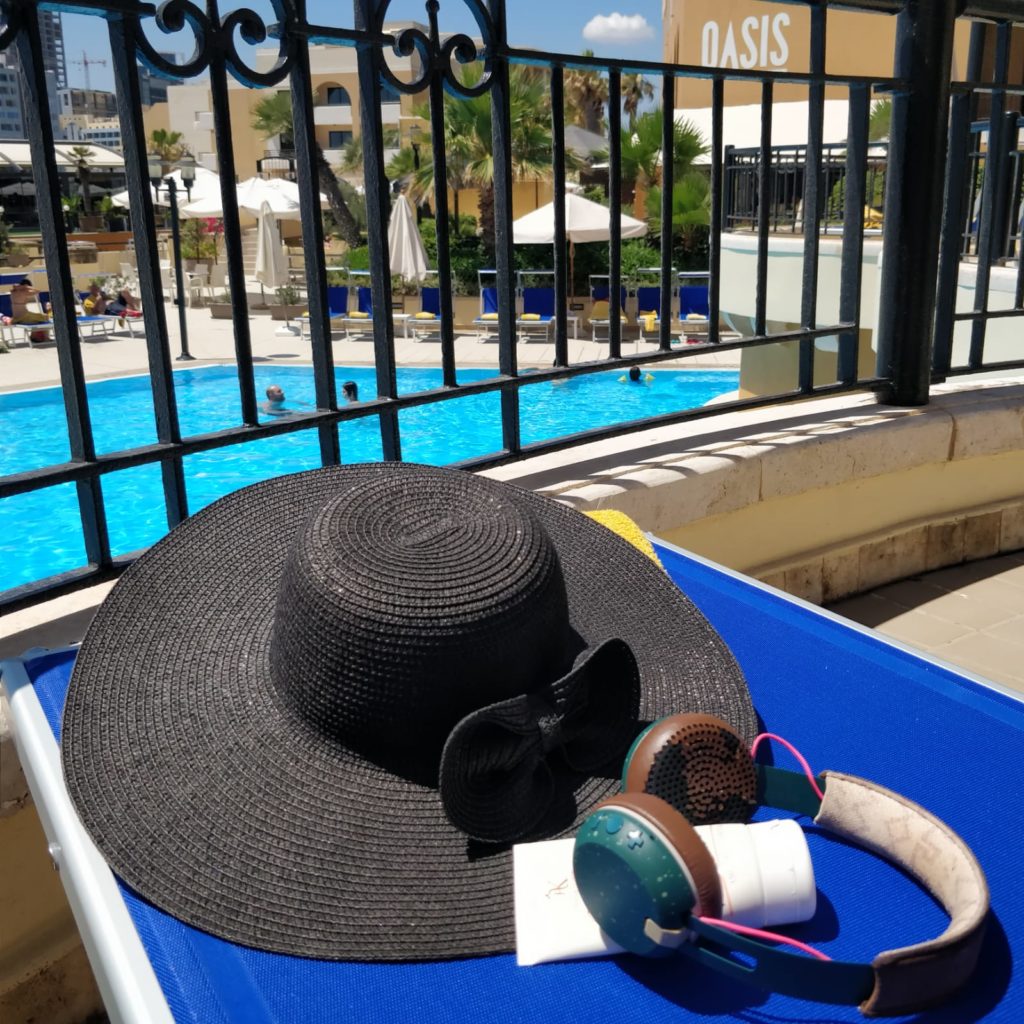 The menu is full-on summer Mediterranean – there is a great grill section, some lighter salads and bites, baguettes, burgers… little ones that are fussy eaters shouldn't have a problem finding something yummy to enjoy, either. I opted for that traditional favourite, the grilled salmon accompanied by fries and grilled veg, washed down by some crisp Sauvignon Blanc, of course because hey, I'm Maltese dammit.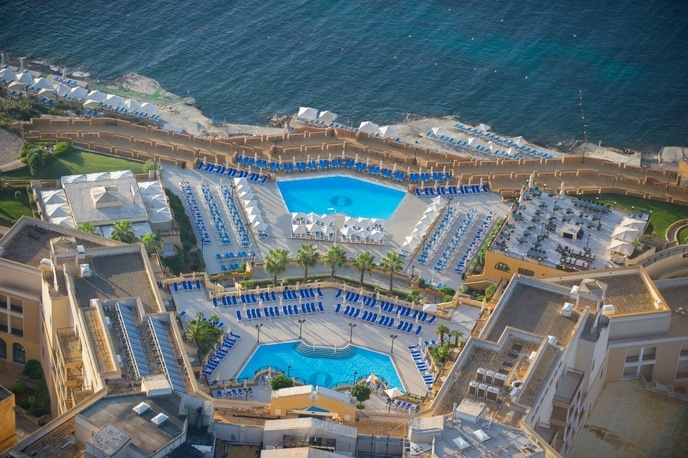 Oh yeah, and I finished off with a super light and fluffy and altogether perfect Peach Melba. If I've just painted a picture of the perfectly light summer lunch with a view, that's because it is.
Back at my spot under the umbrella, I realised that a cocktail would have finished me off even better. I wasn't about to get up so soon again, of course – did I mention I'm Maltese?
But zero worries – I just pressed the button that comes with every umbrella station and promptly got my very own waiter service and my cocktail delivered right to my sunbed. I mean, if this isn't summer Sunday perfection, then I really don't know what is.
The day passed by in a nicely chilled aura, with swimming interspersed by reading, sunning and – let's not kid ourselves – the occasional nap. Later on, I walked down to the Corinthia lido private beach, because truth be told nothing beats swimming in the open water, especially this area of St George's Bay which doesn't get a lot of crowds and boasts crispy clear water.
The beach section boasts all the same facilities as the pool area – showers, umbrellas, sunbeds, and enough ladders so you can take the easy way into the water. The swimming area is also cordoned off the rest of the bay for extra safety.
I'm not sure how, but 6.30PM happened in a flash. A seriously luscious Sunday, also thanks to the amazing staff – super courteous, always on point and full of genuine smiles. Also, I can't not mention the excellent standard of hygiene that is visible across the board at Corinthia St George's Bay outlets.
Vacant, or recently vacated, sunbeds were being constantly disinfected, the staff maintained the appropriate social distancing and cleanliness procedures, hand-sanitiser is made available every few steps and guests get their temperature checked before entry. Super reassuring.
Check out your membership options for the Corinthia St George's Bay Platinum Lido by following the link.
Want to read more about Corinthia St George's bay restaurants? Check out their summer grill, the Broadside Terrace. If you want to know more about Malta's restaurants, look up this review of AKI restaurant in Valletta, and blind-folded dining at Bahia.