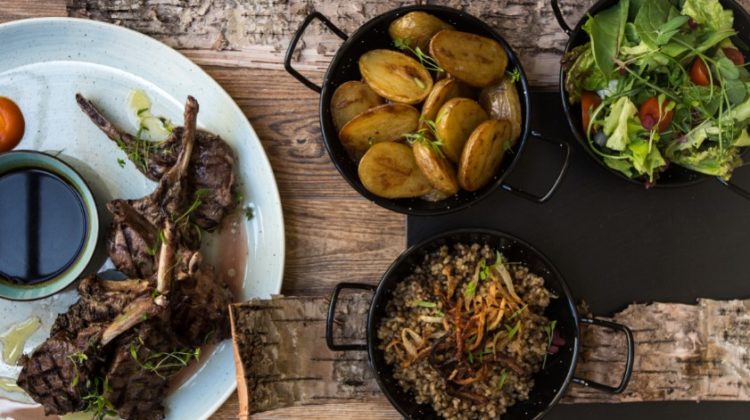 Cocktails with a stunning sunset for backdrop, and a grill experience that's bang on the money.
The Broadside Terrace, at Corinthia San Gorg – this is where I was headed on a nice and breezy Saturday evening for my foodie restaurant outing, the very antithesis of the way I've been spending my Saturday nights in these past few months.
It's been a weird time, that I can't deny. But now, I was (cautiously) ready to end my hibernation, to start mingling under this 'new normal'. And The Broadside Terrace certainly turned out to be the perfect debut back into society – spacious, outdoor dining right on the edge of the sea, with the gorgeous sun setting over the Med and across the St Julian's peninsula right in front of us.
Broadside Terrace Cocktails
We got there just in time to enjoy cocktails on the spectacular terrace. Because yes, my lovelies, The Broadside Terrace is not just about eating, but also about chilling and catching up with a few cocktails and maybe a platter of meze. We were greeted by super polite staff, who proceeded to discreetly take our temperature and ensure that we used the sanitiser – the approach was extremely reassuring, I have to say, as I'm one of those ultra-cautious people who is keeping a good eye out to make sure all protocols are respected.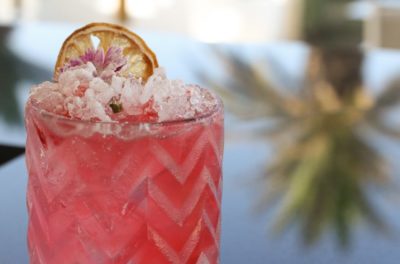 All formalities over, we were free to just enjoy the night. Once again, The Broadside Terrace is the perfect spot for those who want to enjoy a social evening without having a crowd of people breathing down their neck. Table are extremely well-spaced, which not only makes things safer but also makes for an altogether more relaxing time. I truly felt that I was cutting off from the hustle and bustle of life, so much so that I took my time over cocktails simply so I could make the most of the sweeping view.
So, the cocktails – the menu offers all the classics, as well as some Broadside Terrace signatures that are super tantalising. We had a Blue Monday (I mean, duh – was this New Order fangirl going to choose anything else?) Bombay gin, cherry brandy, fresh lemon juice, blue curacao and bitter lemon: perfection on a summer's eve.
Our other choice was the Hapo, a concoction featuring tequila, melon liqueur, apple and lemon juice and kiwi. A definite thumbs up to the Broadside Terrace mixologists. Accompanied by the Broadside Terrace signature meze, the cocktails went down a treat.
A word about the harissa dip – this is the real deal, with just enough of a kick. Add some warm pita bread and you have the perfect Mediterranean snack.
Broadside Terrace Grill
But on to the main event, which I knew very well the Broadside Terrace have a strong rep for – the authentic woodchip grill section, with a selection of excellent meat cuts, fish and seafood. The restolounge also does a nice mixed platter for both fish and meat, so if you're the type who finds it difficult to choose there you are, sorted.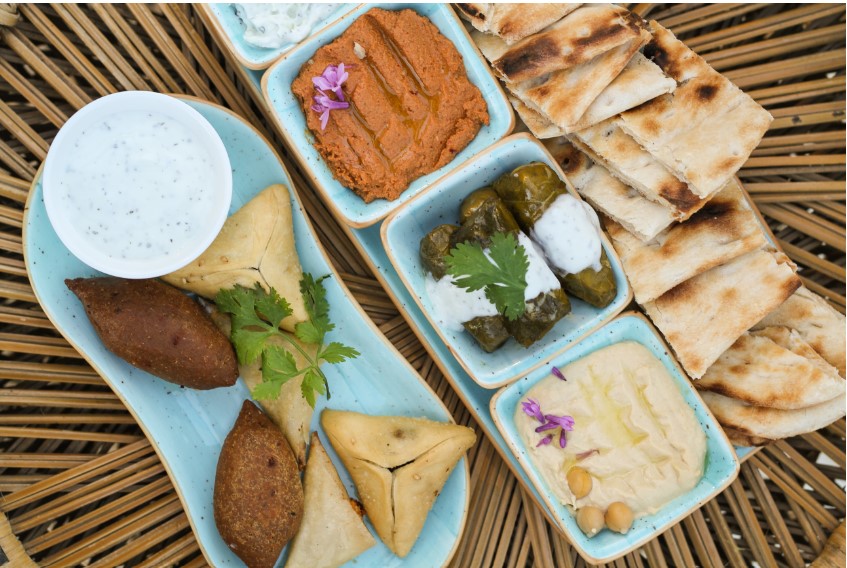 We opted for a grilled meagre, marinated in zesty lemon and lime, and for a good, traditional fillet of beef, which arrived perfectly rare as requested.
Accompanied by salad and roast potatoes, this was a spot-on embodiment of the perfect al fresco dinner. The Broadside Terrace certainly know how to do Maltese summers beautifully, with a team of chefs that put a taste of Mediterranean perfection in their dishes.
Finishing off with imqaret (fried date pastries) and ice-cream, and a tiramisu under the stars, I'd notch this dinner down to a perfect evening. The Broadside Terrace is a great choice for those who'd like a social evening with a group of friends, with a lounge area that makes it easy to…well, lounge, as it were.
So, if an evening of cocktails, nibbles and chitchat is what you're after, you're on to a winner. The Bar Menu nibbles looked seriously yummy, by the way – after all, you gotta soak up those cocktails with some food!
If it's more of a family or romantic evening that you're eyeing, the Broadside Terrace is also a super plan. Just ask for one of the tables alongside the parameters of the terrace, where the view shines best, and get ready to clink wine glasses with your SO or to teach the kiddos about the wonders of a good grill.
You can make reservations for the Broadside Terrace by calling on 2370 0000.
Want to read more about Malta's foodie scene? Check out which local restaurants recently received the vaunted Michelin star. You can also read about a blind-folding dining experience at Bahia or learn more about AKI, the hippest Asian eaterie in Valletta. Or how about a day of luxury at Corinthia with their Platinum Lido offering?