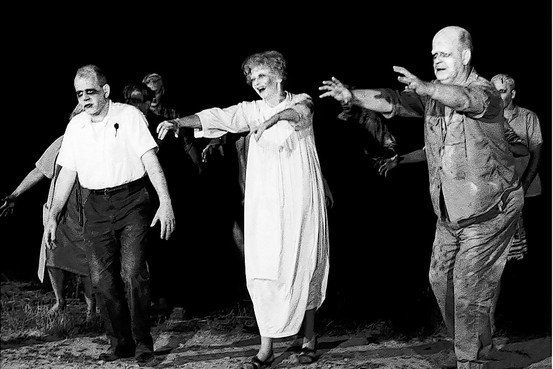 And Malta is making another bid for the Malta Book of Records
The infection is spreading.
And if you're a zombie nerd like I am, you will be super happy to know that those guys who brought you the Zombie Apocalypse shenanigans last Halloween are back at it.
Last year, things got real, real fast when, on a mundane Saturday afternoon the crowds started gathering.
It started small, with various groups taking over several corners of Malta.
Slowly, but surely, the horde took over until one huge mass of the Undead were on their way to Tigullio to party the night away.
The result? Over 1300 damned souls shuffled their way into the Malta Book of Records and it was all orchestrated by Underground Sound.
This year, the goal is to spread the infection further and to break last year's records.
So, do you want to be part of Malta's biggest infection?
Here's what you have to do. Get together your best zombie getup.
There will be free blood and make up artists for those who need some inspiration.
Start shuffling until you get to Tigullio. Party on to the amazing lineup.
There will be some extras to look out for: Best Dressed competition; ZILF (think MILF, I was told – *eek*); and the star attraction – #foundfootage, a Blair Witch inspired marketing campaign encouraging people to send in amateur video footage of themselves showing the effects of the zombie ravaging.
My favourite Zombie moments
28 Days Later – Directed by Danny Boyle, written by Alex Garland and starring the icy blue Cillian Murphy before he became a Shelby.
The zombies are genuinely scary (they're fast buggers) and the humans more so. Oh yeah and there is also an epically dramatic version of East Hastings, which is how I discovered post rock band Godspeed! You Black Emperor.
Zombieland – The humour in this one is crazy. Wry, self-deprecating, dark. In short, perfect. It is also an ode to the underdog. Not so much scary as entertaining, there's also a hilarious sequence involving Bill Murray. A sequel has just been released but I haven't seen it yet.
The Strain – The entire trilogy by Guillermo del Toro. Not quite sure whether what we have on our hands is a case of zombies or vampires, or maybe even an unholy marriage of both. The book doesn't specify and as reader you don't really want to know. It's creepy enough as it is.
Want to read more scary Halloween pieces? Click here.