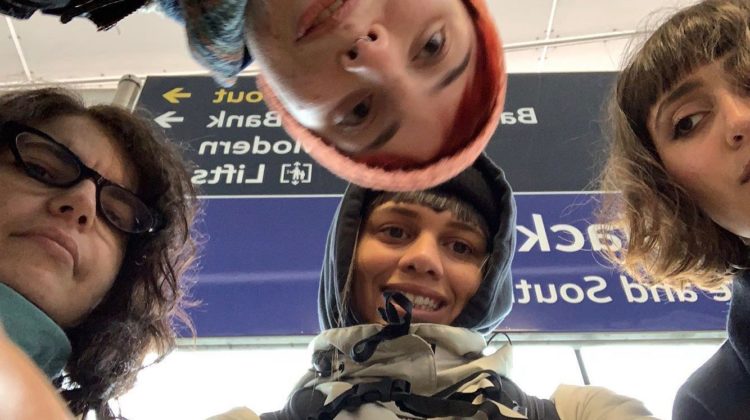 New single & music video from the band ĠENN + more UK dates
ĠENN, Du Da Dance is finally live. The Maltese/UK band is ready to riot once again or, as the girls like to put it to, "rock your ears and mess with your brain". Their latest slice of alternative post-punk madness with a fun twist comes in the form of new single, the vibrant and energetic Du Da Dance – out now via Everything Sucks Music.
As with everything else this band does, there's a story too behind Du Da Dance. Vocalist Leona wrote the lyrics on the train in Madrid 10 minutes before demo-ing them. In typical ĠENN style, the song speaks of "not caring about what other people think of you or say about you, and just enjoying life." 
Based in Brighton, the band is a result of a trans-national pairing which came about through the internet between three musicians from Malta, and one from the UK. ĠENN have been shaking audiences to the core with their infectious tunes, and with the honest, relatable themes they attack in their tracks.
Hold on tight, because the Ġennata – Maltese fans won't need a translation for this one – everyone else, Ġennata means 'craziness' – has only just begun. 
For a full list of UK tour dates check the band's Facebook page. ĠENN is made up of Leona Farrugia (vocals) | Janelle Borg (guitar) | Leanne Zammit (bass) | Sofia Rosa Cooper (drums). 
Want to learn more about the culture scene in Malta? Read about the recently held Valletta Baroque Festival; or about how kids can enjoy Carnival with the Gabriel Caruana Foundation. Book-lovers can learn more about the Lupu Lupettu series for children, while adult fantasy lovers will be surprised to learn that the year of Magna Mater is now. Finally, anyone born in Valletta or in love with the capital can take a stroll through Beltin: Stejjer Minn Nies Minsija.