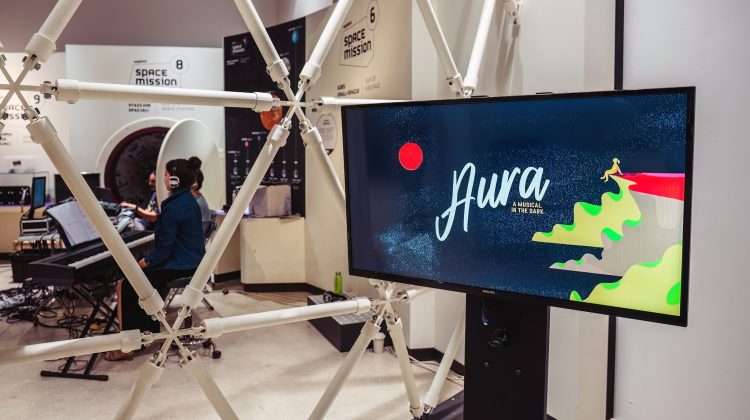 If you've never attended a Panto in the Dark before this, settle in for a surprising ride with Teatru Malta's Aura. The series was started by Marta Vella and Vikesh Godhwani in 2018. The premise may be a simple one, but it remains highly innovative on the local landscape. The production does exactly what it says on the tin, with everything taking place in complete darkness. Rather than relying on vision, the audience learns to lose itself in the world of sounds, smells and sensation that the production creates.
Aura: A Musical in the Dark is the new addition to the series, and it is currently running at Esplora as part of the EuroPride Valletta celebrations. For various reasons life threw at me, this is the only event I managed to attend from all the celebrations and I did strike lucky.
Aura: A Musical in the Dark, we are told, is about an island where acceptance and tolerance reign. A bit like the opposite of what happens in It-Teatru tal-Miskin. But it exists only in the imagination of MaryLou, an eight-year-old who is undergoing treatment in hospital.
That's all I will say about the plot, as even the production blurb doesn't reveal much and for good reason. However, more than the plot, Aura: A Musical in the Dark is about the experience. The Esplora planetarium is the perfect venue, affording total darkness. Ushers explain what is about to happen, run a trial for those who are unsure about being in pitch darkness and then things start to happen.
Aura: A Musical in the Dark is a spell-binding fusion of story-telling, musical theatre and the triumph of imagination. Vella's and Godhwani's narrative brings to mind a decidedly more inclusive version of Enid Blyton's Faraway Tree series, even channelling Lucy and Peter Pan with a storyline that is funny, poignant and full of the kind of magic I'd love to see more of in our world.
The underlying theme of inclusion is even more effective because it is so subtle and manifests itself almost incidentally. Lou has two dads – but this is referred to in a matter-of-fact way, without any fanfare, as part of the ordinary scheme of things. Which is exactly as it should be in real life, although this is rarely the case. To quote another example, an island inhabitant informs us that we don't use the word 'giant' and that they prefer to be called by the name they identify with – Big Man. And – spoiler alert – we only find out that Peppa's character is blind towards the end, because this is not what defines her. This is a beautiful and effective way of promoting inclusion, especially with a young audience.
I could see composer Luke Saydon's stamp throughout the music and lyrics, enriched by Matteo Depares's musical arrangements and sound design (no disclaimers despite the common surnames, as he may be a distant relative but I've no idea who he is). Needless to say, the music is pivotal to the success of the musical and I am so happy to finally see musical theatre getting excellent homegrown treatment. I swear I felt members of the audience jiggle about in their seats during certain uplifting numbers.
Finally, well done to the cast who make Aura: A Musical in the Dark all come to life via a live performance that takes place in a separate booth. Sandie Von Brockdorff's Lou is particularly glorious, making us believe in the unquellable spirit of an eight-year-old. Rachael Fabri's Peppa is likewise memorable in the role of an old lady who is trying to make sense of her changing world. Jake Sawyers and William Shackleton likewise delivered beautifully in their myriad roles. Each actor in the cast takes on multiple roles with ease.
For sensitive audiences, there's a death-related trigger warning. There is sadness in the script, but the overwhelming feeling is one of hope.
A couple of points about logistics. I encourage Esplora management to invest in noise-canceling headphones as, several times I could hear chatter from outside coming through. From a production point of view it would be helpful to research the best ways of gradually returning the audience to a fully lit up environment. A similar production I attended in Italy made use of small lightbulbs that were slowly switched on in different parts of the room over the course of 10 minutes so as to avoid creating disorientation .
Finally, another one for Esplora management. I don't understand why the main entrance and other amenities were not accessible. The majority of the audience showed up at the main entrance, only to have to walk all the way down to the Kalkara promenade and then up a considerable number of stairs from the back entrance. Anyone wanting to use the elevator had to wait for an Esplora representative to turn up and accompany them.
This was ridiculous. It may not sound like a big deal to many, but there were quite a few of us present on the night for whom the walking and the stairs presented an unplanned for challenge.