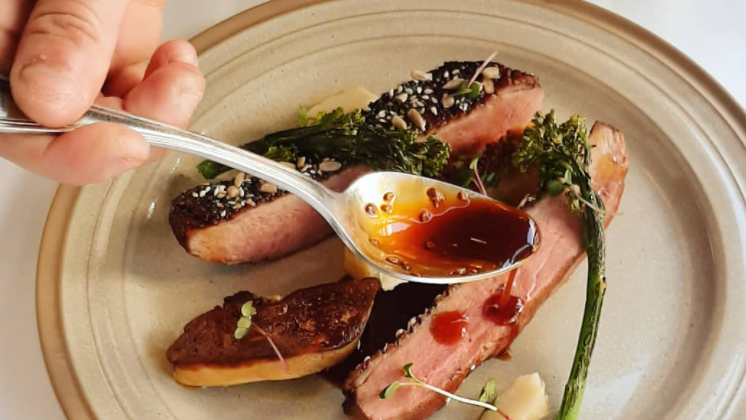 Photos courtesy of The Chef's Table
UPDATE: The Chef's Table has now sadly closed it's doors.
The Chef's Table is one of those restaurants that I had been meaning to visit for a while, mostly because the reputation of chef-patron Alain James Grech precedes him. I know that Alain has done some great things away from these shores, and I wanted to see what he had managed to create when shaping his own restaurant.
The Chef's Table is located right in the heart of Bugibba, a quirky, lovely space that one doesn't usually associate with this tourist spot. It is, in fact, very far removed from your typical Bugibba eaterie. Alain has created wonderful things, with gorgeous, traditional Maltese tiling and a series of black and white paintings that lend a distinctive identity to the place.
Although this is very definitely a fine dining experience, the vibe itself is chill. Put it this way, dining at The Chef's Table is a good excuse to dress up, and I was happy to see that the other diners did, in fact, do this. But there isn't the typical 'stuffiness' that is associated with the words fine dining, and I am very happy with that. Service is professional, informative and friendly, while the food itself… well, let's dive straight into that.
We opted to go for the Tasting Menu, because at a place like The Chef's Table I always like to leave it up to Chef to impress with his favourites. And impress he did, as we thoroughly enjoyed every single item on the seven-course menu – each paired with the appropriate wine, of course.
The Chef's Table – delicate and creative flavours
The Chef's Table tasting menu starts as it means to go on – offering delicate and creative flavours for amuse bouches. Spotting what looked like a black macaroon, I reached for it immediately and was pleasantly surprised by the combination of the taste of squid ink and the crunch.
But the revelation was the chick-pea nugget with the pleasing texture of a potato croquette. I left the tuna tartar for last, and its Asian after-taste was beautiful. Alain is a master at adding unexpected ingredients for a twist in the flavour, as I was about to discover. As beginnings go, this one augured well, especially washed down by some excellent 1919 Chardonnay Girgentina (Marsovin).
Soon it was time to kick off the real deal – slow-roasted scallops with Wardija herbs, spring onions, chilli, ginger, coriander and lemon juice. This time, the Asian umami was even more distinctive, beautifully contrasting with the same, refreshing Marsovin vintage.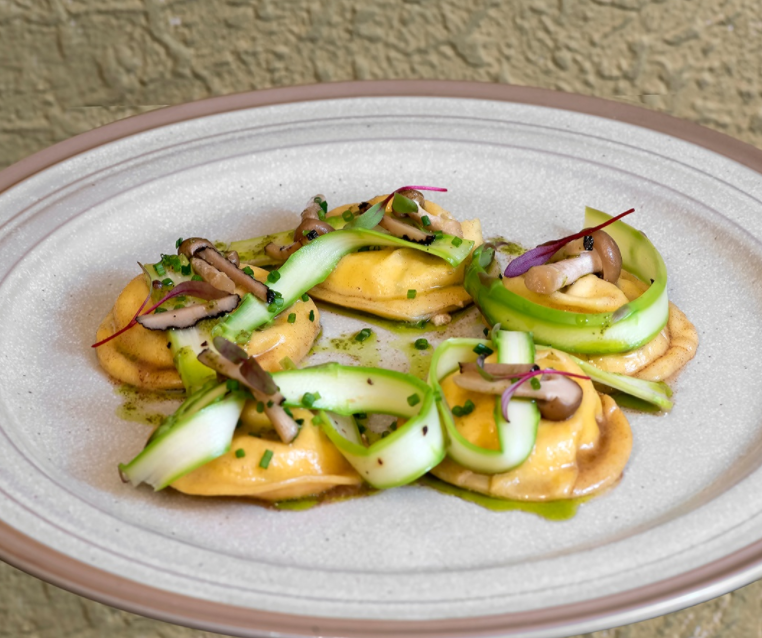 Quick change of glass and vintage to the Fenici by Meridiana, a Merlot, Cabernet and Syrah mix that is one of my favourite reds. Its complexity made it the perfect partner for the dish that showed up next: homemade ricotta ravioli with Gozitan asparagus, chanterelle mushrooms, black summer truffle and chive brown butter sauce.
The combining of so many strong flavours might have thrown some chefs, but not Alain, who somehow managed to turn this into a thing of exquisitely delicate tastes, each ingredient showing off the other and making the general "mmmm"s going around the table very heartfelt.
But now it was time for the big guns – fillet of local red snapper with soy pickled white radish, compressed green apple, yuzu gel and kombu infused umami sauce, accompanied by a glorious Chablis from the Victor Bernard label.
A word about that compressed green apple. Such a simple-sounding ingredient, right? Alain's treatment and pairing once again succeeded in surprising us. This was a perfectly prepared fillet, all its flavours sealed in and engaged in a heavenly marriage with its unlikely, but delicious, partners. I don't think I've ever waxed this lyrical about cabbage and apple.
And finally, the piece de resistance – an Iberico pork chop with what Alain describes as 'hotdog' flavours, charred onion, Chinese cabbage, mustard mayonnaise, cornbread and juniper berry sauce. This was paired with a Valpolicella Superiore Ripasso Vigneto 'La Cengia', by Begali Lorenzo, one of my favourite Italian labels. A special occasion wine, and this Iberico pork chop was definitely a special occasion.
Having now enjoyed all the savoury courses, I can say I am a believer in Alain's ingenious pairing of unlikely ingredients, and in his judicious use of Asian accents to exalt an ordinary dish into something truly special. The Iberico was followed by a well-needed break and a light limoncello sorbet, which gave us some time to switch from savoury to sweet mode.
I confess that I had been looking forward to this final course ever since seeing its description: milk and local honey textures, vanilla pannacotta, honey sponge, milk caramel, yoghurt sorbet, honeycomb and lime zest. Put like that, it just reads like a string of random ingredients.
Under Alain's treatment, this string of ingredients became one of the top five desserts I've ever tried, just like that. It is difficult to describe this dish, as the combination of ingredients is sophisticated, but the end result is a beautifully homely, and comforting dessert (that thankfully is not too sweet, which makes it even more ideal). I'd return to The Chef's Table just for this in a heartbeat.
We closed off the evening with a glass of d'Arenberg's Australian The Noble Wrinkled Riesling, its honeyed notes just as comforting as dessert. My verdict on The Chef's Table – do not let its location in Bugibba put you off, if you are a real foodie always chasing the next surprising flavour. And go straight to the sampling menu, as Alain's creativity will not let you down.
Interested in more reviews of Maltese restaurants? Check out the Royal Malta Yacht Club's Port 21, or this review of the Iniala Breakfast Club, or maybe the beautiful Gazebo Restaurant at the Hilton Malta.