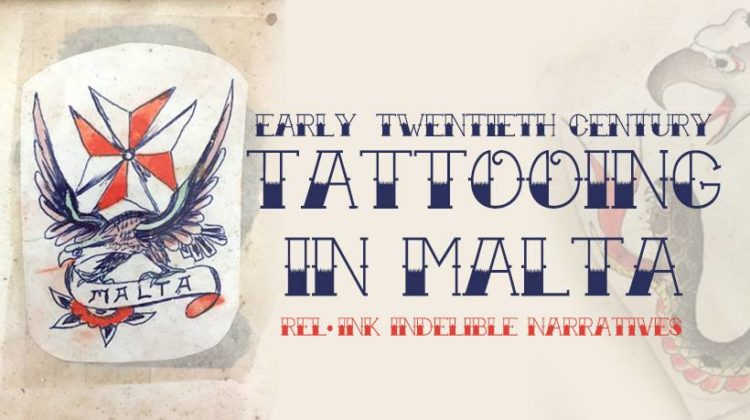 Wondering about the history of tattoo art in Malta? This talk about tattoos and Japonism may be up your street.

REL•INK looks at the tattoo art of elderly Maltese male informants aged 75 years of age and over, who worked on ships or on the waterfront. These included stevedores, fishermen, longshoremen, dockers, sail makers, sailors, stewards, coalmen, firemen, Royal Navy service men, Merchant Navy men, firemen, stokers, labourers or in related occupations.
The project explores tattoos and their significance in the day-to-day life of these port workers, labourers or seafarers at a time when the maritime sector was the mainstay of Malta's colonial economy.
The aim is to research and document the tattoo practices of the Maltese, the motivating factors for the acquisition of tattoos and to bring to the notice of the public early 20th-century Maltese tattoo artists and their handiwork.
Following up on the success of the REL•INK Indelible Narratives exhibition in 2017 and as part of the ongoing research, the REL•INK project, together with Heritage Malta and the Malta Maritime Museum in Vittoriosa is hosting Dr Matt Lodder for a talk on Tattooing and Japonisme: High Class Commodity Tattooing in the 19th century. Lodder will touch upon the advent of Japonisme – the craze for Japanese art and design that swept across Europe after trade with Japan resumed in the 1850s and its link with tattooing.
Malta, as a British colony and naval base at the time, was no doubt influenced by trends sweeping across continental Europe. However, there's more, as an excited Pierre Portelli tells me. In fact, Lodder is expected to make a very significant revelation during the talk, which takes place tomorrow.
So, if you're into tattoos and Japanese art, you know what you have to do! The talk takes place tomorrow, January 25, at 7.30PM at the Malta Maritime Museum in Birgu.
If you'd like to know more about the arts scene in Malta, check out this feature about The Importance of Being Earnest; this carnival workshop taking place at The Mill; and the exciting news from this contemporary dance company.