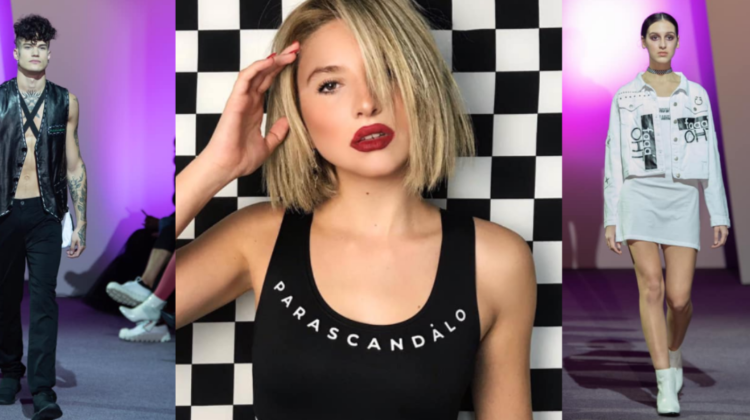 Parascandalo gives streetwear its sexy back.
SALVAGED BEGINNINGS – The new collection from Parascandolo possesses all the designer's trademark cool and then some more, with an intriguing backstory that points towards his quintessentially Maltese identity and a childhood growing up in our gorgeous Three Cities – Vittoriosa, to be more specific.
As the name of the collection reveals, it gives more than a nod of respect to Parascandalo's grassroots. But make no mistake: the pieces are as urban as ever.
Parascandalo's name is synonymous with Maltese lifestyle and street wear, perhaps more than that of any other local designer, synonymous with streetwear. And the unveiling of this latest collection, which took place at Paola's MCAST campus, certainly sealed the deal.
There was black, lots of it, punctuated by white and some very effective use of colour. And, as we've come to expect from the young designer, even the most basic of pieces had a sexual edge that defined the entire collection.
Parascandalo gives new meaning to the phrase 'young, beautiful things' and this time round it was no different.
I caught up with the designer himself to ask him some questions about the collection.
When did you know you wanted to be a designer?
From forever – and my experience in retail and fashion helped achieve this. But, after my four year experience in London, this vision was clearer and I made it happen.

Salvaged Beginnings is inspired by your childhood and Malta. Where did this sense of nostalgia spring from?
I am constantly researching to help kickstart my inspiration, and I enjoy following up on references that bring back a memory. For this collection, a 'taqbila' – kind of like a rhyme – popped up in my head from somewhere which brought back a lot of childhood memories.
I decided to look into it a bit more and I was really influenced by the memories it brought back.
How much of the Three Cities do you see in Salvaged Beginnings?
While doing my research I found out that the taqbila itself originated from the Three Cities, and suddenly it made even more sense to use it, since that's where I spent my childhood.
Can you share some memories growing up there?
Summer school was always fun! I remember waiting to be picked up from outside the Vittoriosa parish church, together with a group of other kids. We'd have all sorts of activities, including singing and dancing.
Later, when I reached my teens, I actually had the opportunity to be one of the summer school teachers, and it was great to continue building up on all those traditions I had experienced myself as a child.
What would a young you say, if he were to see what you have become today?
We made it! I can't believe it came true and I am growing up doing what I loved.
Do you believe the Maltese identity is being lost?
Awareness about, and respect towards, the Maltese identity is always important. Different people show it differently. But I enjoy showing it through my designs and my art.
Do you believe fashion is a social statement?
Definitely. Sometimes I don't even realise myself how, with what I create, I am making a statement. It's an organic process.
Favourite pieces from Salvaged Beginnings?
This is very heard to answer, but the revival of the slogan Faqa' Oħt is one that I cherish and hold close to my heart. I started it in 2014 when I wanted to make a statement about LGBTIQ rights, when the referendum for equal rights was being held.
Want to learn more about Malta's fashion scene? Check out local designer darlings Charles & Ron, discover Luke Azzopardi's ethereal designs or this fashion show by the House of Lilly Mae.
Want more fashion-related posts? Check out my fashion category here. If theatre, food or books are more up your alley, visit my main page here.