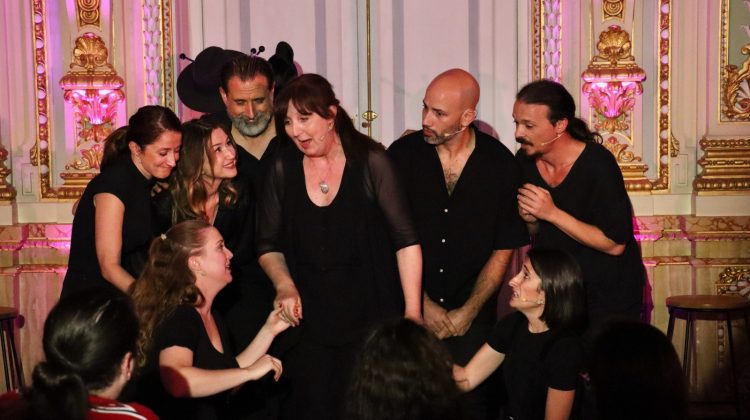 The Shrinking Violets tend to be associated with more 'serious' theatre pieces. Their production of In Other Words last year, putting the spotlight on the toll that dementia takes, didn't leave a dry eye in the house.
Their new show, Miscast, An Atypical Cabaret, takes a decidedly lighter approach. The concept is that the cast is grabbing the opportunity to take up all those roles they'd have loved to do before but couldn't. Because, casting agents. As gimmicks go it's simple, but it works and it certainly rewards the audience with some highly entertaining twists and turns throughout the night.
For this production, Jo Caruana, Denise Mulholland, Chiara Hyzler, Cathy Lawlor and Maria Buckle are joined by Thomas Camilleri, Mikhail Basmadjian and Joseph Zammit. The format of the show sees each member of the cast take up pieces from well-known musicals, preceding their choice with an explanation about why they never had the opportunity of doing so before.
What really makes it work is that it comes across as being very genuine. Whether it's Jo Caruana being told that "she's no Ira Losco", Maria Buckle explaining how she's typecast in petite and cute roles rather than that great villain Fagan, Cathy Lawlor finding her 'fach', or Mikhail Basmadjian's touching belief that there's no such thing as "too old for Romeo", we believe them. I'd hazard a guess that significant parts of the script aren't mere plot devices, but involve actual personal experience. And it works, as the entire audience is rooting for them throughout the whole evening.
The choice of pieces is both obvious and surprising. Obvious because it is, after all, a collection of 'best ofs', for want of a better word. Surprising, because the choice of performer is unlikely, which is the whole point of the show.
Which is not to say it isn't spectacular. Every single name on the billing is a top-level all-rounder with multiple amazing performances under their belt, so I expected no less.
Some of my personal highlights include Thomas Camilleri kicking off the evening with a deliciously evil Ursula, Maria Buckle's cocky Fagan, Jo Caruana's hilarious Pour Que Tu M'Aimes Encore, Denise Mulholland's marvelous Defying Gravity, Cathy Lawlor's With One Look and Chiara Hyzler's tearjerker I'll Be Here.
The cast works beautifully as an ensemble. Numbers like Hello from The Book of Mormon went like clockwork. The Sound of Music medley was insane, but somehow worked – shout-out to Basmadjian's exit, which brought the house down.
The biggest bravo, however, goes to Joseph Zammit's performance of Model Behaviour from Women on the Verge of a Nervous Breakdown. Again, insane (I'm sensing a running theme here) but perfectly delivered. Given Zammit's a wonderful tenor, the role of a Spanish woman who is having 'a day' is certainly not what anyone in the audience was expecting, so 12 points for taking up the atypical part and another 12 for making it amazing.
Another bravo to pianist Luca Zerafa, who musical accompaniment was very polished. Being the sole live musician wholly responsible for an entire show can often be eventful, but Zerafa handled it impeccably.
The venue at Palazzo Parisio is stunning and enables the audience to enjoy an actual cabaret setting, bringing drinks and snacks with them. The lack of air conditioning and ventilation does take its toll, however, and the acoustics aren't necessarily the best. Neither is the bar pricing, and there were justified complaints at expecting a captive audience to pay 10 euros for an unremarkable glass of wine. Even London's Victoria Palace and The Old Vic's bar prices are cheaper.
But back to the show. It's difficult to pick one crowning moment from the evening, but if you twist my arm I would say it's One Day More from Les Mis. This is where every single artist had their moment to shine, and shine they did, doing justice to this iconic piece.
Miscast, An Atypical Cabaret run for this weekend only and it's sold out. But if you enjoy high level musicals and anyone is selling tickets, don't miss it. It's a blast.
For other Malta culture related pieces check out my review of Aura: A Musical in the Dark and FM Theatre's No? No Way!.