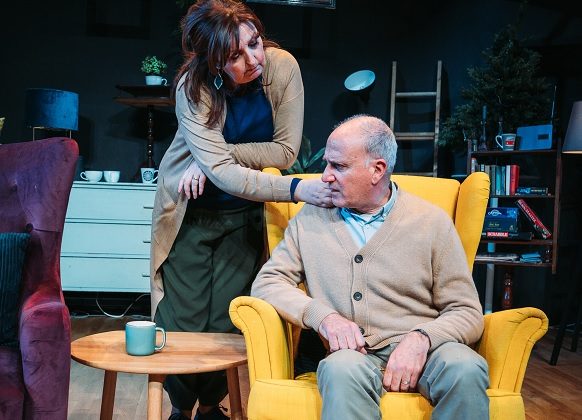 Denise Mulholland and Jes Camilleri in In Other Words. Photo: Albert Camilleri
Dementia and Alzheimer's Disease are topics that bring an immediate chill to the air. So why would you want to subject yourself to a production that is guaranteed to break your heart, right? And breaking your heart is exactly what Matthew Seager's In Other Words – currently being staged by The Shrinking Violets at Theatre Next Door – achieves in approximately 75 minutes.
And yet, see it you should, precisely for the sheer raw emotion this magnificent two-hander wrings out of the audience. And the insight it gives into the the lives of those who live with dementia, placing the humanity, rather than the condition, into sharp focus. Not to mention the stunning performances, sensitive direction and all-together outstanding level of the whole production.
As you've figured out, there are multiple reasons why you should watch In Other Words. The play is directed by Chiara Hyzler, who is fast building a sturdy reputation for bringing difficult topics with a strong social angle to our stage and turning them into magic. Her treatment of Class, a play about learning difficulties that was staged last May, was one such example. In Other Words is another strong one.
The play follows the relationship between Jane (Denise Mulholland) and Arthur (Jes Camilleri), a couple so attuned to each other that they could easily come across as annoying if left to lesser actors. But Mulholland and Camilleri inhabit the skin of this magnificent couple with ease, making them shine, bringing out the little quirks, quips and inside jokes and making the audience smile fondly at them.
This is a couple that doesn't take itself too seriously – "Before we're even born, we're learning to sing with another person. Isn't that amazing? And he still sounded that bad!'" Jane says of Arthur's singing. Within the first five minutes of the show we are as in love with them as they are with each other.
And then, things start going wrong. The final diagnosis is Alzheimer's, with Arthur's condition deteriorating fast. The fear in this case is that the play would descend into the obvious, a linear and predictable depiction of grief. But there's none of that. Mulholland and Camilleri, give us an entirely realistic and complicated portrayal of what happens when two people who love each other face a challenge that is beyond their control. Their performance subtly reveals the darkness of grief in a growing crescendo, so that we're not quite sure when the chapter turns from 'let's fight this' to poignant realisation.
In Other Words – Changing Our Perception of Alzheimer's
Music is almost a standalone character, as we witness the power it has to lift the fog from Arthur's brain, granting him occasional reprieves, reminding the audience of the person he really is.
Hyzler's direction makes the most of this power, using Sinatra's Fly My To The Moon to instantly switch from bad times to good. In contrast, Arthur's episodes are marked by a discordant, disturbing soundscape that was composed by Matteo Depares specifically for the production. The mechanism is entirely effective, and the music grates on our senses, leaving the audience confused and uncomfortable, ruthlessly mirroring Arthur's state-of-mind.
Lighting and choreography also have some heavy lifting to do here, with tight cues that worked seamlessly even on opening night. But of course, it is Mulholland's and Camilleri's performances that are the undisputed stars. Mulholland becomes Jane, showing a sublime emotional range as she continuously morphs from pain to the giddy excitement of new love, back to pain, hope, grief and – finally – to quiet despair.
Camilleri is a worthy match, his Arthur seamlessly transforming from witty charmer to a man consumed by confusion and pain, from lover to patient. By the time that Sinatra grants Arthur one final moment of clarity, and the couple one last dance, our perception of Alzheimer's has changed.
In Other Words runs at Theatre Next Door on February 4, 5, 10, 11 and 12. Tickets are available from the Theatre Next Door site.
If you want to read more about Malta cultural events check out this review of Bil-Bieb Mitbuq, or Teatru Malta's Lupu/Nagħġa and Masquerade's Misery.