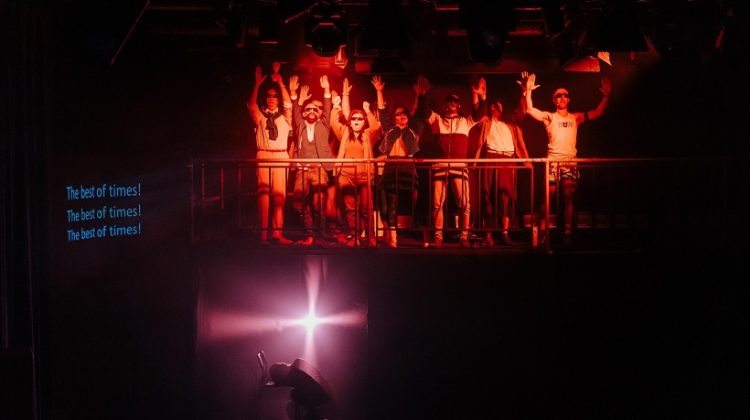 Photo: Lyndsey Bahia
At its very core, Teatru Malta's Lupu/Nagħġa is a simple enough tale. It's the story of a husband and wife, a mundane enough couple, living in a mundane enough block of flats, facing the mundane problems that many families like them face – coping with a toddler, an unexpected pregnancy that's expected to create some financial challenges and the issues that the infamous 'il-komun' – ie, the common areas of the apartment – brings with it.
In reality, it is about a lot more, a gloriously multi-layered production that manages to touch upon myriad troublesome themes, without at any point coming across as preachy, confusing or overkill. Script and direction are by Simone Spiteri, and the production has the Spiteri touch all over, using the reverse chronology technique (which is also becoming a bit of a trademark for the playwright) to great effect.
Without going too much into the plot line itself, the action kicks off on New Year's Eve, when the lead character (for want of a better word) finds out she's pregnant. We then follow her and her husband's history in the preceeding months.
Lupu/Nagħpa – Teatru Malta tackles multiple social themes
Along the journey we are introduced to multiple themes that are all too familiar. There's the corruption angle, whereby the wife is expected to sign a government report about goings-on that happened while she was absent, and that may or may not be tied to the darker events related to kickbacks. There are allusions to post-natal depression and anxiety. In short, the script packs a real punch.
There's the slimy architect living in the penthouse on top, played marvellously by Paul Portelli. His constant partying with a group of anonymous cohorts is a painfully effective depiction of the soullessness birthed by hyper-capitalism. The prostitute with a heart of gold and the mother-in-law with the side-splittingly funny dialogue. All these characters reflect the duality of their nature at some point of another within the play, hence the title – Lupu/Nagħġa, translating to Wolf/Sheep and begging the question. Are they wolves, or sheep? Or both?
Lupu/Nagħġa once again confirms Spiteri as the queen of scripts in Maltese, her dialogue so natural, even when code-switching, that the play feels as though you're evesdropping on your neighbours' conversation.
The production itself is blessed with pretty stellar production values, and it's good to see Teatru Malta continuing to produce theatre that pushes the envelope in terms form and technique, with this one being a worthy successor to the beast that was Ma Kuraġġ u Wliedha.
These kind of productions are extremely important in Malta, where budgetary constraints mean that it falls upon PCOs to take risks with theatre productions that aren't a sure bet in terms of audience appeal. Teatru Malta is holding up its end of the bargain very well, and it's also succeeding in new audiences, which is important.
The staging is one of the biggest triumphs of this play, with action taking place across three or four different parts of the stage simultaneously and successfully. Soundscapes and music (Tim Ellis) – especially the refrain that introduces the play – are on point, and contribute tremendously to the delivery. Same applies to lighting (Moritz Zavan Stoeckle), which plays a pivotal role in the execution of the narrative. Knowing that there is a section of audience that feels intimidated by the Maltese language (yes, this is a reality) I was also pleased to see the addition of English surtitles.
The programme does include a warning about strobe lights, but this was the one aspect where I felt there was overkill. Although done intentionally to jolt the audience, this could have been achieved differently without such a strong and prolonged assault on the senses. As it was, I kept my eyes closed everytime the strobe lights came on.
Another aspect that left me with mixed feelings was the manner in which a character identifying as they/them was included. I felt the character deserved more in order to avoid gender identity from becoming mere comic relief.
That said, Lupu/Nagħġa is one of the sharpest and wittiest forms of social commentary I've seen in local theatre, giving the audience plenty to think about. It would appear that the genre is enjoying quite the resurgence, considering last year's Ġiraffa Ħarbet Minn Kastilja, another prime example of highly-relevant satire.
Teatru Malta's Lupu/Nagħġa runs at the Valletta Campus Theatre until February 5.
For other Malta culture pieces, check out the theatre reviews section of this site or go straight to Masquerade's Betrayal.