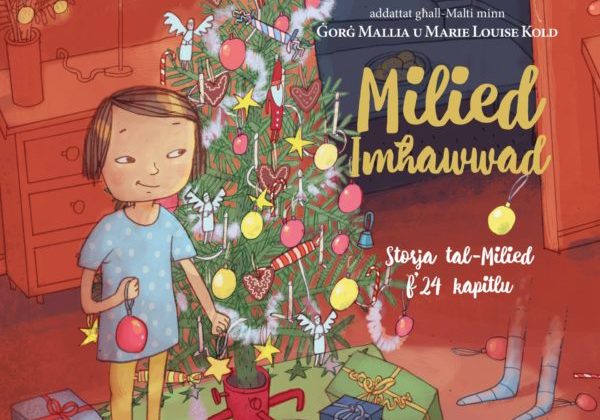 Milied Imħawwad, by Ingelin Angerborn and Per Gustavsson. Translated by Ġorġ Mallia and Marie Louise Kold.
A peek inside a traditional Swedish Christmas.
What Rutan really really wanted for Christmas was her friend Elsa to move back to her city – but it didn't look likely to happen.
"Dear Santa, do you think I could get my friend back? If that is too difficult, could I have a real dog? Sigh, if even that's a problem maybe I could have the toy dog in the window of the ironmonger?" the little girl wrote resignedly in her Christmas letter to Father Christmas.
Well, as all children in the world know, if you've been good, Santa always grants your wishes. And in fact, true to form, one day, a very strange creature pops up in her room.
A blue creature with a very odd diet, who had got lost and needed Rutan's help to get back to his home.
This is Milied Imħawwad the story of Rutan's Christmas: a sweet, touching Christmas story about inclusivity and how love and friendship can conquer all.
It is the perfect book as a Christmas present, for both children and grown-ups too, because it gives a little snapshot of Christmastide in Sweden – where houses are decorated with stars and candles as winter sets in.
It was this Swedish spirit of Christmas which drew University of Malta professor Ġorġ Mallia and artist Marie Louise Kold to a Swedish children's book En Klurig Jul.
Written by Ingelin Angerborn, the book highlights the unique Christmas traditions in Scandinavian countries in a very original format: it's an advent calendar with stories.
Mallia and Kold were so taken in by the imaginative story, that they translated it into Maltese. It is now been launched by Merlin Publishers as Milied Imħawwad.
It has 24 chapter-stories, so children aged eight and over could read one each December night leading up to Christmas. Younger children can rope in the help of their parents for some bedtime reading – and there is no doubt that the grown ups will enjoy the tiny peek into a different Christmas culture.
The translators even added a glossary at the back of the book specifically to explain Swedish terms and traditions which Maltese children would not be familiar with.
Milied Imħawwad is the (healthier) equivalent of opening a window of an advent calendar each day – instead of a chocolate, there's a story – beautifully illustrated and comes with no sugar rush attached!
Milied Imħawwad is available for sale from all leading bookshops or directly online from merlinpublishers.com.
Interested in knowing more about local literature for young adults and kids? Check out these two books that will definitely get the kiddos reading or this one, that features a spelling bee competition.
Or hey, why not check out a book written by yours truly about growing up in Valletta, Beltin: Stejjer Minn Nies Minsija. You will also find more write-ups featuring books in the books category here.
If it's food, theatre, music or fashion you're after, check out my homepage here.