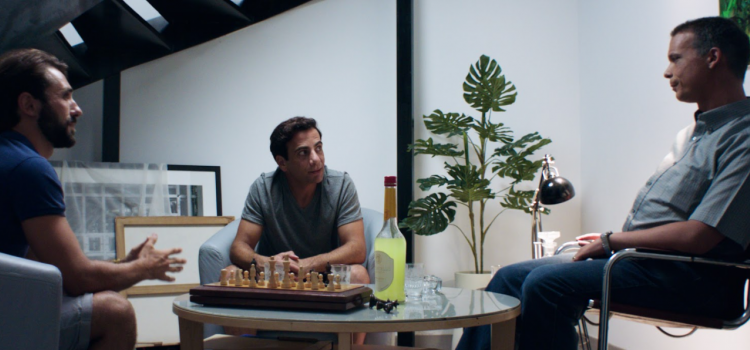 When Alex Vella Gera's Is-Sriep Reġgħu Saru Velenżi was first published in 2012, it won the national book prize and pretty much became a cult hit almost instantaneously. Not only due to the narrative arc itself, but for the way it effectively captured the zeitgeist of a whole decade, digging deep into our subconscious, exposing an entire nation's vulnerabilities.
This, I felt, would be the biggest challenge for any director who attempted to transpose Sriep to the big screen. And it is a challenge that Martin Bonniċi rose to admirably with the eponymous feature film, which premiered at the Eden Cinemas last week.
Without any doubt, the film version of Is-Sriep Reġgħu Saru Velenżi – scripted by Teodor Reljic and funded by the National Book Council – will touch a nerve, especially for those who lived in Malta through the 1980s. A nerve that, for many, remains very much raw.
The opening of the film immediately sets the tone with real-life footage of Malta in the 1980s, from mass meetings to news clippings and the infamous ransackings. A Viper's Pit – to give it its English title – opens in 1984, with Gianni Selvaggi's Richard Sammut Petri and his wife Maureen (played by Tina Rizzo) celebrating the happy news of an upcoming birth.
This is as happy-go-lucky as things get. The stage is set from the very first few minutes of Sriep as political intrigue quickly cements itself. From the innocence of kitsch 1980s furniture, duttrina and shared family dinners, the viewer is rapidly plunged into darkness – metaphorically and literally, as a plot to assassinate the then Prime Minister Dom Mintoff is hatched.
Perhaps, one of the biggest challenges in turning a modern Maltese classic like Sriep into a full feature film lies in the casting. We are talking about characters that, even in the decade or so the book has been in circulation, have already become iconic.
Happily, the casting is bang on the money, with Selvaggi's beleaguered protagonist portraying just the right balance between naivete and darkness. He is superbly supported by Rizzo, who brings touching pathos to her role as the increasingly suspicious wife.
A Bittersweet Journey Through Malta's Legacy
Joseph Zammit's role, playing both the younger and the older version of Roger Tabone, is especially challenging for obvious reasons. Respect to Make-Up, for achieving an entirely natural ageing process, but also to Zammit, who triumphs with a highly credible performance as we literally watch him age in front of our eyes, switching from political hot-head who swears in front of his friend's child into sombre (and increasingly shady) family and businessman.
Chris Galea does justice to the role of Noel, the eldest of Richard's sons, forever seeking answers to his father's mysterious disappearance. The viewer is never quite sure whether he's just a victim of circumstance or someone who will not stop short of going as far as needed for his own ends, and Galea plays this duality well, altering between charm and a touch of the sociopath.
Shoutouts go to Matthew Maggi as Noel's 'hippy' brother Simon; Joe Azzopardi as the clueless childhood friend who finds himself suddenly thrown in the deep end; and Erica Muscat as Frances, unwittingly doomed to repeat Maureen's sad history.
There are lighter moments in the film, such as the nod to the stereotypical microcosm of the Maltese stationed in Brussels, living off poetry nights held in tiny bars frequented by self-styled 'intellectuals' pontificating about politics on 'the Rock'. I sniggered.
I did not particularly care for the way the cliche of the (Sliema?) ladies who lunch was handled. While the intention is an obvious spoof, I did find it needlessly over-the-top, and the point could probably have been made less abrasively. I would also have liked the role of Alan 'Il-Harja' to be further developed, especially given the undercurrents tied to his character.
But that is by the by. The film version of Sriep cuts right to the bone, aided not only by director and cast but also by a DOP who creates a truly evocative feel, making full use of the iconic locations and the traditional Maltese houses, with their garigori and sottospechi.
In short, this is one of the few cases when I am not sorry that a book has been given the big-screen treatment. Let's have more such Maltese productions! PS – there are English subtitles, so if you're not a Maltese speaker this is still totally worth your time.
If you'd like to read other pieces related to local art, check out this interview with Burlesque dancer Undine La Verve, or this re-interpretation of A Midsummer Night's Dream, or this review of the latest Inspector Gallo.