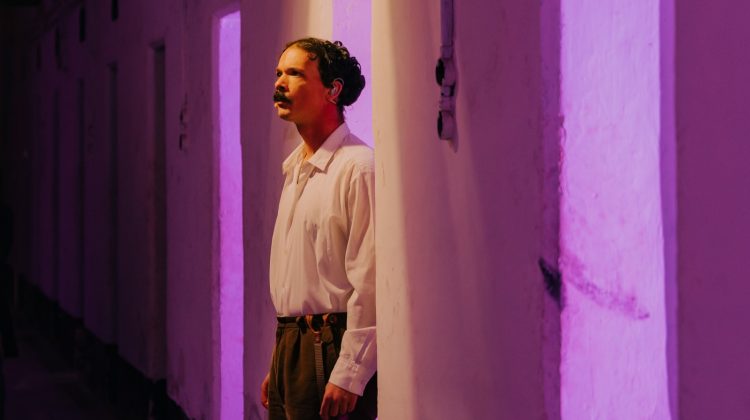 Photo: Lindsey Bahia
Il-Qfil u l-Ħelsien skont Manwel Dimech is an all-rounded theatrical experience with world-class performances, music, direction and general artistry
Il-Qfil u l-Ħelsien skont Manwel Dimech – it feels almost a betrayal to write this review in English, but I'll bow down to Google language policies. I confess that Teatru Malta's latest offering has had me curious for the past couple of months, for several reasons. A musical. In Maltese. About a much-reviled civil rights activists who also happens to be one of the forefathers of the Maltese language. This had the potential to be either totally amazing, or a very bad idea.
Given the names that were cast for this production, I had great faith that it would be the former, rather than the latter. To my mind, the biggest issue that this production was likely to suffer from is the incredible fact that very few are actually interested in the life and times of Manwel Dimech. This is a hunch that isn't backed by evidence, but I'd love to know to what extent the whole Manwel Dimech saga is actually covered in schools nowadays. I do know that it certainly didn't get more than a short paragraph at most in my time. I suppose the nuns weren't too keen on civil activism back in the day.
But of course, you might say that it is precisely due to this lack that the theatre scene sorely needed something like Il-Qfil u l-Helsien Skont Manwel Dimech. And you'd be correct. I certainly walked out of the production knowing a lot more about Dimech than when I went in, but more about that later and onto the production itself.
Il-Qfil u l-Helsien Skont Manwel Dimech is described as a site-specific, musical-theatre performance. The site-specific aspect, in this case, is more than a mere descriptor and it is clear that the creators of the piece went to great thought to ensure that they make the most of the architecture and space offered by the Kordin Old Military Prison. Incidentally, this is one of the few opportunities to actually walk about and see a substantial section of the prisons, which is a major attraction in itself.
Notice that I use the words 'walk about'. This is a standing production, so make sure that you are okay to be on your feet for one and a half hours. The production is devised in such a way as to take you through different parts of the building, all the time cleverly folding the actual audience within the cast itself and making us part of the script. The fact that this happens so organically you barely notice is a massive feat and kudos to director Victor Jacono – thankfully, this isn't one of those interactive productions where you're sort of forced to participate.
The production kicks off with a banger, Kulħadd f'Postu, featuring the full cast except for Joseph Zammit, who plays Dimech. The lyrics set the tone for the politics of the time – keep to your own station and don't try to rise above your place in life. Which is precisely the kind of ideology that Dimech worked all his life to stamp out. The action kicks off immediately, with the production focusing on different highlights from Dimech's life.
We witness the traumatic events that led to an equally traumatic experience in prison; the first meetings with ix-Xirka; Dimech's excommunication from a church he still believed in; the marriage to his wife Virginia; the time he spends teaching languages to children; and the final days that led to his death in Egypt, while still exiled from his beloved Malta.
The script catches all the important parts of Dimech's life, but this production is not about a pitstop of main events. Its value goes beyond the narrative, providing an all-rounded theatrical experience that showcases world-class performances, music, direction and general artistry.
The music is gorgeous, in the tradition of old-school musicals, showcasing the abilities of the performers. It takes this kind of production to remind us that we have considerable homegrown talent in this regard. From Roger Tirazona's Bishop; to Bettina Paris as Virginia; Stephen Oliver as Governor; Edward Mercieca as Rev Wisely; Debbie Scerri as Manwel Dimech's mother; Mark Tonna as Barbaro and – of course – Joseph Zammit's Dimech, the audience gets treated to an amazing vocal range.
Kris Spiteri (musical director, composer and arranger) and Matthew James Borg (musical producer) certainly bring their A-game, as did band and performers. Besides the opening track, Time of War really leaves an impact. It is sung in counterpoint by Zammit and Paris against Oliver and Karl Cassar, a rendition that was as smooth as it was rousing.
L-Iskomunika is another strong piece, giving Tirazona ample space to show his full dramatic capacity as actor and singer. The audience, following the unfortunate Dimech and his allies into the prison 'chapel', experiences the full wrath and power that the church was capable of wielding across society. On a lighter note, Il-Markiz (sung by Tonna and Rambert Attard) provides a much-needed – albeit creepy – humorous note. Tonna's comic timing is impeccable, even when delivered via music.
For sheer pathos, Zammit's X'Jibqa' truly tugs at the heartstrings, both in terms of lyrics and delivery. Zammit is easily one of Malta's current crop of strongest performers; it is rare to find this kind of all-rounder who excels in drama, comedy and musicals – here, his powerful voice and presence will undoubtedly make this role of Dimech go down in Malta's theatre history.
All through the performance, the director runs a tight ship. This can't have been an easy task, considering the different layers and components he had to bring together across various spaces over the course of 90 minutes. Yet, manage he did, every cog moving together seamlessly to create one, spectacular whole.
On a different note, this nature of production is a laudable choice for our national theatre company, offering the chance to shine to a bunch of great local talent. So bravo, Teatru Malta for going ahead with Il-Qfil u l-Ħelsien skont Manwel Dimech. The patriotic theme might not have been an obvious winner, but it is vital that our national theatre does not shy away from less 'sexy' subjects. I was happy to see a few younger and upcoming faces included alongside the established artists, as this too needs to be a priority for our national theatre.
For other Malta theatre features, check out The Girl in the Machine, The Little Prince or Unifaun crowd-funding scheme.