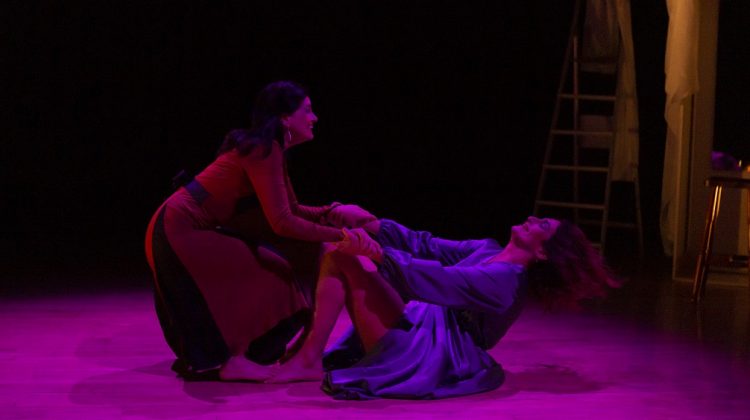 I have to confess, I do love me a good, classic gothic horror. My Netflix diet includes a worrying number of titles along the lines of The Haunting of Bly Manor, based on Henry James' classic, The Turn of the Screw.
I have a hunch that writer and director Tyrone Grima is of the same ilk, fond of a good narrative that combines supernatural and psychological horror, which is what the gothic genre is all about. I had much enjoyed his production of MADC's Wait Until Dark which, although set in the 20th century still includes all the elements common to classical gothic tales.
Thus, I was very eager to see what he would do directing Għanqbut f'Moħħha, a devised theatre piece that is loosely based on Henry James' The Way It Came. The narrative follows the protagonist Isabel's (Sharon Bezzina) gradual spiralling into obsession – we are introduced to her mysterious friendship with Milly (Sarah-Lee Zammit), her new relationship with Is-Sur Ralf (Andre Mangion), and we're fed glimpses of the tragedy that had befallen her parents without ever being sure of what precisely had gone down. The is the premise of the narrative, which all takes place within Isabel's newly-reopened antiques shop.
In the great tradition of gothic horror, the narrative itself is simple – what matters most is not the action, but what's unfolding in Isabel's mind. As the play progresses, the audience is torn between the supernatural elements that are gently hinted at and the decidedly more disturbing psychological issues that command Isabel's actions.
As audience, we're never quite sure what's happening. Are Isabel's fixations purely in her mind (hence għanqbut f'moħħha) or is something more other-wordly at play here? Whichever the answer, the one thing that is certain is that we're building up to something very bad.
Staging, lighting, music and costumes help augment this aura of dread considerably. This is one of the few instances I've seen in Malta where strobe lights were actually used to good effect, boosting the drama without becoming a nuiscance.
The cast is excellently placed for this nature of drama. Sarah-Lee Zammit perfectly portrays the tragic figure of Milly, her gait, posture and facial features rearranging themselves from one scene to the next, transforming her from carefree friend into a broken woman who can barely drag her own feet behind her.
Sharon Bezzina as Isabel, the protagonist, gives a laudibly convincing portrayal of a woman's gradual descent into madness. The audience starts out by taking her words and actions at face value, only for her to cleverly snatch the rug from under our feet with increasingly erratic behaviour that makes us question every single thing she says. I did feel that the scene where she finally, definitively loses it was somewhat overstated and could have done with less prolonged shouting. By that point she had already done an excellent job confirming her mental state, so it was unecessary.
Andre Mangion's portrayal of is-Sur Ralf is chilling, all the more so because it is very understated, the vacant look in his eyes enough to convey a sense of impending evil. Bradley Cachia's Henry, the journalist who's trying to figure out what's happening, starts out very much on the sidelines – the importance of his role increases steadily and Cachia deftly portrays the frustration and rage of someone who knows exactly what evil is at play but is powerless to do anything about it.
A special mention goes to Miguel Formosa's Peter. As the caretaker of the shop, his isn't a huge role but it does require huge acting chops. Formosa's depiction of Peter was deliciously disturbing, a strong source of tension even when he was simply seated in the corner of the stage, doing nothing. That wild-eyed grin is not something I'll forget in a hurry, especially as I was seated close to the aisle near to where some of the later action happens.
Għanqbut f'Moħħha is one of those rare pieces that genuinely create psychological horror, slowly but insiduously instilling a very real sense of dread that is so much more effective than any ghostly apparition. Grima and the cast clearly have very good synergy, resulting in a production that scares simply by playing on our psyche.
Għanqbut f'Moħħha runs tonight and tomorrow (April 15 and 16) at the Valletta Campus Theatre. The play is produced by Tyrone Grima and Sharon Bezzina and supported by the Malta Arts Council and by MCAST.
For other Maltese theatre reviews check out MADC's Private Lives and Il-Giddieb Għomru Twil. If food is your thing, read all about ION Harbour by Simon Rogan.