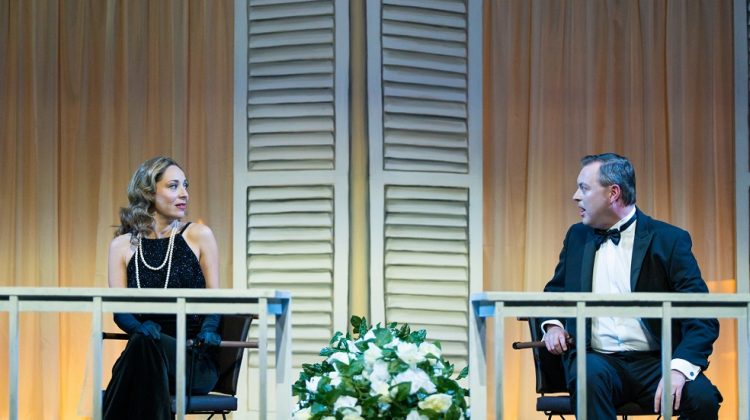 Greta Agius & Edward Thorpe in Private Lives. Photo by Justin Mamo
MADC's Private Lives brought in a literal full house for this Noel Coward classic that was co-produced with Teatru Manoel. Directed by Malcolm Galea, the play clearly has lost none of its appeal to local audiences despite being penned in 1930. There was not one empty seat to be seen in the house, boxes included.
On the night I attended, the cast was plagued by some technical difficulties that resulted in the play starting a bit later than scheduled and in Kim Dalli being mic'd. Kudos to Galea for resolving the issue without any negative impact on the production, and to Dalli for smoothly carrying off the last-minute adjustment. This is the sort of thing that can potentially result in a ruined night when it happens a few minutes before curtains-up, but this was not the case here and the hitch was dealt with swiftly, effectively and professionally.
Galea's direction of MADC's Private Lives gifted the audience two and a half hours of almost non-stop laughter. The premise is a simple one: a couple gets divorced and five years later unwittingly book neighbouring hotel rooms as they're honeymooning with their new spouses. They realise that they still have a thing for each other; chaos ensues.
MADC's Private Lives – Sparkling Wit and Unrealistic Expectations
Casting was excellent – Kim Dalli as Sybil delivered just the right mix of naïveté and vapidness, Myron Ellul's Victor comically and effectively providing the male mirror-image. Edward Thorpe as Elyot brings in toxic masculinity and aggression by the spadefuls, while Greta Agius's Amanda positively sparkles with wit, sophistication and a dangerous disconnection from reality.
The success of MADC's Private Lives does hinge on the depiction of a highly unrealistic British tableau, which all four actors nail, their dialogue alternating between posh drawl and clipped acidity. Giulia Gatt makes up the fifth actor and, despite very short appearances, she is hilarious as the snooty and annoyed French maid (and dare I say it, very believable).
It's difficult to critique this production without transposing it to the contemporary context. The basic narrative of two ex-spouses ditching their new partners to get back together is timeless, but it was difficult to move beyond the gender politics of the script, which are very much of their time. I found myself rolling my eyes at some of the dated gags, although to be fair the dialogue does include some pretty sharp quips that still work.
In its essence, MADC's Private Lives is an extremely dark depiction of the toxic, co-dependent relationship between Amanda and Elyot, with a good measure of domestic abuse thrown in. Galea doesn't sugarcoat the latter aspect, ably directing his cast throughout these scenes, resulting in a very physical performance that almost becomes farcical. Even with 21st century awareness, there is nothing problematic about this – the two characters are very clearly well-matched, both giving as good as they get, and there's no hint of any 'victim'.
Which is why, in the end, Private Lives gets away with making domestic abuse funny. I'll be blunt about it – it's a bit sad that the large audience that was laughing its head off while Elyot and Amanda thrashed about on the floor (not in the kinky sense) are not yet making the leap from consuming 'safe' (for want of a better word) theatre to more challenging productions like Il-Giddieb Għomru Twil or Bil-Bieb Mitbuq. We're clearly missing a link somewhere.
For more Maltese culture pieces, check out The Shrinking Violets' In Other Words, or read all about ION Harbour by Simon Rogan's approach to sustainable cuisine.