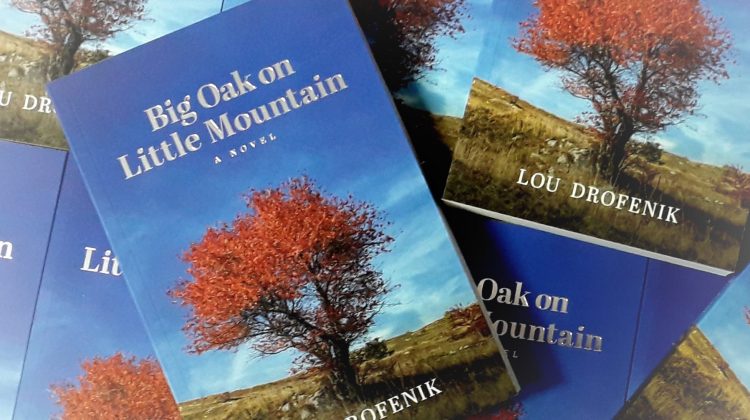 Award-winning writer Lou Drofenik's take on the rise of fascism in Europe is as poignant as it is enthralling, making the reader race to the end.
Big Oak on Little Mountain is a Maltese-published book I've been eagerly awaiting for a while. I first encountered Lou Drofenik's work when carrying out research for an interview I was meant to hold with her during the National Book Festival of 2018. The first book I read of hers was The Confectioner's Daughter, and I was enthralled by the way Drofenik managed to create an epic saga spanning decades, families and countries.
On its surface, the book was an enthralling tale that had me racing to the final page, finishing it in a couple of days despite its girth. If you took the trouble to engage more closely, it offered a lot more, a tale tackling themes of woman's rights, migration, displacement and religion. In short, the novel is a political statement masquerading as a work of fiction. So captured was I by Drofenik's work, that I went on to finish off the rest of her books in the few short weeks leading up to the festival.
Now, 2021 has seen us gifted with this brand new local publication by Horizons, Big Oak on Little Mountain. Rather parochially, at first, I was half disappointed to see that the crux of the tale does not revolve around the Maltese Islands, as has been the case with Drofenik's previous publications. I do confess to an added thrill when reading a good story based around our homegrown culture, as these don't tend to be that common.
But it didn't take me too long to relinquish this gripe as Big Oak on Little Mountain more than satisfies the quest for epic story-telling on all fronts. From the point of departure (the early 1940s, when Europe was just starting to see the rise of Fascism and Nazism) to the poignant unfolding of a young girl's life as she struggles to defeat various events that life throws in her path. As we follow Eda's journey from her simple life in the 'backwater' village of Mala Gora to her enforced transplanting to Sveti Mihael, on the Italo-Sloven border, all the way to Vienna, Zagreb and Italy.
Throughout, Drofenik masterfully weaves a strong subtext of exile and alienation, once again creating a narrative that on the surface is simple, but when dissected is replete with themes that remain ever-green, almost a century after the time when the novel is set. Once again, she creates personalities that are true to life, so much so that the main character of Eda is colourfully presented to the reader, warts and all.
Eda's is not a character that will instantly make you fall in love with her perfection. Rather, it is one whose strength derives from her very flaws, selfishness and quirks. Her less than pretty inner thoughts, her superficiality and eventual rebellion… these are aspects that, as readers, we find only too easy to empathise with given what Eda has had to go through.
This is not the martyred woman accepting her lot with a sigh of resignation and no complaints. This is a flesh and blood woman, fighting tooth and nail to keep her sanity and recover her happiness in life. And once again, without any fanfare or sermonising, Drofenik's Big Oak on Little Mountain becomes another tale of feminist strength.
But Big Oak on Little Mountain is not about one woman's solo journey. Rather, it weaves and winds through the lives of a score of characters, many of which also very well-rounded. Father Giovanni Micallef (there you go, Drofenik doesn't disappoint and does include a Maltese element to the story), Alma and Lovisa (a same-sex relationship that Drofenik manages to portray both tenderly and pragmatically), Terezika and Franzi, Irena, Branko… these are all characters that mature and grow as the book progresses and – while we may not necessarily grow to love them, we do get to care about what happens to them.
It is evident that Drofenik carried painstaking research before writing the book. The details surrounding the wave of fascism that gripped Europe, the language divide, and how the political turmoil impacted vast amounts of people are accurately interwoven within the fictional aspect of the narrative. Migration and displacement are equally strong themes, with the events unfolding being just as relevant today as they were in 1939. To pick just one example from the many subplots, the way people look down on the gypsy encampment in Sveti Mihael is very reminiscent of what we see happening with migrant hubs today.
And it is also this aspect of Big Oak on Little Mountain that gives the book such a strong impact, as the story evolves beyond petty personal relationships to explore the bigger picture, such as brothers pitted against each other in political allegiance, neighbours spying on neighbours and entire villages divided according to who speaks which language.
Make sure you do read the table of characters at the start, as this will help you get into the story easier. I also found the glossary at the end interesting and helpful. Drofenik dedicates Big Oak on Little Mountain to her father-in-law, who died in a concentration camp after being caught by Germans as he fought with partisans around the Slovenian town of Slovenska Bistrica.
Knowing this personal tie that Drofenik has to the tale makes it even more touching. Yet another triumph of epic story-telling for this award-winning author.
Check out other book reviews by Maltese authors here: Francesco Grech's kollox jeħel magħna, Inspector Gallo's Alias, Trevor Zahra's Sempreviva, and Il-Manifest tal-Killer.