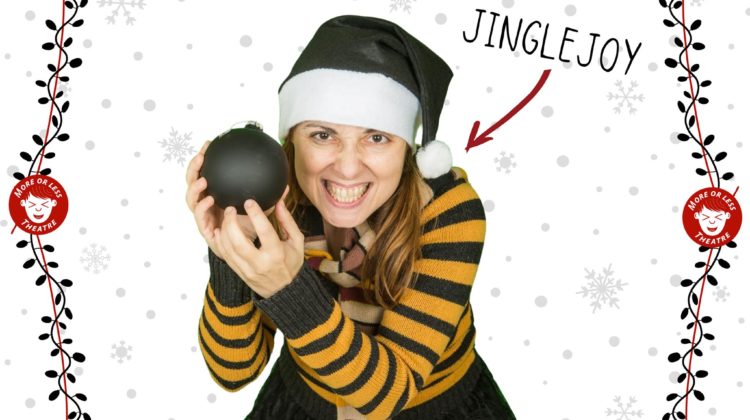 More Or Less Theatre's deliciously zany interactive Christmas offering will keep young viewers enthralled.
A Christmas apocalypse on Zoom by More or Less Theatre? Yes please, even though I'm somewhat over the age group this theatre piece is intended for – just somewhat, of course. Zoom password acquired – really, however did we survive without Zoom? – and I was let in pronto to the tunes of jolly Xmas tunes.
So far, so good. I poured myself a glass of wine (because, as previously explained I'm somewhat over the target age group) and settled in, my fuzziest socks on.
I believe I've already extolled the happiness of streamed theatre – not as a replacement for the real, live deal, of course. Never. But simply because it does make events accessible to some who otherwise may not have managed to enjoy them. Such as Apocalysmas, a Christmas tale with a difference for the kiddos, with a 6PM start time.
No need for mum and dad to rush about like headless chickens after switching off the home office, to make it in time to theatre. It's right there, in their living room. Which means they can actually set up the entire thing in the kitchen while they get the cooking done and let the little monsters run amok. Brilliant.
Apocalysmas follows a premise that is totally 2020. A naughty cat accidentally breaks a magical bauble, releasing a mischievous spirit that unleashes Apocalysmas. Everyone has forgotten about Christmas, it's as though Santa Claus never was! Of course, it had to be a cat to unleash the worst kind of Apocalypse, and it falls down to our hero, 10-year-old Alex to set things straight.
The scene is already set for adventure, but More or Less Theatres luckily know very well that kiddos like to have a say in saving Christmas. So they made Apocalysmas interactive.
There are 16 different endings, and it is the viewers who get to call the shots. Makes things a tad more interesting, right?
Apocalysmas has super production values, kicking off with gorgeous illustrations – so essential to make streamed theatre a success. But it also creates a beautifully intimate feel, filmed to make us feel as though we're part of the narrative that is unfolding.
There's also some humour thrown in for the adults who are joining in. The cat (Catalyst, if you please) is simply hilarious, as is the dialogue. There isn't one cat owner whose eyes won't roll their eyes while watching this.
Apocalysmas's biggest strength goes beyond its fantastical narrative, and the fact that it is interactive. It's deliciously over the top, with dialogue and acting that are larger than life and that will undoubtedly have the young viewers squealing in glee.
The cast has thrown itself into Alex's cause with gusto – from Angele Galea's simpering Mother, to Joe Depasquale's Anti-Claus, Malcolm Galea's Alex and Joseph Zammit's and Jeremy Grech's characters. The result is a spirited romp that doesn't let up the pacing and will certainly be a holiday highlight for the kids. Catch Apocalysmas today at 6PM, online.
Want to read more theatre pieces? Doesn't get more Christmassy than Comedy Knights House Party. Or check out this review of Agnes of God, or a hilarious account of COVID times with From Rona With Love.