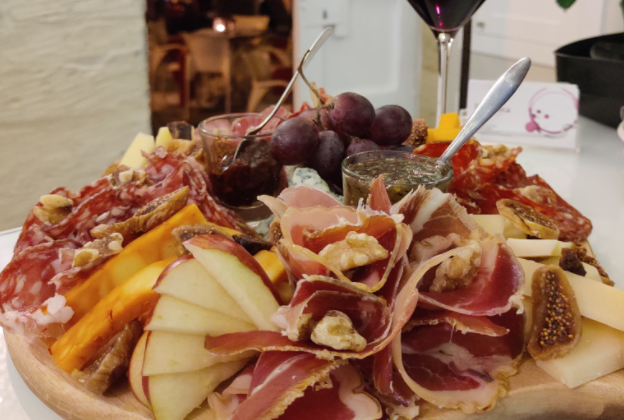 L'Enoteca Wine-Bar – artisan platters, freshly-prepared focaccia, a gregarious host & full COVID complaince. A real win.
| | |
| --- | --- |
| COVID-19 Considerations | |
| Proper face-covering | ✔️ |
| Outside dining | ✔️ |
| Reasonable distance between tables | ✔️ |
| Hygienic bathroom facilities | ✔️ |
I'd been meaning to try L'Enoteca wine-bar, a quaint little place in Rabat that has been making waves on the local foodie scene, for quite some time. So when the suggestion arrived, I went in for it.
L'Enoteca wine-bar is located in Triq San Kataldu, which is kind of a small square right behind the health centre. A weird location I hear you say? Not really – by night the space is transformed into a charming, intimate dining spot that is vastly improved by the fact that it's tucked away from the actual road. A fan of eating on a narrow pavement with passers-by breathing on my plate, I certainly am not. Not at the best of times, and certainly not in these horrible COVID-19 days.
Happily, with L'Enoteca wine-bar this is not an issue, as the space is spacious enough to ensure that tables are kept a good distance away from each other, and you don't really get any casual passers-by here.
In fact, I'll be honest. A good part of the attraction to this place lay in the fact that it offers outdoor dining and genuine self-distancing from other diners. But it was not to be. On the evening I was there, we got the first real rain of the season.
The host gamely tried to accommodate everyone outside anyway, using umbrellas as temporary shelter. But it wasn't to be. And, since I don't fancy rain-water on my focaccia either, I acquiesced to dining indoors – not without some trepidation, I'll confess.
So far, I had resisted dining within a closed space, although I was very aware that this wasn't going to last forever. As it turned out, my first COVID-19 foray into indoor dining couldn't have been better.
Remember when I described L'Enoteca wine-bar as small? Turns out the indoors isn't. Being part of a group, we were actually given our small 'enclosure', containing only our table. The rest of the dining space is extremely spacious, with all tables VERY far apart from each other, so the closed space was not an issue.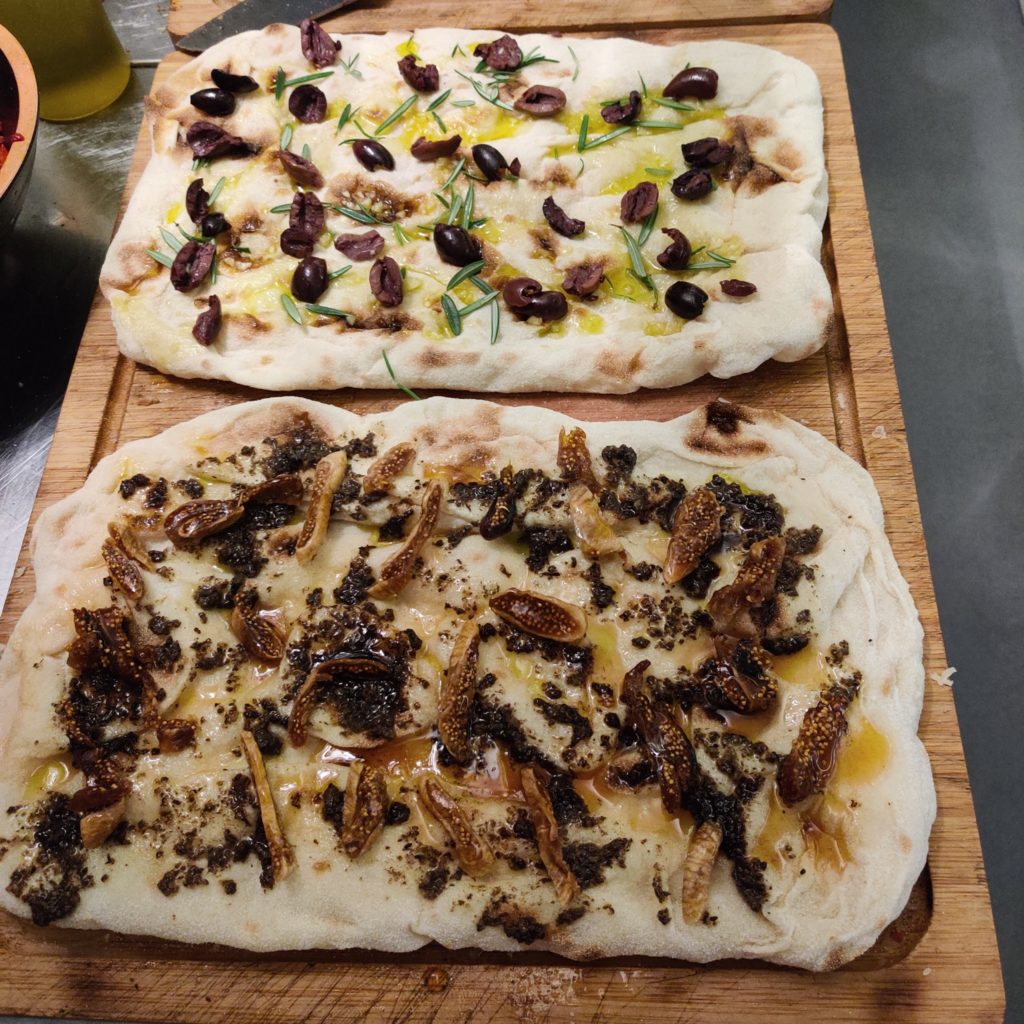 I was also happy to see that all other COVID-19 measures are taken very seriously. The staff were wearing appropriate coverings. We were asked to don our masks every time we moved from our table and walked through the common areas. Someone who had not forgotten a mask was actually offered a fresh one. Well done, L'Enoteca wine-bar.
Onto the real star of the evening – the food and wine. L'Enoteca wine-bar have this charming way of helping you select the wine. You go to the display and browse the bottles to your heart's content. All the prices are clearly marked, so this isn't a ploy to make you spend more than you're planning to. And the host is extremely helpful with it, offering hints, advice and explanations about your chosen label.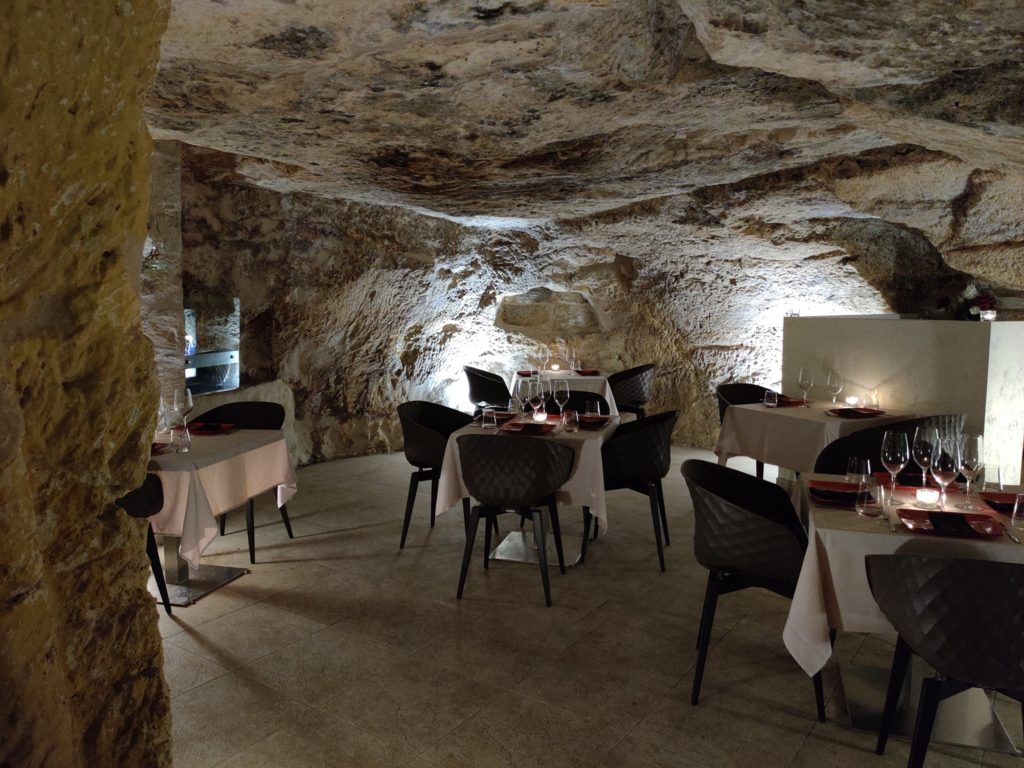 The food on offer is an equally personalised experience. Having heard others wax lyrical about the famed L'Enoteca wine-bar platters, I was keen on trying them.
We were offered a choice of 3. The first was a normal platter as you'd expect to find at any other wine-bar, offered at an average price. Then, there are another 2 options, slightly more expensive (although nothing exaggerated) that include artisan and aged cheeses, home-made sausages, liver pate, fig jam, and other sundry delicacies.
Of course, we opted for the 2 special ones, and I would suggest you do the same too, as it is very good value for money. Each platter is accompanied by 3 different types of freshly-baked focaccia – we had a plain variety, another one with olives and small pieces of fig, and another one with truffle. The gorgeousness of these focaccie needs to be tried.
A word about the home-made sausages, or the Quattro Salsiccioni, as they're affectionately nicknamed at L'Enoteca Wine-Bar. These creations are truly inspired. My favourite was the Chicken & Cheese, mostly because I love anything with cheese. The Porg & Grappa came in at a close second. My fellow diners pronounced an affinity for Beef & Red Wine and Lamb & White Wine. In short, everyone was happy.
Oh yeah and – as per COVID-19 regulations, the platters came pre-divided into individual platters, which clearly works in the customer's favour quantity-wise.
Now here's the thing – so far it's been all mentions of cheese and meat. The great news? L'Enoteca wine-bar also offer a vegan alternative. And, although we didn't try this because we are all bad, bad carnivores, the vegan menu cannot be anything but delish.
It is very clear that the people behind L'Enoteca wine-bar have a genuine passion for food. I could see it in the way that everything is freshly-prepared, using season and local produce such as the Maltese figs. In the way our host described every single item on the menu, and in the way the entire place is run.
My next mission? To try their desserts. In short, L'Enoteca wine-bar is a great evening out, especially in these trying times, and you will get to enjoy genuinely luscious flavours and superb service in a safe environment.
Check out their Facebook page here. And, while you're at it, you may also want to read about the AKI Restaurant experience in Valletta, Monday Nights with Kane at La Buona Trattoria del Nonno or these Tettiera Sparkling Teas.