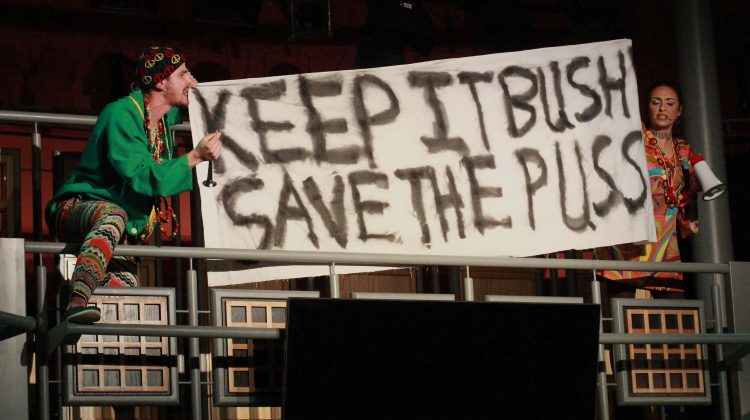 Photo: Dorian Bugeja
Il-Qarċilla and the upcoming elections are a marriage made in comedy heaven
Il-Qarċilla is one of those Malta carnival events that I was kind of, sort of vaguely familiar with, but that I'd never actually experienced. I have a confession to make – farcical comedy is really not my thing, and I wasn't sure I'd appreciate it. Having said that, I was also aware that Festivals Malta had successfully revived the tradition in the past years, and that this year the script is penned by Alex Vella Gregory, aka Ċikku l-Poplu. Which was enough reason for me to pop my Il-Qarċilla cherry.
Before I dive right in, some background about the format of the show. This is not your typical theatre production – basically, it's a straight-up farce written in rhymes, and the base narrative always follows the same arc. A notary reads out the marriage contract to a young couple about to tie the knot, with plenty of satire and double-entendres thrown in for flavour. In the 18th century, it used to take place in the village squares, but this year's Il-Qarċilla is being held at the Spazju Kreattiv theatre, which makes it much easier to catch all the jokes.
And there are jokes aplenty. The loud, colourful cast effortlessly brings in the carnival party atmosphere inside the theatre space – get ready to sing along, clap, laugh and interact with the hosts Il-Perit Frankie Concrete (Fabio Mifsud) and Dr JP Zammit (Patrick Tanti), as they're totally on board with the festive vibe which is very similar to panto.
The cast is clearly having a blast throughout, and their enthusiasm is infectious. Special shoutout to Matthew Balzan as in-Nutar Gużi Loffreda, his sonorous voice beautifully spoofing the stereotypical, pompous notary of yesteryear while his unconventional garb tells a different story altogether. I also particularly appreciated Mattea 'Praise the Lord' Grech (Maria Galea Farrugia). Keeping a straight face for those lines can't have been easy. All the actors clearly have very strong comedic chops. I can't say I particularly enjoy the exaggerated acting that is a trademark of the genre, but that's purely a personal preference and, if the audience's responsive guffaws are anything to go by, I'm the only one thinking that.
The star of the production, however, is Vella Gregory's script. Constantly firing zingers, no political party was spared and neither was the church in a quickfire parody of Maltese current happenings. From construction to kickbacks, the recent legalization of marijuana to civil unions it's all there. It's only too easy when doing comedy to overdo it and to descend into silliness for the sake of it. Vella Gregory doesn't fall into that trap, managing to make even the double-entendres witty. Whether we're laughing at the couples' hypocrisy or at the COVID inspector (aptly called Chanteclair, of course), we know it's funny because it's true.
In short, Il-Qarċilla is just the ray of naughty sunshine that we need. Go watch it if you're in need of a laugh. And who doesn't?
Il-Qarċilla takes place today Friday 25, tomorrow and Sunday at Spazju Kreattiv. If you'd like to read more about Malta theatre and lifestyle, check out this interview about the upcoming Roaring Voices theatre production, Take Two's Castillo or this review about FM Theatre's Ross and Rachel.