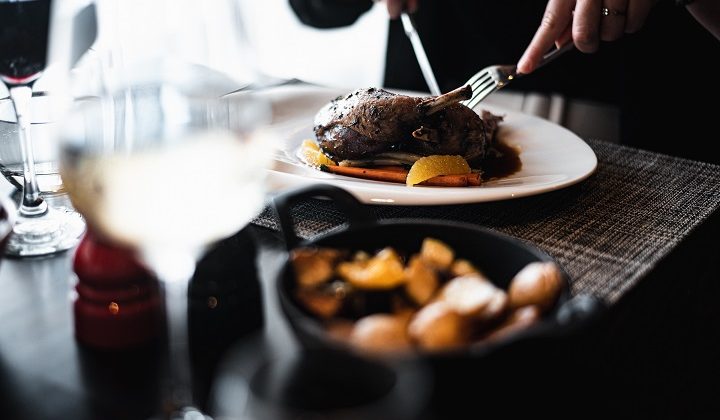 Le Bistro restaurant, at the Radisson Blu, is one of those staples that I enjoy visiting seasonally. Casual, but still making for a lovely night out. A menu that offers classic Mediterranean favourites with seasonal twists. And that lovely fancy hotel vibe that makes you feel as though you're on holiday, even though you'll be back at work the next day. What's not to like?
I dropped in last week to check out their new Autumn/Winter menu, and also because I needed to treat myself to a relaxed evening of pampering, somewhere I knew I could simply park with zero hassles, sit down and not think of anything else except having a lovely conversation with my partner.
And that is exactly what happened. I'm happy to report that the staff at Le Bistro are still as lovely as I remembered them from my last visit, greeting us with a smile and ready with the wine and drinks menu, which is just the way I like it.
We chose one of my favourites, the Donnafugata Anthilia, and sat down to the serious business of checking out the food. What I do love about Le Bistro's menu is that it covers all the bases, with a really good selection of grills, pasta and risotto, while still managing to throw in a couple of surprises.
Take the Crusted Burrata, which I had for starter. A really delicious twist on the traditional dish, thanks to the addition of crusted herbed crumbs, spiced tomato gazpacho and tomato chutney. The contrast between the super creamy mozzarella and crunchy crust is delightful, capped with the zing of the sauces. A taste of the Foie Gras Salad proved just as lovely, the seared fois gras and the plum relish an inspired marriage.
Onto the mains, where I was faced with a quandary. I do love me a good pasta and, the selection at Le Bistro is clearly geared towards serious pasta lovers. But I also knew that the kitchen is known for a mean steak, so I just couldn't resist. The Prime Steer Beef Fillet came cooked medium-to-rare, exactly as requested. A great cut of meat, complemented by gorgeous roast potatoes and a mushroom-truffle sauce on the side.
I did get to sample the Garganelli Alla Carbonara and found a perfect ratio of guanciale, pecorino and egg yolk. I resolved to go for a pasta and risotto dish on my next visit.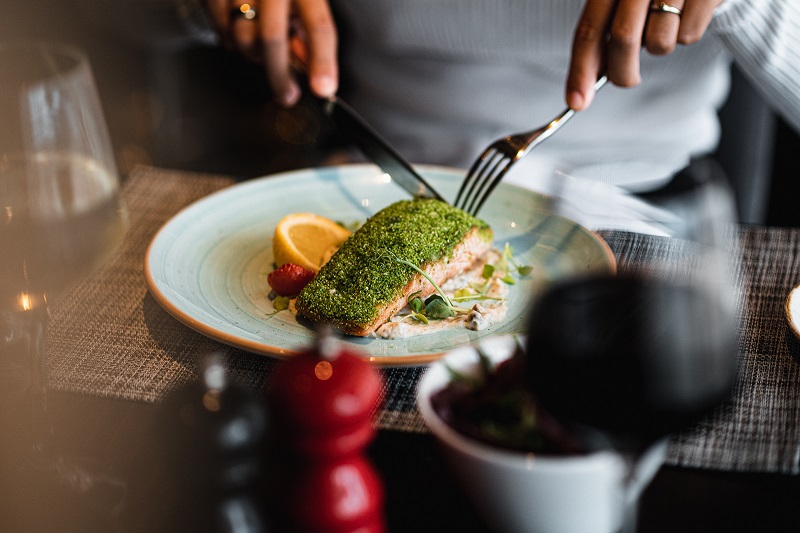 You may think that everything I mentioned so far is very meat and dairy based, but I was happy to see that that there are other vegan options offered on the menu, and that there's also a daily vegan special. Vegetarian and gluten-free options are marked out clearly, and all ingredients listed. It's good to see various nutritional requirements being properly catered for at Le Bistro.
We closed off with a Vanilla Crème Brûlée – simply luscious, with the delicate aftertaste of vanilla subsisting after we left Le Bistro – and an Apple and Almond Galette served with vanilla ice-cream and salted caramel syrup. I seriously woke up thinking of this dessert the next day.
Le Bistro at Radisson Blu is one of those few restaurants that never disappoint, and I'm pleased to see that it has upheld its standards. In short, a relaxed evening enjoying lovely food and great service. Looking forward to repeat.
For more about lifestyle and food in Malta, check out this review of Risette Restaurant, the launch of ION Harbour by Simon Rogan and Nduja Osteria review.