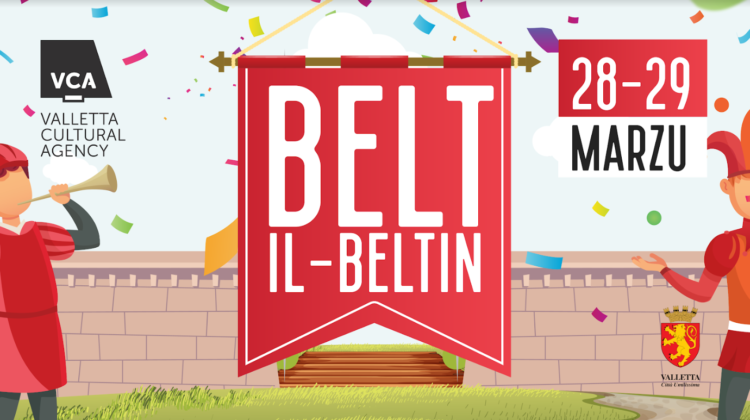 Belt il-Beltin first edition to see games, food, competitions and a fun take on Valletta's unique history
Remember that time when the Valletta 2018 opening inspired me to suggest a festival for the Beltin? Well, my suggestions didn't fall on deaf ears. Folks, say hello to the first edition of Belt il-Beltin, a Valletta Cultural Agency concept which hits our beloved capital city on March 28 and 29.
Yup – just in time for Valletta's birthday celebrations ❤️❤️
So, here's the deal: Curator Victor Jacono, together with assistant curator Edward Bonello – both known and well-loved names among the Beltin community, have put together a programme of events that spans Saturday and Sunday. What to expect:
🎉🥇 Eating contests involving that time-honoured Valletta tradition – ravjul
🎉🥇 A 3-aside football match with a difference. Hint – there will be the iconic maskaruni tal-karnival (carnival grotesque masks) involved.
🎉🥇 A massive puzzle involving the various religious statues that dot Valletta
🎉🥇 A friendly take-over of St George's Square, also tied to a game with a taste of history
🎉🥇 A competition that will pit Beltin against each other to see who manages to recreate the iconic festa decorations known as trofei and bandalori
The participation of a number of associations and organisations, such as the Għaqda Festi Esterni San Duminku Valletta, the Rovers United, Valletta FC (of course!) and the Għaqda tal-Pawlini and many others. Many of the historic premises (such as the każini) will be open for viewing, and this includes sections that are usually closed to the public. Expect some really good story-telling!
There will be more, of course. Music, entertainment, and the participation of two of Malta's most beloved MCs – Dan u San. Check out the full programme of events here.
I will be interviewing some of the main players, so watch this space for more videos. In this first interview, we meet Victor Jacono for an overall view of what to expect in this festival created by Valletta citizens, for their fellow Valletta citizens.
Want to immerse yourself even more in all things Valletta? Check out my book about the capital city, Beltin: Stejjer Minn Nies Minsija.