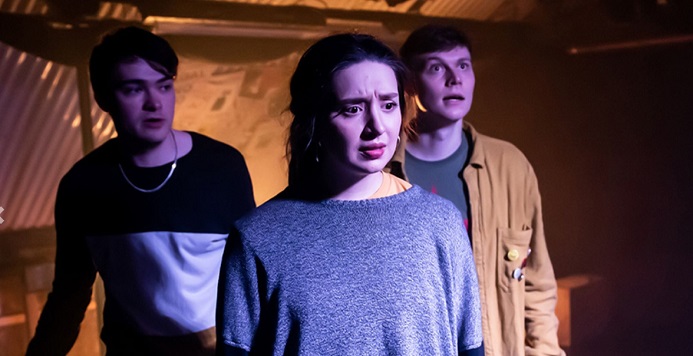 Following a UK tour, the Pleasance's London Festival, and online performances at this year's Edinburgh Fringe, socio-political drama The Nobodies is now headed to Malta for a run at Spazju Kreattiv.
When Healthcare Assistant Rhea, homeless university graduate Curtis, and local-lad Aaron suddenly become privy to information that they can use to save their hospital from closure, it starts a chain of events that puts them at the head of a revolution.
Asking if the end justifies the means, where the lines are drawn, and what it takes to enact real change, The Nobodies is a new political drama that wades through the muddy moral grey areas, and prods at the centre ground in a polarised society.
A town is in turmoil. A hospital is closing. And an MP is dead on the train tracks… accident? Or opportunity? As a dangerous decision triggers a wild chain of events, Rhea, Aaron and Curtis soon find themselves gathering power, influence and infamy – and inspiring a cohort of vigilante activists. What does it take to enact real change? And what would you sacrifice to keep it?
The Nobodies performed in early previews at VAULT Festival 2020 where it won the COMMON Award, and its regional tour in 2021 won it a Standing Ovation Award nomination from London Pub Theatres.
Writer Amy Guyer was named as one of the British writers to watch in Deadline's TV writers The British Invasion. She is currently writing for EastEnders for BBC1 and joined the writer's room for an original
comedy-drama series produced by Leftbank Pictures. Amy is also writing original television projects for Wild Mercury, Tall Story, Red Productions, Studio Hamburg, The Forge and Two Rivers. In lockdown, Amy wrote the short play Out of Stock, starring Julie Hesmondhalgh, as part of Nottingham Playhouse's digital theatre commission Still Life.
The writer said: "The Nobodies takes us on a thrilling journey with three characters who – initially, at least – just want to make the world a better place. They want to help their own community. I think we all know what that feels like in today's climate. I was tired of working class stories being doom, gloom and food banks. This is a new version of our story – a version where we win… almost."
The Nobodies is directed by Vikesh Godhwani and Sam Edmunds. Tickets are available from Spazju Kreattiv.