Where: The Bastion Pool at the Phoenicia Hotel was the perfect venue to celebrate O'Hea Opticians' 20th anniversary. Walking through the leafy pathway all the way down from the main entrance to the pool was a bit like going through a secret passage leading to a fairytale world, one that suddenly opened up to the majestic vista of the Valletta fortifications and the pool, with the views of the marina in the distance.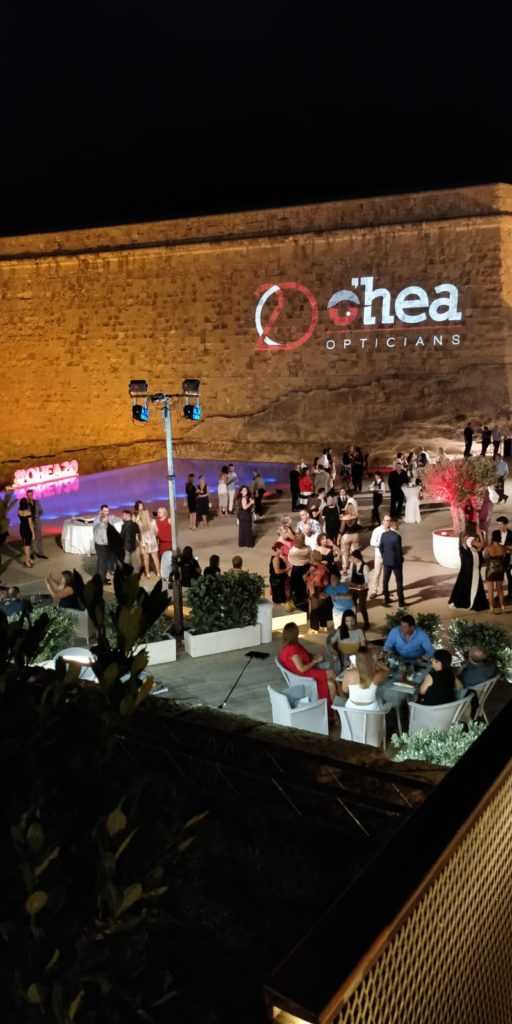 WHAT: It was a night to remember, under the stars, as everyone who has been part of the O'Hea journey was there, celebrating with the wonderful Celia Melillo and her family. Only one person was sadly missing, Celia's father who, 20 years ago, founded the business with his daughter. It was a bittersweet celebration as Celia herself poignantly said during her short, but impassioned, speech, as Mr Borg passed away just over two months ago. He must have been smiling down on the celebrations in Valletta, however, bursting with pride.
Projected on the bastions (the private side that can't be viewed from outside) was the O'Hea logo and the pop-art portrait created especially for the occasion by artist Alexia Coppini.

Singer Maxine Pace, who was later revealed to be the model behind the pop art illustration, kept things lively and got everyone moving. The surprise of the night? A fashion show by designer James Dimech, who showcased a small collection of environmentally-friendly designs, created out of recycled paper.
The drinks and food flowed, as did the conversation, until it was time to cut the cake and to exchange the final bit of pleasantries. I left thinking that this was one of the loveliest, most genuine celebrations I have attended locally, and it shared all of Celia's lovely traits.
Iggy Fenech with Natasha & Bernard Polidano.

The gorgeous Dorianne Mamo. Both photos by Mark Soler Photography.

Noelene Miggiani (left), who co-ordinated the fashion event.
WHY: Having met Celia for the first time when she invited me to be part of a series of campaigns showing how different people wear O'Hea – in my case it was a predictable black, cat-eye Bvlgari and massive shades with a discreet leopard-print on the bottom side. Through the years we continued working together on Sunday Circle and the Sunday Times, and it is easy to see why O'Hea grew into such a success. Celia is not only indefatigable and always with an eye out for the latest styles, labels and marketing strategies. She is also one of that rare breed, a genuinely lovely, warm and kind person.

With Celia Melillo (right).

Showcasing James Dimech's creations.

With O'Hea's Mariella Magri.

The winning team.
And she has gathered an equally passionate and lovely team around her. Such people are rare enough that they should certainly be celebrated and toasted, so here's a toast to O'Hea.
To 20 more years and beyond.